Legal document: T-S G2.59
Legal document
T-S G2.59
Input date
In PGP since 1988
Description
Responsa in Avraham Ibn Yiju's hand: legitimacy of a manumitted female slave's marriage and status of her children, Yemen, ca. 1140. Description from PGPID 1313: Segment of a responsum regarding a child of a female slave.
Edition: Goitein, S. D.; Friedman, Mordechai Akiva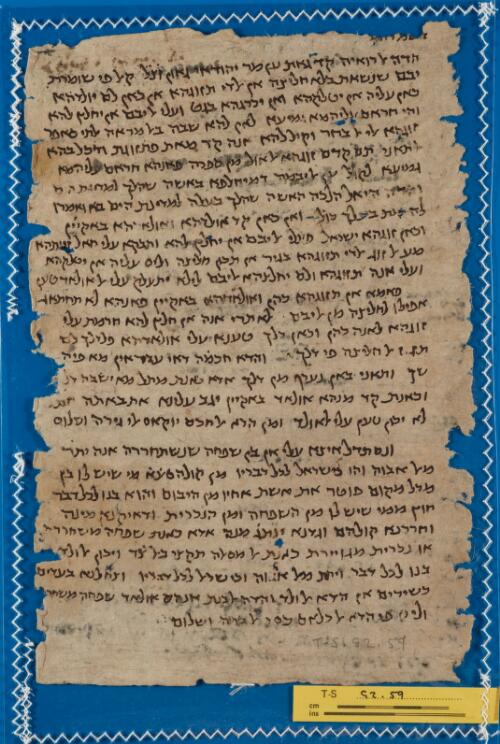 Transcription
S. D. Goitein and Mordechai Akiva Friedman, India traders of the middle ages : documents from the Cairo Geniza : India book (Leiden and Boston: Brill, 2008), vol. 3.
III, 29b
בשמ רחמ
הדה אל רואיה קד גאת ען מר יהודאי גאון זצל קאל פי שומרת
יבם שנשאת בלא חליצה אן אלדי תזוגהא אן כאן לם יולדהא
כאן עליה אן יטלקהא ואן יכרגהא בגט ועלי אליבם אן יחלץ להא
והי חראם עליהמא גמיעא לאן להא שבה באל מראה אלתי סאפר
זוגהא אלי אל בחר וקיל להא אנה קד מאת פתזוגת ודכל בהא
אלתאני תם קדם זוגהא אלאול מן ספרה פאנהא חראם עליהמא
גמיעא לקולֹ ען אליבמה דמיחלפא באשה שהלך למדינת הים
והדה הי אל הלכה האשה שהלך בעלה למדינת הים בא (!) ואמרו
לה מת בעלך כול ואן כאן קד אולדהא ואולאדהא באקיין
וכאן זוגהא ישראל פעלי אל יבם אן יחלץ להא ותבקא עלי חאל זיגתהא
מע אל זוג אלדי תזוגהא בגיר אן תכון חליצה וליס עליה אן יטלקהא
ועלי אנה תזוגהא ולם יחלצהא אליבם לילא יתעלק עלי אל אולאד טען
פאמא אן תזוגהא כהן ואולאדהא באקיין פאנהא לא תחתאג
אפילו לחליצה מן אליבם אלא תרי אנה אן חלץ להא חרמת עלי
זוגהא לאנה כהן וכאן דלך טענא עלי אולאדהא פלדלך לם
תגוז אל חליצה פי דלך והדא חכמה דאי עבד אין מא פיה
שך ותאני באן נערף מן דלך אדא כאנת מתל מא ישבה דלך
וכאנת קד מנהא אולאד באקיין יגב עלינא אתבאתה חתי
לא יכון טען עלי אלאולד (!) ומן הדא אלחכם יוקאס אלי גירה ושלום
ונסתדל איצא עלי אן בן שפחה שנשתחררה אנה יתר
מאל אבוה והו כישראל לכל דבריו מן קולהם עא מי שיש לו בן
מכל מקום פוטר את אשת אחיו מן היבום והוא בנו לכל דבר
חוץ ממי שיש לו מן השפחה ומן הנכרית ודאיקנא מינה
וחררנא קולהם וגדנא ינתג מנה אדא כאנת שפחה משחררת
או נכרית מגויירת כאנת אל מסאלה תקצי באל צד ויכון אלולד
בנו לכל דבר וירת מאל אבוה וכישראל לכל דבריו וצח לנא בעדים
כשירים אן הדא אל ולד והדה אל בנת אנהם אולאד שפחה משחררִ[ת]
וליס פי הדא אלכלאם כסר אלבתה ושלום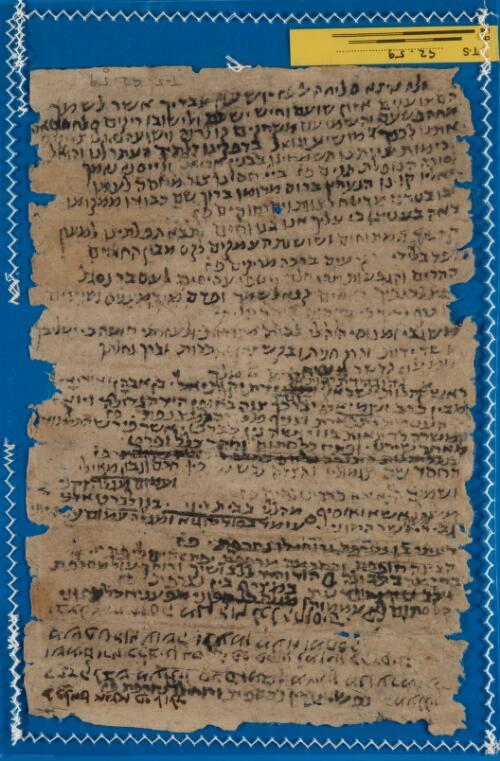 Image Permissions Statement

T-S G2.59: Provided by Cambridge University Library. Zooming image © Cambridge University Library, All rights reserved. This image may be used in accord with fair use and fair dealing provisions, including teaching and research. If you wish to reproduce it within publications or on the public web, please contact genizah@lib.cam.ac.uk.