List or table: T-S Ar.52.247
List or table
T-S Ar.52.247
Input date
In PGP since 2004
Description
Account of expenditures in Dammuh (ca. 1182-3) by Sayyid al-Ahl, consisting of a list of disbursements made at the plantation in Dammuh in the course of a year. Most of the items pertain to building operations, including labor and materials, such as fence, mud and lime and stones for the well. Eight dirhams are mentioned as expenditure for the supply of palm branches. The total yearly amount of the expenditures was 628 dirhams, and since probably wariq dirhams are meant, this would represent ca. 15.5 dinars. (Information from Gil, Documents, pp. 324 #78) EMS
T-S Ar.52.247 1r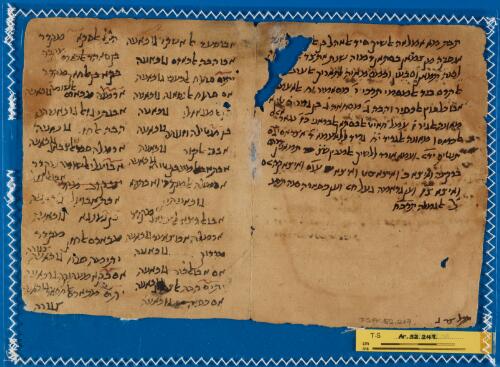 Transcription
Moshe Gil, Documents of the Jewish Pious Foundations from the Cairo Geniza (Leiden: Brill, 1976).
recto right side: d
תבת מא אמלאה אלשׁיך סיד אלאהל בן אל[....] אנה
אנפקה מן צמאן בסתאן דמוה שׁנת אתצד א[למופ]קה
לסנה תמאן וסבעין וכמסה מאיה לתאריך אלערב [
אלתרס? ביד אלמסמי תרכי י' מסאמיר יה אלאעמ[א
אבו כלבוץ אלכפיר והבה ג' מסחאה ג' בן גדיר ה' טין א'
מאונה אלגיר ז' עמל חאיט אלבסתאן אלבראני כז' נגאר א ½ 0
אלכדאם ו מאונה אלגריד יח' גריד ללאעמא ד' אצראם יג 0
תנטיף יד ½ ועמא אורד ללשׁיך אלמבין שׁץ' [[..]] תמאנין דרהם
ברקעה ואיצא ך' ואיצא סט ואיצא [[..]] עו 0 ואיצא קה ½ 0
ואיצא צז וען גראמה געל ח ½ וען כפארה סנה תסע
ל אלגמלה תרכח
T-S Ar.52.247 1v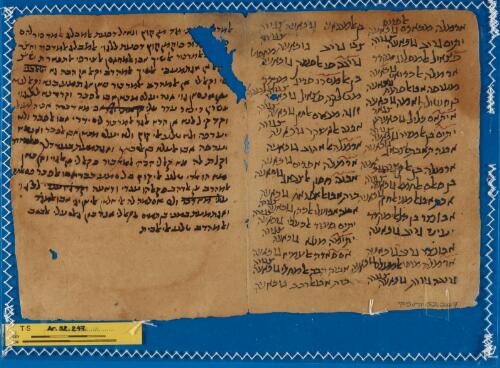 last third of page blank bottom corner
תכל צד ג
recto left side: a
אבו סעד אלאשׁקר גוכאניה הלאל אלסקא מקדר
אכו הבה אלכאדם גוכאניה [[בן סאהר אלכאדם מקדר red line]]
יתים פתוח אלכעכי גוכאניה [[בקא בן אלחזן מקדר][
אם פתוח אלנסאגה גוכאניה ארמלה מכארם אלשׁומר גוכאניה
ב]ן אלמגאזלי גוכאניה אבנתי גזאל גוכאניתין
בן חנטילה וזוגתה גוכאניה הבה אלחזן גוכאניה
אכת (אבו?) אלקור גוכאניה ארמלה פכר אלצבאג גוכאניה
אכת אב[ו א]למני בן נטורא גוכאניה אבו עלי אלשׁומר מקדר
ארמלה אלמקדסי ואכתהא [[יעקוב מקדר]] אבו אלפצל
גוכאניתין אכת אבו על[י] ג[וכא]ניה
אבו אלרצא אלצבאג מקדר בן מנגא גוכאניה
ארמלה אבו צאעד גוכאניה מכארם אלחזן מקדר
מרדוך גוכאניה יתימת פרח גוכאניה צגירה
אם אבו אלכיר גוכאניה אם בקא מעתוקה גוכאניה
יתים הבה אלצ[בא]ג גוכאניה יתים מכארם אלחפאר גוכאניה
אם כפיה גוכאניה צגירה
red wavy line over some names lines 1b, 3a, 4b, 6a, 8b, 15a, 11b, 14b 15b verso right side: b
ארמלה מכארם //אלפרנס// גוכאניה בן אלמרגאני גוכאניה צגירה
יתים גריב גוכאניה צגירה צבי גריב גוכאניה צגירה
פצאיל אלמפלוג מקדר גריבה פי אלפנדק גוכאניה מחפוט
ארמלה אלכריאט גוכאניה בן אלמסרי פריג מקדר
מערפה אבו אלפתוח גוכאניה מטלקה פצאיל גוכא[ני]ה צגירה לבנתהא
בן חנטילה ואמה גוכאניה זוגה מכארם אלחזן גוכאניה צגירה
איתאם כליל גוכאניתין צגאר אבנה אלאשׁקר גוכאניה צגירה
יתים בן אלמדיר גוכאניה צגירה ארמלה אלאהוב גוכאניה
אבנה תאבת אלצבאג גוכאניה ארמלה אפרים גוכאניה
[[ארמלה בן אלקצרה גוכאניה]] אבנה חסון אלצבאג גוכאניה
בן סאלם אלחמאל גוכאניה צגירה בית אבו אלאפראח גוכאניה
אכת אבו אלמני אלחזן גוכאניה אבנה אבו עלי אלכהן גוכאניה צגירה
אבו נצר בן הלאל מקדר יתים סעיד אלכעכי גוכאניה צגירה
יעישׁ גריב גוכאניה יתימה מנגא גוכאניה צגירה
אבו נצר גריב גוכאניה אם סאדה אלעמיא גוכאניה
ארמלה מוסי אלמעלם גוכאניה אבנה הבה אלמחלי גוכאניה צגירה
גריבה גיורת גוכאניה צגירה בית אבו אלרבב גוכאניה
verso left side: c in a diferent hand
אלמד[.....].י מד מן קוץ ונאזל דפעת אלמבלג אלמדכור להם
........].וה פוק מן קוץ דפעאת ללגוי אלמבלג אלמדכור וחצר
......] אלמדכור אלשׁיך אבו אלמחאסן אלצירפי אלתפארת שׁץ'
...]. אן אגתמע בי אלשׁיך אלמהדב וקאל אן הבה גא [[יטאלבני]]
א[ל]י וקאל לי אן אלמהדב אלמדכור כאן אגתמע בנא וקאל לנא
ען אנסאן גוי אנה יעלם מכאן אבו אלפכר וקררנא ללגוי
עשׁרין דינאר עדר עלי [[אן מתי יגד אב]] מא דכרה אכיה לעיל
וקד קיל לנא אן הדא אלגוי אלמדכור ליס ידרי אבו אלפכר ולא
יערפה ולא טלע אלי קוץ ולא יעלם מכאן אבו אלפכר ואנמא
יערפה אבו אלעלא בן אלסכאך ואגתמעת בעד דלך באלמהדב
וקלת לה מא קאל לי הבה אלמדכור פקאל לי אן אלגוי ואן כאן
מא הו אלדי טלע אלי אלקוץ בל סמע כבר אבו אלפכר פסאלתה
אלמהדב ען אלדהב פקאל הו ענדי ודאעה [[וקד גא ענדי]] ללגוי
[[עלי מא דכר]] ולם אסלמה לה אלי אלאן אלי אן יגי אבו אלמגד
ואגתמעת במני בן תמים וקאל לי אנה כאן גאלס עלי אלבאב
ואלמהדב טלע אלי אלבית
Image Permissions Statement

T-S Ar.52.247: Provided by Cambridge University Library. Zooming image © Cambridge University Library, All rights reserved. This image may be used in accord with fair use and fair dealing provisions, including teaching and research. If you wish to reproduce it within publications or on the public web, please contact genizah@lib.cam.ac.uk.