Letter: T-S 12.355
Letter
T-S 12.355
Input date
In PGP since 2017
Description
Memorandum from Yosef b. Avraham to Abu Nasr al-Halabi. Aden, ca. 1130-50.
T-S 12.355 1r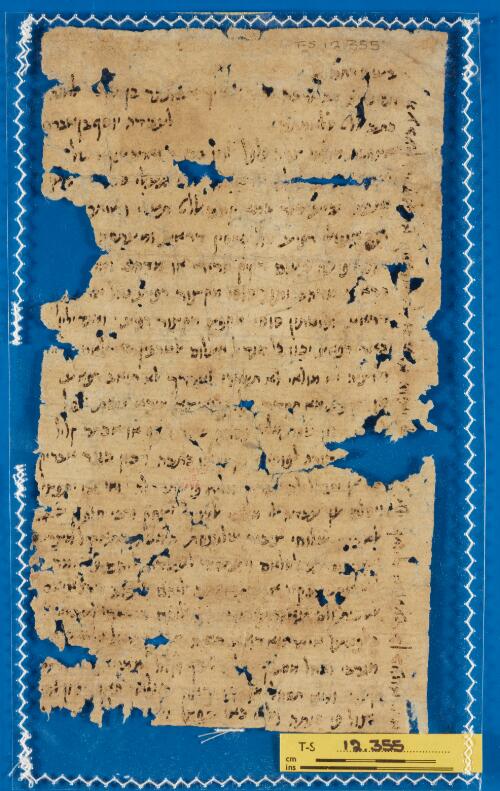 Transcription
S. D. Goitein, unpublished editions.
II, 43
בשמ רחמ
תדכ[ר]ה מבארכה ביד אלשיך אבו נצר בן מוסי אלחלבי
כתב אללה סלאמתה. לעבדה יוסף בן אברהם
אצחבת מולאי צרה פלפל אלוזן בהאר וארבעין רטל
ו[...] ל[..] ורא[... אללה] תעאלי ... [...] אן
מתפצל יביע דלך במא קסם אללה תעאלי וישתר[י לעבדה]
תוב אנטאלי רפיע טול כמסין דראע ומעתקה [...]
ת.. רפיעה בעלם דקיק חרירי או מדהב וא[...]
דראע מדהב ותוב סוסי מקצור רפיע טול אר[בעי]ן
דראע ופוטתין סוסי מקפץ מקצור רפיע. ומנדילין
כאם רפאע יכון כל מנדיל מעלום אלטרפין באעלאם [...]
ואלוציה יא מולאי לא תשתרי לעבדך אלא תיאב רפאע
מן ארפע מא תקדר עליה ואיצא שרא טסת ג[א]סל
[...] יכון טסת מליח נסבה שבר ונצף או אכתר קליל
[...]דורה אלפוקא[נ]י נקש או כתבה ויכון בגיר אבריק
[...] אן יתסהל לה אבריק מליח פישתרי לה. ואיצא יתפצל
ויסלם ען עבדה אלי מולאי אלשיך //רבי// יצחק ורבי חלפון בני
אלחביר שלוחי ציבור שלכנסת כמסה מתאקיל מצריה
ויקריהם עני אלסלאם ויעתדר לעבדה אליהם פ[י] אמר
אלמכארם פקד ארדת אכתב אליהם [כ]תאב פי אלאיאם
אלסכות ולם יעאד ....... אליהם וישתרי לעבדה
באלפאצל איש מא ראא ראיה אל[מופ]ק ..ל[...] .ל[...]
מגרבי וכחל מסבק [...] ל[.] אלעין וק.ל תמ[...]
קצב ומא תסהל מן שי יראה מולאי פאן יכון למו[לאי]
וצול פי סנתה ואלא כאן יתפצל וי[נפד בה ...] ל [...]
Margins:
מע בעץ אצחאבנא אלמסאפרין ו...א מולאי ק[......]ת עלי אלשיך אבו סעיד בן בנאיא שיא
T-S 12.355 1v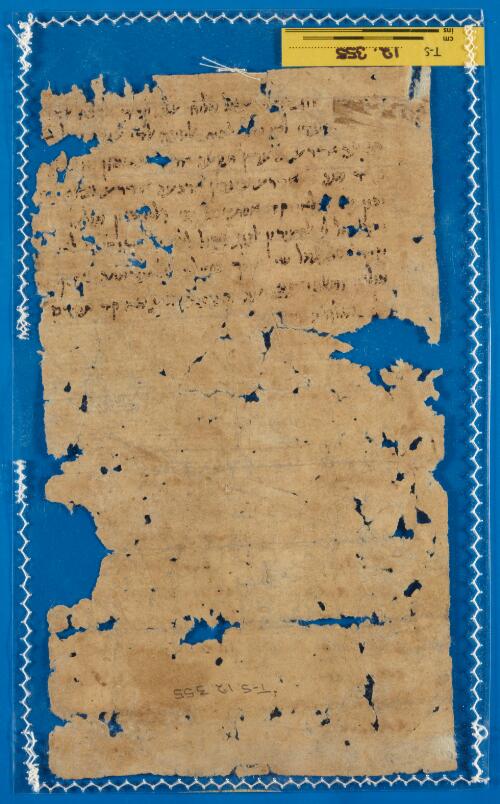 Verso:
[...] זוג חצר עמל מליח עלא קדר אל[...] אלדי
[...] מעדי ל......ל לאלבית אלסכה אלדי ענד[...] ל[...]
תסעה אדרע בערץ תסעה אד[רע .]ע. יכון ...
פרד מנה ט אדרע בערץ ארבעה אדרע ונצף ...
יכון יא מולאי קד אסתעמל שי ואלא כאן מולאי
יסתעמל לי אלקצירין אלזוג ויקול ללשיך אבו ... לא.
יזיד יסתעמל שי ודלך בפצלה [מא] עדמתה ויציף
מולאי ומאלכי צנאעה רפיעה מע מא קד תקדם
עלי ממלוכה וש[לום].
Image Permissions Statement

T-S 12.355: Provided by Cambridge University Library. Zooming image © Cambridge University Library, All rights reserved. This image may be used in accord with fair use and fair dealing provisions, including teaching and research. If you wish to reproduce it within publications or on the public web, please contact genizah@lib.cam.ac.uk.