Legal document: CUL Add.3416
Legal document
CUL Add.3416
Input date
In PGP since 2017
Description
India Book I, 18a: Settlement (canceled draft) in the lawsuit between David ibn Sighmar, the representative of Moshe b. Labrat, against Yosef Lebdi. The final version of the settlement is preserved on the verso (I, 18b). The cancellation is marked by three vertical strokes.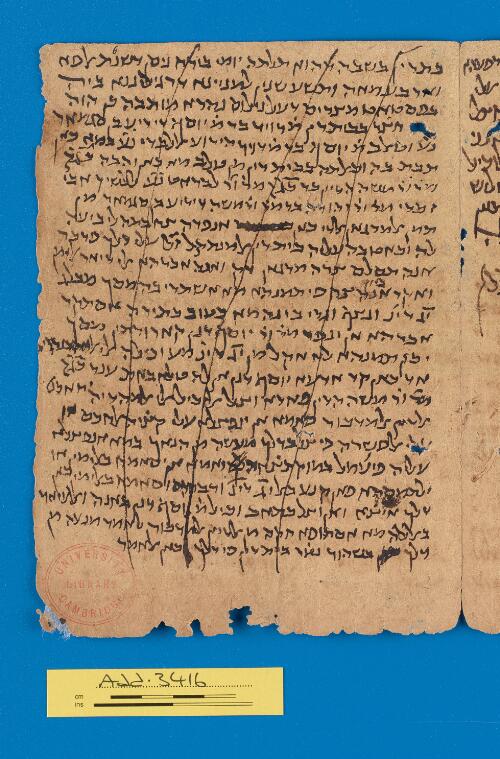 Transcription
S. D. Goitein, unpublished editions.
I, 18a
[[בתרין בשבה דהוא תלתה יומי בירח ניסן דשנת אלפא
וארבע מאה ותשע שנין למניינא דרגיליננא ביה
בפסטאט מצרים דעל נילוס נהרא מותבה כן הוה
חצר בבית דין מ דויד בר מ יוסף דידיע בן סגמאר
נע וטאלב מ יוסף בר מ דויד הידוע אללבדי נע במא כאן
תבת בה וכאלתה בבית דין מן טלב מא כאן והבה כגק
מר ור משה הדיין בר כגק מר ור לבראט נע לאלשיך אבי
זכרי מר ור יהודה בר מר ור משה דידיע בן סגמאר מן
תמן אלמרגאן אלדי כאן [[...]] אנפדה צחבתה ליביעה
לה וכאטבה עליה בית דין אלמנתקל זל עלי דלך פדכר
אנה תסלם צרה מרגאן דק ואנה אכדהא אלי דיאר אלימן
ואקר //באן// אנה צח פי תמנהא מא אשתרי בה מסך מבלג
יג דינ ונצף וגרי בינהמא כטוב כתירה אסתקר
אכרהא אן ינפד מר ור יוסף דנן קארורתין מסך
יכון תמנהא לא אקל מן יג דינ מע וכילה אלי [[אלאסכנדריה]] אלמהדיה
אד כאן קד אדעא יוסף דנן אן לה טלאבאת ענד כגק
מר ור משה הדין פאדא וצל אלוכיל אלי אלמהדיה יחאכם
אלדיין אלמדכור פאמא אן ינפצלא עלי קציה אלחכם או
עלי אלפשרה פיצל בדלך מעשה מן הנאך במא אנפצלא
עליה פיעמל במוקתצאה [[דלך]] ואמא אן יסאמח באלימין או
ילתמסהא פאן קנע באליג דינ ורבחהם וסאמח באלימין כאן
דלך איצא ואן וצל כתאב וכיל מ יוסף דנן באנה ואלעיאד
באללה מא אסתופא חקה מן אלדיין אלמדכור לאמר מנעה מן
דלך [[כאן]] בשהוד נטֹר בית דין פי דלך וִכאן אלאמר]]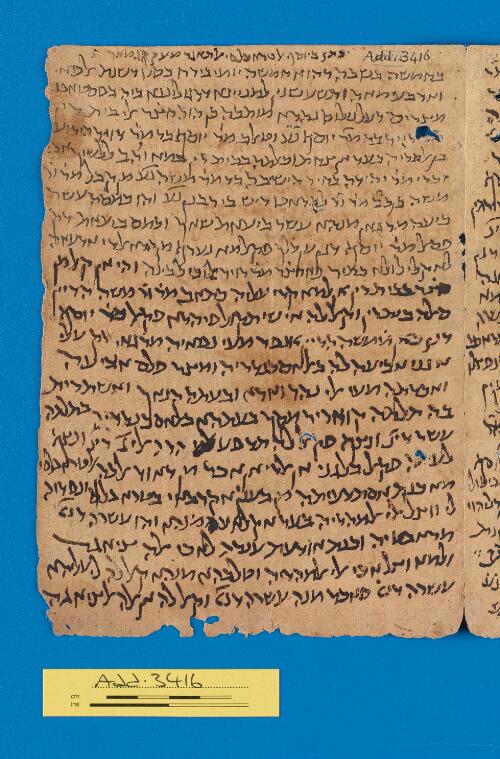 CUL Add.3416 1v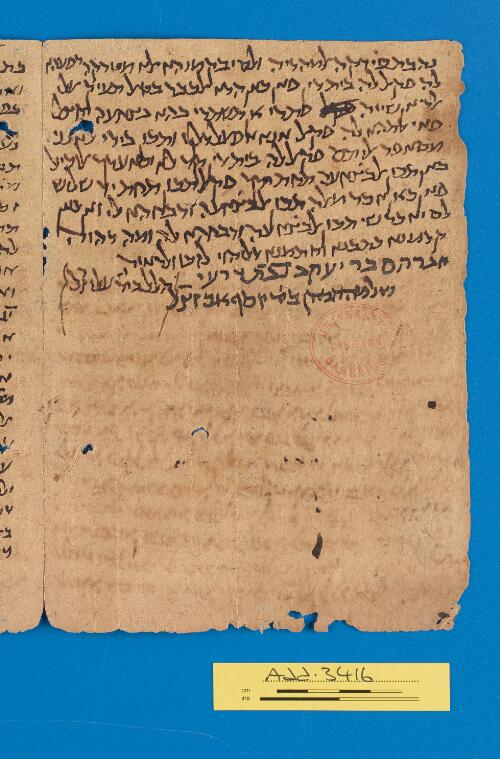 CUL Add.3416 2v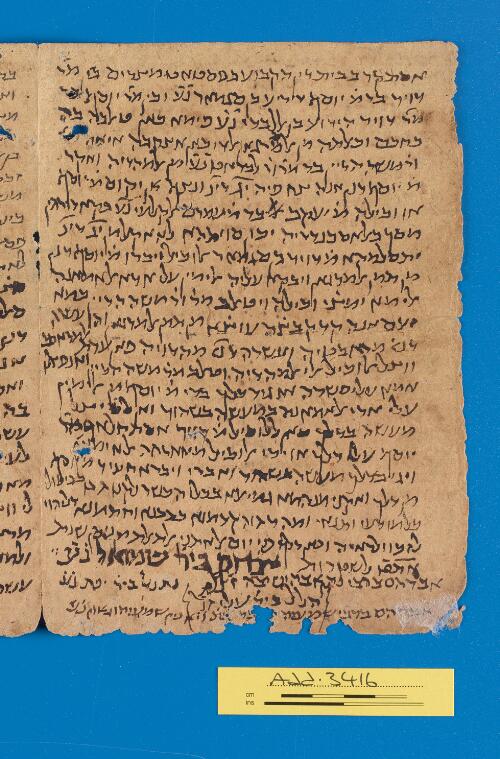 Image Permissions Statement

CUL Add.3416: Provided by Cambridge University Library. Zooming image © Cambridge University Library, All rights reserved. This image may be used in accord with fair use and fair dealing provisions, including teaching and research. If you wish to reproduce it within publications or on the public web, please contact genizah@lib.cam.ac.uk.