Letter: T-S 12.270
Letter
T-S 12.270
Input date
In PGP since 1990
Description
Letter from Salama b. Musa ha-Sfaqusi from Alexandria probably to Nahray b. Nissim. Around 1068. Mentions several people including Avraham b. Farah and Yosef b. Eli ha-Kohen. The writer returned from Sicily to Alexandria and deals with business matters and buying goods. Also mentions the situation in Sicily. (Information from Gil, Kingdom, vol. 4, pp. 477-483, #753) VMR Description from PGPID 5851: Letter from Salama b. Musa ha-Sfakusi from Alexandria probably to Nahray b. Nissim. Around 1068. Mentions several people including Avraham b. Farah and Yosef b. Eli ha-Kohen. The writer returned from Sicily to Alexandria and deals with business matters and buying goods. Also mentions the situation in Sicily. (Information from Gil, Kingdom, vol. 4, pp. 477-483, #753) VMR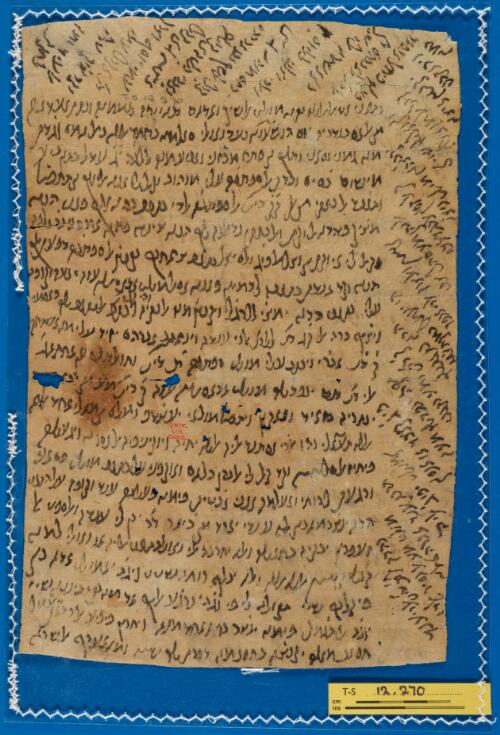 Transcription
A. L. Udovitch, Nahray.
Recto
כתאבי אטאל אללה בקא מולאי אלשיך ואדאם תאידה ונעמאה וכבת אעדאה
מן אלאסכנדריה יום הושענא בעד נזולי סאלמא בחמד אללה באלאמס וגדת
מא גמני וסאני ודלך אן פתח מכזאני ואביע מנה לל..י"ג עדל כתאן ביע
מישום כסיס וכרק אלספתגה עלי מוהוב וקאל לי אנא אסאלך אן תתפצל
ותאכד אלבאקי מן אל קק דינ' אלספתגה אלדי כתבת בהא אליך פאני הנא
מציק פארא אלוקת ואלכתאן נדעוה לך הנא עינא פמא אמכני נכאלפה
פקאל לי אי וקת אן וצל אלפיג ולם יצל כתאב צאחבך נקבץ אלספתגה דפעת לך
הנא וקד אכדת כתאבה ל.... פאנא אסאל מולאי אדאם אללה עזה יאעד וקופה
עלי כתאבי הדא ימצי ללרגיל ויקבץ מנה אלבקיה \\ והי... \\ ויכתב אלכתאב לך באסמי
ויציף הדה אל קג דנ' ללדנ' אלדי ענדה וי א ב אברהם יזיד עלי מא אשתראה
ק' דנ אכרי ויכתב עלי מולאי ספתגה ת דינ' וחול דלך אן אחתאג`
אלי ת' תם ינפד לך מולאי אדאם אללה עזה ק' דינ'
יכתריה בזאיד ונאקץ ויתפצל מולאי יעצדני ויעלם אחד....
אללה תעאלי והו אלדי נסתנד אליה אללה יחיה ויוק... פיה אלאסוא ויגעלך
פי חיז אלסלאמה וקד קאל לי אלכהן כלאם ואוקפני עלי כתאב מולאי פסאני
ורגעת לרוחי ואעלמ אנני אבטית פימא פעל בה ענד וקופה עלי כתאבי
הדא ינצר מא כאן לה ענדי יאכד מן כיאר דר' יכן לי ענדך ואלספט אל
זעפראן יבקיה בחאלה ואלא יחרכה אלי נזול כתאבי אליה או נזולי למא
יקבלה אן שא אללה אללה ולא יכלף רוחה שטט ויגב יא מולאי אדא כאן
פי קלבך שיי תקולה לי פי וגהי נרגע אליך אד מא בקי ביננא שיי
יוגב לתגמל פימא ינצר בה ואחד מנא ויחרץ פי ביע אלרדאין \\ ויעמל \\
חסאב מאלה יקבצה בחסבמא דכרת לה שיי ומא אערף אלשרא
margin
בהדה אלת' דינ' אלדי ענד
מולאי מע אלכסאר אלדי
תרכת ענד אכדה......
אן מולאי יפיג אליה
פיג קאצד או אנסאן
תקה ינפד לה מעה
ק דינ' ומע כתאבי
הדא כתאב לה
הו יעמל כמקתצ....
.......ואלצרה אלדי אנפד
אלכהן מע סהל צבי
בן אלחסון אלבגדאדי
יקבצהא מ... איצא
ואן וצל לה שיי מן
....כל אלמואל...
יקבץ איצא
ויכאתבני
במא
top
פעלה פי חאל אנפאד
אלכל לאברהם ואן
כאן אשתרא לי שיי
ואלדי וצלני לליום ו (ז ?)
רזם מנהא ג מן
קבל אלשיך אבו אברהם
ואכרי בלטה מן קבלה
איצא ג מן קבל
עמי יוסף וצרר
דנ' מן קבל עמי
וקד ציק עלי
אלעיד ומא
לחק אן
other side
נעמל שיי ואנא אן שא אללה יום אסרו חג נעמל עלי מא לא בד מנה
פיכון מולאי יתוק.. במא יצלך קבלי מן צרר ורזם פאיש מא וצל
אליה יקדם תצחיחה ינצרה עינא וכתאבי יצל אליה מע אלרחל במא
יפעל ומא ישתריה לי מן אלבצאע ואלדי.....מן מעה עליה.....פי אלעין ופי
אלכצא...פי אלביע ב ואלשרא לם אדכרה..... פיה מא אר..ד ואנא
ואללה לא כמא יכתאר פי גמיע אלאשיא...
הו מאלך ומאלנא...
ואן לם ואלעאיד באללה ישתרי אברהם (או: אכר תם) כל...דינ' לליום ולם..
בשיי או אן גא כתאבה............אשתרי...לפלאן שיי........לי ק
דינ'......אגיד מנה וקדב עליה ויתרכה....
......קד.....ורק מאלה אל.... פי אלזעפראן פקאל לי אן לם יגי מ... שיי ואנה.....
............בדינ' פאן סוי מן ז דנ' אלמן אלי ו.......וקד אביע הדא
ז דנ' ולם יגי מנה שיי לא קליל ולא כתיר ואתפקת מעה פימא נשתרי ואלדינ' אלק
ואלביע ב ואלעין תלתין ואלכהן יבלגך אלסלם אקולה וצלני כתאבך תאכד עלי פי
מסאלה אן שהדה פקד אסמעני אלקבח אל... והו וקח אלי גאיה ומא ימכני אקול
לך אכתר מן הדא ואתפקת מע אכיה כלמא תביע לה דנ' אלק פאישמא וצלה לה (לך ?)
תביעה ות.... כמא קסם אללה ...וקד וגה לך מע סהל צרה.....וצרה..... רומיה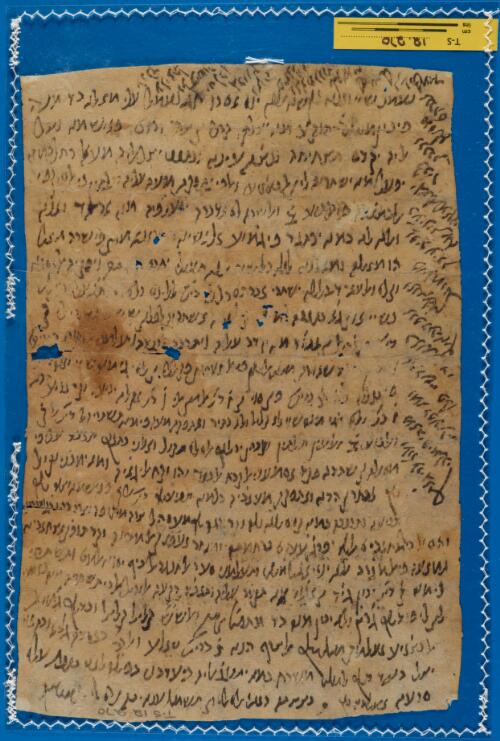 The continuation is on the margin. The passage at the bottom of page (verso) is probably in another hand and was added on after the margin and the top. margin
לאלדנ' אלדי גאתך \מא הי.........\ומא דפע אלי \ אחד שיי פאלדי \ כאנת
...\ אנפדתהא לך \ ואנא אללה \ ...........\ ופיהא עיבא \ כעונות אללה \
יגעל אלעאקבה \ לכיר \ ודכרת \ מסאלת \ אברהם
top
בן אלתלמיד \ [לם] יצל \ לך שיי \ ואצחאבנא ...\ פי צקליה \
בצרה \ גדולה \ יטלבו \ באלעשור \ עלי אהל \ בלד
continuation on bottom
והם אלכל מחאביס אללה יפרג ענהם ברחמתה ומא חד..אעפא מן אלמדינה וקד תופי מן אצחאבנא
גמאעה פי אלמגרב אללה ינסי אגל מולאי ותעלמני סער אלזנגבול כיף יסוא אליום ותשתרי
לי מנה ק דינ' יכון גיד מן אגוד מא תקדר עליה ותאכד רקעה אלוכיל אלדי תש.......
לאן לי פי דלך גרץ ולא יכון מנה בד מתפצל אן ..... ואלשיש קליל קליל וכדלך גמיע
אלבצאיע אעלמת מולאי דלך אלצרף הנא נ בדינ' טאלע ואל.... כאסדה גדא ורקאע
יצל בעד דלך למולאי משרח במא י....ג אליה .....כפילה לאני וקפת עלי
סלע...אעלמת דלך ... כצצתה באתם אלסלאם ומן תשמל ענאיתה אלסלאם ...
Image Permissions Statement

T-S 12.270: Provided by Cambridge University Library. Zooming image © Cambridge University Library, All rights reserved. This image may be used in accord with fair use and fair dealing provisions, including teaching and research. If you wish to reproduce it within publications or on the public web, please contact genizah@lib.cam.ac.uk.