Letter: T-S Misc.24.137.4
Letter
T-S Misc.24.137.4
Input date
In PGP since 1990
Description
Leaf from a court ledger. On recto: Testimony of compliance with an order issued by the head of the Jews, Netanʾel ha-Levi. Dated: First third of Shevaṭ 1471 Seleucid, which is 1160 CE. To wit: Manṣūr al-Dhabbāḥ, a ritual slaughterer and cantor, was brought before the court and instructed to behave properly, to be nice to people, not to argue with those who tease him in the presence of gentiles, and to follow the usual laws of slaughtering. He promised to obey these instructions. (Information in part from Goitein, Mediterranean Society. II, p. 225.)
T-S Misc.24.137.4 1r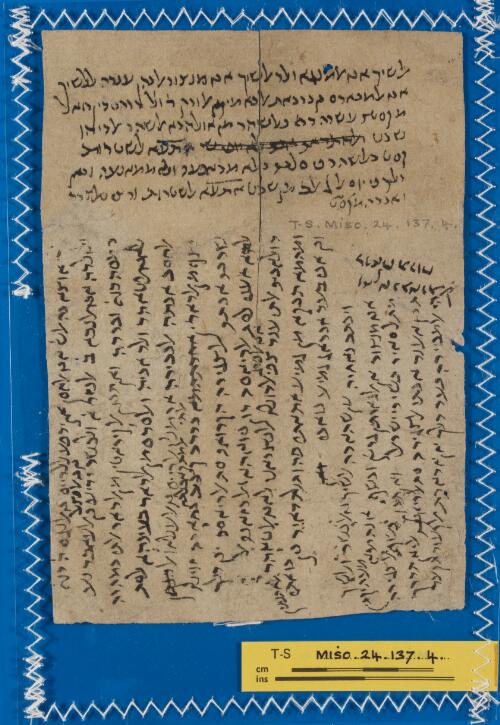 Transcription
S. D. Goitein, unpublished editions.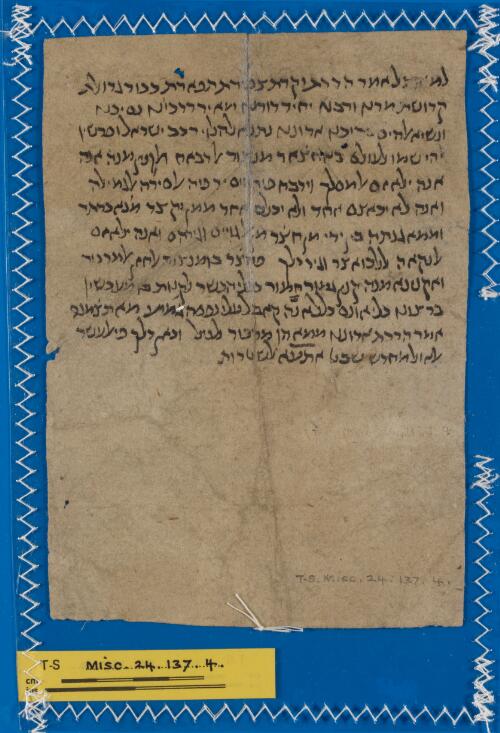 למא וצל אמר הדרת יקרת צפירת תפארת כבוד גדולת
קדושת מרנו ורבנו יחיד דורנו מאיר דרכינו נסיכנו
ונשיא אלהים בתוכנו אדוננו נתנאל הלוי רכב ישראל ופרשיו
יהי שמו לעולם באחצאר מנצור אלדבאח ואלקנין מנה אנה
אנה (!) ילאזם אלמסלך וידבח פיה ויסיר פיה אלסירה אלגמילה
ואנה לא יכאצם אחד ולא יכלם אחד ממן יקצד מנאכרתה
וממאגנתה בין ידי מן חצר מן אלגויים וגירהם ואנה ילאזם
אלנקאה ללכואצר וגיר דלך פחצר בו מנצור אלחזן אלמדכור
ואקנינא מנה קנין גמור חמור בכלי הכשר לקנות בו מעכשיו
ברצונו בלי אונס כלל אנה קאבל עלי נפסה גמיע מא תצמנה
אמר הדרת אדוננו ממא הו מדכור לעיל וכאן דלך פי אלעשר
אלאול מחדש שבט אתעא לשטרות
Response to a decree of the ra'is al-yahud Nethanel ha-Levi, regarding the proper conduct of a meat slaughterer. 1471 Sel. (1160). TS Misc. Box 24, f. 137, no. 1, ed. MRC.
למא וצל אמר הדרת יקרת צפירת תפארת כבוד גדולת
קדושת מרנו ורבנו יחיד דורנו מאיר דרכינו נסיכנו
ונשיא אלהים בתוכנו אדוננו נתנאל הלוי רכב ישראל ופרשיו
יהי שמו לעולם באחצאר מנצור אלדבאח ואלקניין מנה אנה
אנה ילאזם אלמסלך וידבח פיה ויסיר פיה אלסירה אלגמילה
ואנה לא יכאצם אחד ולא יכלם אחד ממן יקצד מנאכדתה
וממאגנתה בין ידי מן חצר מן אלגויים וגירהם ואנה ילאזם
אלנקאה ללכואצר וגיר דלך פחצר בו מנצור אלחזן אלמדכור
ואקנינא מנה קנין גמור חמור בכלי הכשר לקנות בו מעכשיו
ברצונו בלי אונס כלל אנה קאבל עלי נפסה גמיע מא תצמנה
אמר חדרת אדוו ממא הו מדכור לעיל וכאן דלך פי אלעשר
Image Permissions Statement

T-S Misc.24.137.4: Provided by Cambridge University Library. Zooming image © Cambridge University Library, All rights reserved. This image may be used in accord with fair use and fair dealing provisions, including teaching and research. If you wish to reproduce it within publications or on the public web, please contact genizah@lib.cam.ac.uk.