Legal document: T-S J1.29
Legal document
T-S J1.29
Input date
In PGP since 1988
Description
Dowry list and nuptial gift of a rich bride. In the hand of Natan b.Shemuel he-Ḥaver. Dating: ca. 1128–53 CE.
T-S J1.29 1v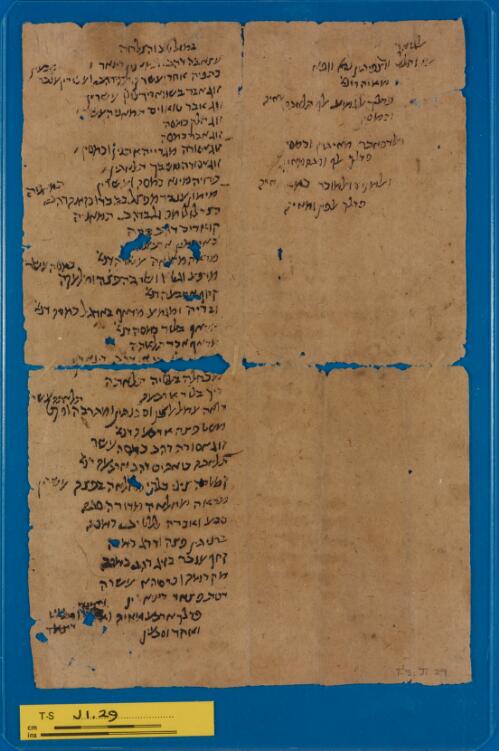 Transcription
S. D. Goitein, "Three trousseaux of Jewish brides from the Fatimid period," AJS Review 2 (Cambridge, United Kingdom: Cambridge University Press, 1977), 77–110.
במזל טוב והצלחה
עצאבה דהב תמאנין דינאר
כתפיה אחדי עשר קרצה דהב ועשרין ענבר סבעין
זוג אבר בשמאריך לולו עשרין
זוג אבר טואויס תמאניה עשר
זוג חלק כמסה
זוג אבר כמסה
זוג אסורה מגרייה אתנין וכמסין
זוג אסורה משבך תלאתין
פרדה מינא כמסה ועשרין
מימון ענבר מפצל בבכר דהב תמאניה
כצר לולו מפצל בדהב תמאניה
קואדיס דהב סתה
כאתמין ארבעה
מראה מחלאה עשרה דנא
מרפע וגטא ושרבה פצה ומלעקה כמסה עשר
קחף ארבעה דנא
זבדיה ומגמע מדאף בארגל כמסה דנא
מדאף בלור כמסה דנא
מדאף אכר תלאתה
] דהב דינארין
מכחלה באלטיה תלאתה
דיך בלור ארבעה
דואה עמל אלצין וסכנתין [!] ומתרבה ומקט תלאתה עשר
משט פצה ארבעה דנא
זוג אסורה דהב כמסה עשר
תלאתה כואתים דהב ארבעה דנא
קמטרה ציני בלדי מחלאה בפצה עשרין
מראה מחלאה מדורה סתה
סבע ואברה ללטיב כמסה
ברניתין פצה ודרג כמסה
קחף ענבר בזיג דהב כמסה
מקדמה וכרסיהא עשרה
דסת פצאד דינארין
פדלך ארבע מאיה ואחד וסבעין
II
אלמלבוס
כלעה סחאבי אלתוב ואלמעגר
ואלעצאבה מני כמסין
מעגר ביאץ מדהב כמסה עשר
כצי מדהב גרי אלקלם ותוב מדהב עשרה
מנדיל דביקי תמאניה
מערקה דביקי
מלאה דביקי בטרפין מדהב
ונקאב מדהב אתנין ועשרין
מלאה דביקי חרירי ארבעה
רומייה זרקא סתה
מעגר חרירי משפע סתה
כלעה מדאינא [?] חרירי תוב
ומעגר [
תוב מני חרירי דביקי ורומייה מני כמסה עשר
מכלף מני כמסה דנא
כלעה רמאני ומעגרהא כמסה עשר
מעגר אזרק מדהב כמסה
גוכיניה [!] מטאיר ארבעה
מעגר לבכי כמסה
גוכיניה [!] משמשי מדהבה ומכלף חרירי
ורומייה משמשי חרירי עשרה
תוב אכצר מדהב ומעגר שמעי כמסה
מכתומה עמל אלדאר סתה
גוכאניה סקלאטון תלאתה
גוכאניה סקלאטון אחמר ארבעה
מכתומה סקלאטון סבעה
מכתומה עמל אלדאר עתאבי סתה
מכתומה עתאבי נשאווי כמסה
גוכיניה [!] דיבאג משאהרה עשרה
דנ
III
גוכיניה [!] דיבאג אחמר עשרה
מכתומה דיבאג פסתקי כמסה עשר
כלעה מסני תוב ומעגר ועצאבה
ורומייה תלאתין
תיאב מתכת ומקאטע תלאתין דינ
[פדלך אלמלבוס]
[תלאתה מאיה ואחד וארבעין]
מזרה סקלאטון אתני עשר
מזרה דיבאג אזרק עשרין
פדלך אלמלבוס תלאתה מאיה
תלאתה וסבעין
לחאף דיבאג רומי עשרה
לחאף אכר עשרה
צראדקין קלמוני סתין
מרתבה דיבאג רומי סתה קטע ארבעין
מרתבה דיבאג גזאירי כמסה עשר
מרתבה בהאיי ארבע קטע כמסה עשר
מרתבה גזאירי ג קטע כמסה עשר
מרתבה דיבאג רומי ג קטע כמסה עשר
טראחה סקלאטון כמסה דנא
מרתבה סקלאטון כמסה דנא
טראחה סאמאן תלאתה
ברדעה דיבאג כמסה
פדלך אלבסט ואלתעאליק מאיה
תמאניה ותסעין דינאר
אלנחאס
מנארה שמעי וסראג ומנארתין אנדלסיה
מכמלאת וחקה כבירה וחקה פי וסטהא
ושראביה וטסת כלאפי ואבריק כביר
וטסת אכר ואבריק ותור אשנאן וחקה
ופרכה חקה וכאנון וסטל מדור וג חסכאת
וספל נחאס ומנשפה מדיל
אלגמיע [מאיתין] מאיתין דינאר
בראני ומטייב תמאניה דינא
IV
אלגוארי
עז ודלאל ווציפתין נסא וופא
מאיה דינא
פדלך אלגמיע אלף תלאתה מאיה
וכמסין
ואלדפאתר מאיתין וכמסין
פדלך אלף וסתה מאיה
ואלמקדם ואלמוכר כמסה מאיה
T-S J1.29 1r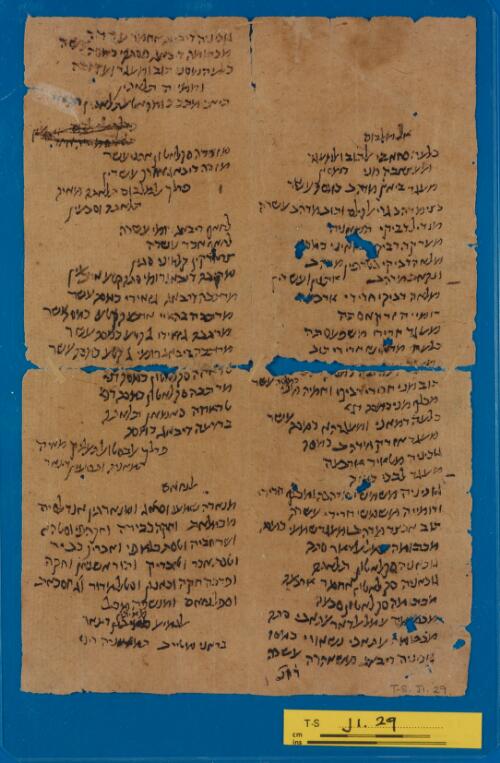 Image Permissions Statement

T-S J1.29: Provided by Cambridge University Library. Zooming image © Cambridge University Library, All rights reserved. This image may be used in accord with fair use and fair dealing provisions, including teaching and research. If you wish to reproduce it within publications or on the public web, please contact genizah@lib.cam.ac.uk.