Legal document: T-S 13J5.3
Legal document
T-S 13J5.3
Input date
In PGP since 1990
Description
Legal document. Power of attorney. Sunday, last ten days of Sivan 1461 sel. (either 18th or 25th of June 1150). Also additional court or communal recordings.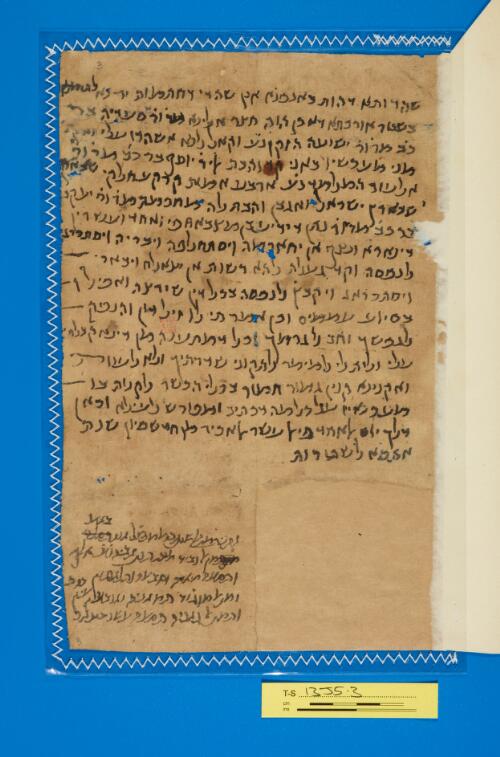 Transcription
S. D. Goitein, unpublished editions.
שהדותא דהות באנפנא אנן שהדי דחתמות ידנא לתחתא
בשטר אורכתא דא כן הוה חצר אלינא מר ור סעדיה בר
כב מר ור ישועה הזקן וקאל לנא אשהדו עלי ואקנו
מני מעכשיו באני קד והבת אלי ר יוסף בר כב מר ור
אלעזר המלמד נע ארבע אמות קרקע חלקי [[שבארץ]]
שבארץ ישראל ואגבן והבת לה מחכמה (צ"ל: מחאכמה) מר ור יעקב
בר כב מר ור נתן דידיע בן מצבאח פי ואחד ועשרין
דינארא ונצף אן יחאכמה ויסתחלפה ויבריה ויסתכרג
לנפסה וקד געלת להא (!) רשות אן יצאלח ויבארי
ויסתכראג (!) ויקבץ לנפסה בכל דין שירצה ואפילו
בסיוע עממים וכן אמרתי לו זיל דון והנפק
לנפשך וחב לגרמך וכל דמתענה מן דינא קבלתי
עלי ולית לי למימר לתקוני שדרתיך ולא לעותי
ואקנינא קנין גמור חמור בכלי הכשר לקנות בו
מעכשיו על כל מה דכתיב ומפורש לעילא וכאן
דלך יום אלאחד פי אלעשר אלאכיר מן חדש סיון שנת
אתסא לשטרות
b Settlement of Estate
אקנית מן אלשיך בו אלמפצל אנה [[תסלם]] //באע//
[[מן ת]] מן אלנביד אלדי תרך אביה נע אלף
ותסעה מאיה וסבעה ותלאתין
ומן אלמוגוד תמאניה וארבעין עין //דהב//
ותמן אלגאריה תסעה עשר דינאר
c-right Auction of Wine
תבאת מא אנבאע
מן ] אלנביד
אול יום ביד צדקה מאיה
באלדכא[ן ] מאיה
וביד בן אלמצריה מאתין
וביד צדקה [ ] כמסין
וביד היבא אלמחלי מאיה
וביד אבו אלרצא בן אלתיניסי [[מאיה]] תמאנין
[[ואיצא בו גדא]]
וביד היבא אלמחלי מאיה
וביד אלמחלי [ ] מאיה
וביד אבו אלרצא בן אלתיניסי סתה וארבעין
וביד צאפי
ואיצא [[עשרין]] //עשרה// גדא
ואיצא ביד אלמחלי מאיה
וביד אלדי מן //אלדי// ב ק דא עשרין
וביד צאפי לו גרא
וביד אבו אלרצא כמסין
וביד אלאשמוני וט
וביד אלמחלי מאיה
אלעסקלאני
וביד צאפי תסעה ותמאנין
ואיצא ביד אלמחלי מאיה
וכמסין אלגומלה אלף
וכמסה מאיה ותסעין
c-left
ואיצא מאיה ואתנין ביד
סולים בן אלרחבי
וביד אלמחלי .....
וביד אלמחלי יום אלתלאתה
כמסין ופי אליום בע[דה
[[כמסה וסבעין]] ללדי מן
גדא [[כמסין]]
ופי אליום בעינה ביד בן אלתיניסי
עשרין וביד אל א.... תלא[תין
פי יום אלכמיס ביד אלמחליין
מאיה וביד בן אלתיניס וט
וכאן תבקא סבעה ועשרין
צדקה מאיה צאפי מאיה אלסנבאטי //מאתין//
אלכתבי כמסין אלמחלין מאיה אלתניסי //מאיה//
אלמחלין מאיה אלמחלין מאיה אלמחלין מאיה
אלמחלין מאיה אלמחלין מאיה וכמסין
אלמחלין כמסין צאפי תסעין
בר קידה עשרין אכו צדקה מאיה
אלתניסי וגירה כמסה וסתין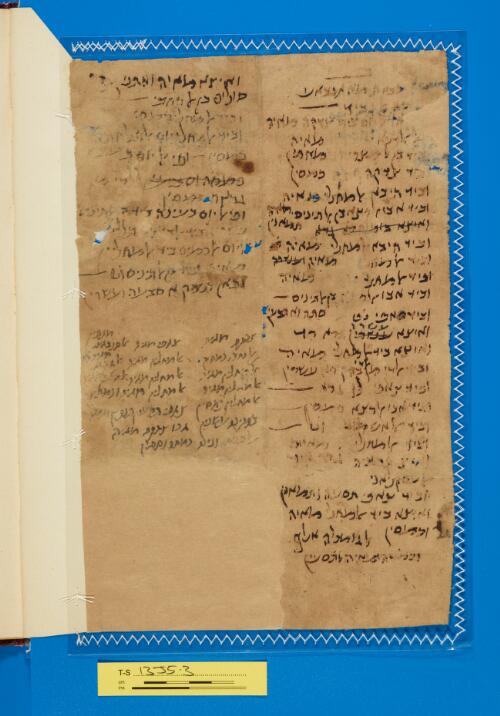 Image Permissions Statement

T-S 13J5.3: Provided by Cambridge University Library. Zooming image © Cambridge University Library, All rights reserved. This image may be used in accord with fair use and fair dealing provisions, including teaching and research. If you wish to reproduce it within publications or on the public web, please contact genizah@lib.cam.ac.uk.