Legal document: T-S 13J3.10
Legal document
T-S 13J3.10
Input date
In PGP since 2017
Description
Six pages of court records in the handwriting of Mevorakh b. Natan (b. Shemuel ha-Ḥaver). Fol. 1, recto (doc. a): After the death in Sicily of Abū l-Surūr b. Abū ʿAlī al-Ḥibrī, his brother Futūḥ claimed his inheritance and the court establishes that as their third brother (Abū Saʿīd) has already died, Futūḥ is indeed the only known heir. Fol. 1, verso (doc. b): Abū Saʿīd Khalaf/Ḥalfon (aka "Segulat ha-Nedivim" or simply "al-Segulat") received 18 dinars from Abū l-Maʿālī Shemuel the trader, who had been guarantor on behalf of the banker from al-Maḥalla Abū l-Maʿālī b. ʿOvadya for the orphan Bayān b. Ḥashīsh(!). The court orders Ḥalfon to keep the money as a deposit for the orphan. Dated: Adar 1470 Seleucid, which is 1159 CE. Fol. 2, recto and verso (doc. c): Trousseau list (taqwīm). Bride: Sitt al-Maʿālī bt. Mevorakh ha-Kohen. Groom: Netanel b. Aharon ha-Kohen. Dating: Between Nisan and Sivan 1470 Seleucid, which is 1159 CE (based on the records that appear before and after). The marriage gifts amounted to 30 plus 80 dinars. The ornaments and dressing table objects brought to the bride were evaluated as worth 155 dinars. Both spouses were Kohens and probably cousins. (S. D. Goitein, Mediterranean Society, 4:343, 466.) Fol. 3, recto (doc. d): Two entries, unclear if they are related. Above, the court orders Abū l-Faraj Ibn al-Shofeṭ to provide sustenance (mezonot) for his wife Sārra for a period of 30 days Dated: Wendesday, 9 Sivan 1470 Seleucid, which is 1159 CE. (An earlier description on PGP said that this is probably a payment for the deferment of a marriage.) Below is another trousseau list (taqwīm). Bride and groom are not named, which is perhaps an argument for connecting this to the entry above. Payments are 5 + 17. Fol.3, verso (doc. e): Dated: Wednesday, 9 Sivan 1470 Seleucid, which is 1159 CE. Sitt al-Sāda bt. Sayyid al-Ahl b. Naḥman appears before the court and claims her property and her ketubba of 30 dinars following the death of her husband Abū l-Ḥasan. She specifies the household goods left by the latter and is asked about her income from her work. Afterwards she marries. Signed by Efrayim b. Meshullam and Hillel b. Ṣadoq. (Information in part from CUDL and Goitein's index cards.) VMR. ASE.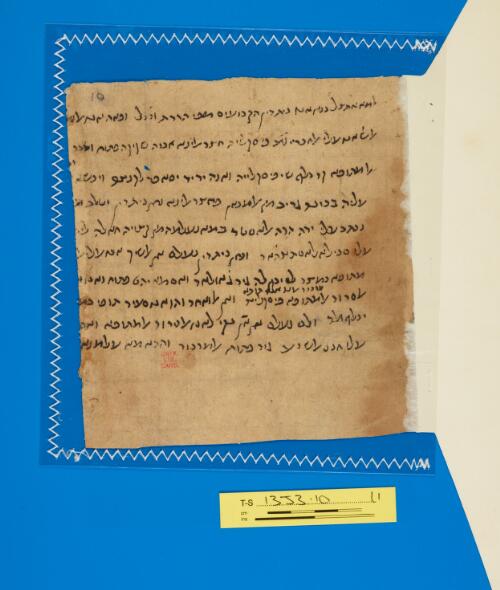 Transcription
S. D. Goitein, unpublished editions.
a
למא אתצל בנא אנו בית דין הקבועים מפי הדרת וכנל' ופאה אבו אלסר[ור אבן
אלש אבו עלי אלחבריי נע פי סקלייה חצר אלינא אכוה שקיקה פתוח ודכר
אלמתופא קד כלף שי פי סקלייה ואנה יריד יסאפר לקבצה ויכשא
עליה בכונה גריב מן אלמכאן פחצר אלינא נחן בית דין יטלב מ[נא
נכתב עלי ידה הדה אלאסטר במא נעלמה מן קצייה חאלה ליכ[ון
עלי סביל אלאסתצהאר ונחן בית דין נעלם אן אלשיך אבו עלי אל
מתופא במצר לם יכון לה גיר ג אולאד ואסמאיהם פתוח ואבו
אלסרור אלמתופא //מדכור// פי סקלייה //אנה תופא// ואן אלואחד והו אבו סעיד תופי במ[צר ולם
יכלף ולד ולם נעלם [[אן]] אן בקי לאבו אלסרור אלמתופא וארת
עלי חכם אלשרע גיר פתוח אלמדכור והדא מא עלמנא
b
חצר אלינא אנו העדים החתומים למטה אלשיך אבו סעיד כלף חשובינו ויקיר[ינו
כגק' מר ור חלפון הזקן היקר סגולת הנדיבים שצ' פי אלעשר אלאכיר מחדש אד[ר
שני אתע' לשטרות באלפסטאט רשותיה דאדונינו שמואל הנגיד הגדול נגיד
הגולה יהי שמו לעולם ואשהדנא עלי נפסה והו פי צחה מן עקלה אנה קד קבץ
ותסלם מן אלשיך אבו אלמעאלי אלתאגר כגק' מרנא ורבנא שמואל השר הנכבד
החכ והנ גביר המבינים ישמרו אלהינו מן אלעין אלגייד תמאניה עשר דינאר //גיר תמן//
דהבא עינא //דנאניר גיר מצרורה// מתאקילא וצאר דלך אליה מנה ען כמאלה ותמאמה והדא אל
מבלג הו אלדי כאן אלשיך אבו אלמעאלי גביר המבינים קד כפלה ען אלשיך אבו
אלמעאלי אלצירפי אלמחלי אלחמדת הזקן היקר בן רב עובדיה הזקן נע' ליתים
ביאן בן חשיש אלמתופא באלמחלה והדה אלתמאניה עשר דינאר גיר תמן
אלדי קבצהא מ חלפון דנן מן אלשיך אבו אלמעאלי אלגביר ליתים ביאן בן
חשיש תקרר אנהא תבקא תחת ידה עלי סביל אלודיעה לליתום אלמדכו[ר
אלי אן אמרה בית דין במא ינפעל פיה ואנה לא יכרג מן תח (צ"ל: תחת) ידה מן הד[א
אלמבלג אלדרהם אלפרד אלא באמר בית דין ובכטה ומתי פעל צד דלך פה[ו
לאזם לה מעכשיו [[ואנה קד אברא אלשיך אבו אלמעאלי אלגביר מן הדא אלמ[
[[אלדי קבצה מנה ען אלשיך אבו אלמעאלי אלחמדת ואברא אלשיך אבו אלמעאלי
[[....ת מנה אלבראה אלתאמה]] ואקנינא מן אלסגולת עלי דלך קנין שלם
חייא אפרים חייא
c
אלתקוים אלמבארך אלחתן נתנאל //הכהן// בן אהרן השר הכה[ן
אלכלה סת אלמעאלי הבתולה בת מבורך הכהן אלמוקדם ל מח[קקה
אלמאוחר תמאנין מחקקה שרוט בנות ישראל
אלמתעארפה אלנאמנות במאכל ומשקה וטע[נ]ת שמא
ואנה לא יתזוג עליהא ולא יבקי גאריה תכרההא
ואלמנאצפה במה דישתאר אם חס ושלום תיתפטר
דלא ולד [[ואן יכון סכנהא בחית תכתאר]]
עצאבה דהב ז קטע בשמסאת מינא מכללה בלולו כמסין דינאר
זוג אבר דהב //טאראת// בשמסאת מינא ושמאריך לולו עשרה דנא
זוג חלק דהב מכלל בלולו סתה דנא
לאזם דהב סבעה דנא
חנך לולו בשמסאת דהב ב
זוג אסורה דהב מגרי סבעה עשר[[א]]
פרדה דמלג דהב מגרי ארבעה עשר
תסתינג דהב מכלל בלולו כמסה דנא
חדידה דהב מגרי כמסה דנא
[[חדידה]] //חוצה// דהב באפמא (צ"ל: באפמאם) מינא כמסה [
פרדה חדידה ענבר באפמאם דהב ארבעה דנא
מימון ענבר בבכר דהב ושראבה ולולו כמסה דנא
זוג אבר דהב צאפרי תלאתה דנא
כאתם דהב ענאבה דינארין
מדאף פצה תלאתה דנא
מלעקה פצה דינאר
מ]עצרה פצה דינארין
מכחלה פצה וברניה וכמתראיה ארבעה דנא
משט פצה וזבדיה תלאתה דנא
מראה מדורה בגטא פצה כמסה דנא
/ט/אבר פצה ומלעקה דינאר ואחד
ה קטע בלור דינארין אלגמלה קנה'
[[מערקה]] //תוב// דביקי ביאץ [[אחד]] //כמסה// עשר
מעגרה ביאץ דביקי תסעה עשר
כלעה זרקא סבעה דנא
מעגר אזרק תלאתה עשר
גוכאניה דביקי ביאץ ארבעה דנא
ווסט ביאץ מטרף סבעה דנא
גוכאניה דביקי זרקא סתה דנא
כצי אזרק תלאתה דנא
מנדיל ביאץ דביקי דינארין
מנדיל דביקי מסני ארבעה דנא
[[ד ]] //מנדיל// דביקי /א/זרק[[א]] סבעה דנא
רדה דביקי זרקא ארבעה דנא
מערקה מתכת תלאתה ונצף
רדה דביקי ביאץ דינאר ונצף
גוכאניתין מלווך מתכת תלאתה דנא
מערקה מתכת משפע דינארין
ורדה משפע דינארין
מנדיל דביקי אכצר וגוכאניה חמרא כמסה דנא
d
למא כאן פי יום אלארבעא אלתאסע מן סיון אתס(ע) לשטרות
תקרר פי בית דין מזונות עלי אבו אלפרג בן אלשופט לזוגתה סאדה
ען מדה תלאתין יום תלאתה ארבע //דרהם// כל יום מן אלתאריך אלמדכור לעיל
וכתב לזכו
גוכאניה מתכת ביאץ א
גוכאניה משפע א
מנדיל דביקי אסוד ג
וסט ביאץ גדיד ב
מערקה מתכת ביאץ א
חלה ב
מנדיל כז
מנארה נחאס א
סטל א
כוז זית טסת א
לחאף א
מלחפה ללנום
מטרח טברי וזוג מכד א
מטרח ביאץ וד מכד א
בראני מטייב א
אלגמלה כ שוי דינר
ומקדם ה ומוכר יז' מחקק[ה
e
למא אן כאן פי יום אלארבעא אלתאסע מן סיון אתע לשטרות חצרת
אלינא נחן בית דין סת אלסאדה בת סיד אלאהל בן נחמן ואלתמסת
אסתיפא מא להא פי כתובתה עלי בעלהא אבי אלחסן אלמתופא
פכשפנא אלכתובה אלתי להא עליה פוגדנא להא פיהא מאוחר
תלאתין דינאר מחקקה ונדוניא כארגה ען דלך פסאלנאהא ען
מא כלפה בעלהא תחת ידהא פדכרת אן אלדי כלפה בעלהא
הו הדה אלאעלאק אלתי יאתי שרחהא והי כזאנה דולאביה קימתהא
כמסה דנא זוג אגטייה נחאס דינאר ונצף קפץ נחאס ד[י]נארין
זוג מגאסל נצף דינאר נרגסייתין דינאר גטאוין רבאעי כרסי
מאידה עשרין דרהם קעבה נחאס וקצריה נחאס דינאר ונצף
צדר נחאס כמסין דרהם מטהרה רכאם עשרה דר/ה/ם טבק נחאס
כמסה עשר דרהם זיר חגרי וכילגה דינאר ונצף אלגמלה כמסה
עשר דינאר ונצף ותמן ודכרת אנה כלף כארג ען הדה אל
אעלאק מתל חצר וזבאדי וקנאני שי לא יפי בכמסה דנאניר
פאימנא עליהא אלאיום אלדי גרת אלעאדה במתלה קבל אסתחלאפה/א/
וסאלנאהא הל ענדהא שי מן עמל ידיהא פלם תעתרף בשי חין אדן
ח]מלנאהא ספר תורה המקודש ואסתחלפנאהא אלימין אלואגבה
] פי כניסה אלשאמין בחצור גמאעה מזקני יושר וחין
] פי הדא אלקמאש אלמדכור וסוגנא להא תמלכה ואל
] מא אסתחקתה בימינהא עלי אלמתופא ומה דהוה
] חתמנא למיהוי לזכו וכאן דלך קבל עקד ...
ח]לפון בר עלי הזקן הידוע אבו סעיד אלזגאג
] אפרים בר משולם נע
מאיר בן הלל בן צ]דוק אב בית דין זקל'
] קנין אנה קד קבל עליה אהריות הדא אלקמאש
] חייא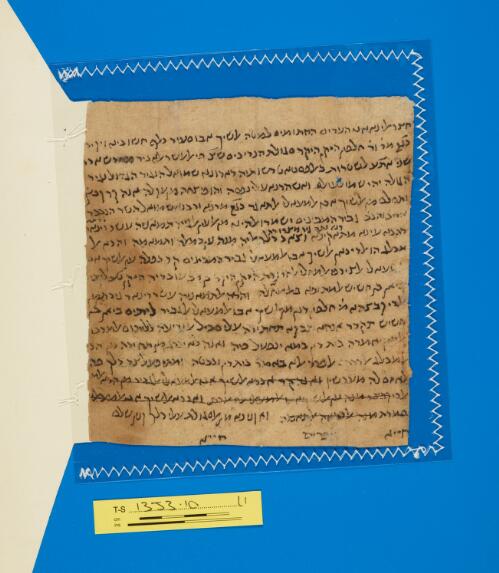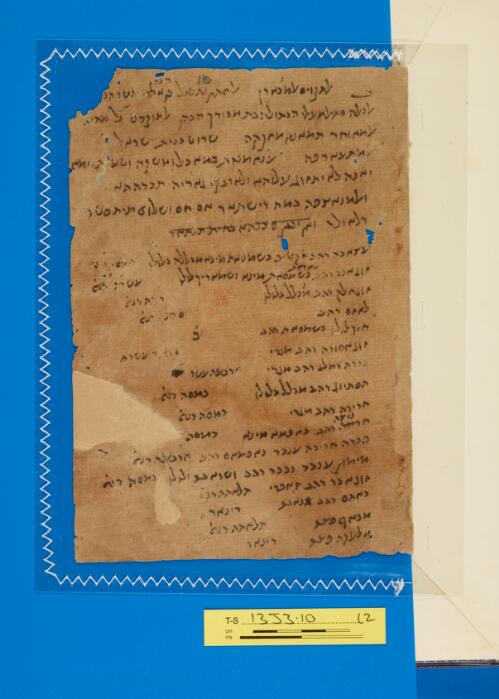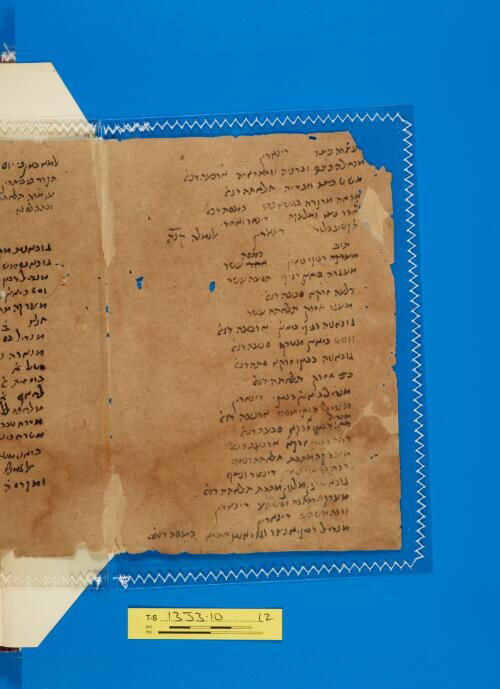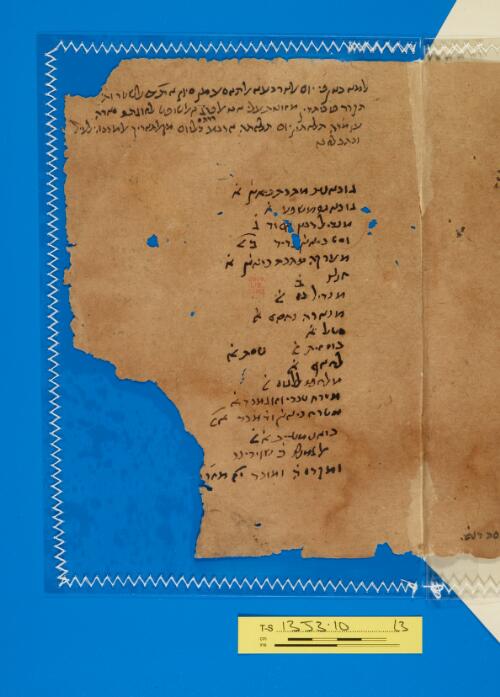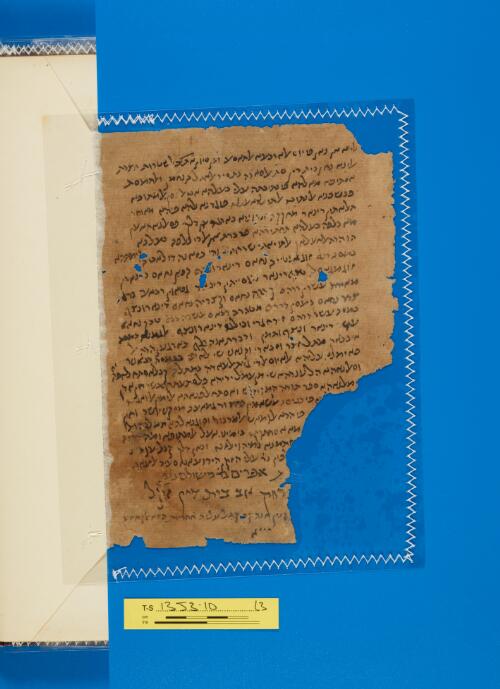 Image Permissions Statement

T-S 13J3.10: Provided by Cambridge University Library. Zooming image © Cambridge University Library, All rights reserved. This image may be used in accord with fair use and fair dealing provisions, including teaching and research. If you wish to reproduce it within publications or on the public web, please contact genizah@lib.cam.ac.uk.