Legal document: T-S 13J22.18
Legal document
T-S 13J22.18
Input date
In PGP since 1990
Description
Recto: Acknowledgment of debt. Lender: Abū l-ʿAlā al-Ṣabbāgh (the dyer) b. Abū Saʿd. Borrower: Abu ʿImrān ʿAmram ha-Levi ha-Talmid. Verso: Records of completed payments. (Information from CUDL.) VMR Should be dated to early 13th century.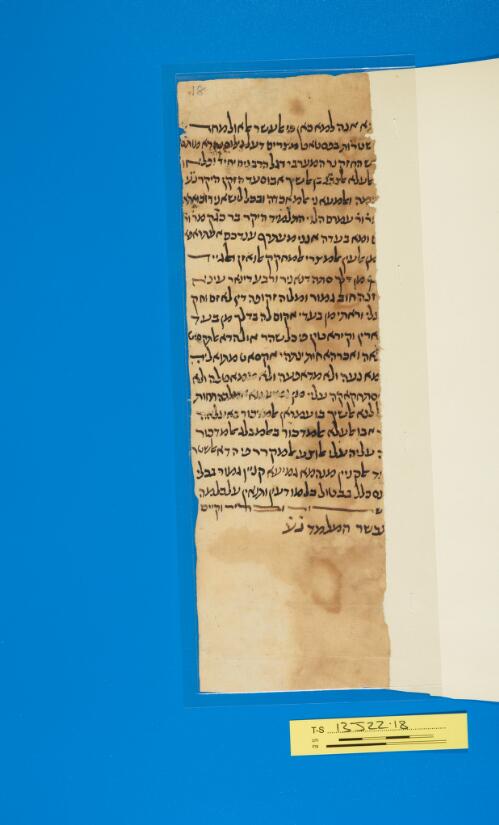 Transcription
S. D. Goitein, unpublished editions.
לתח]תא אנה למא כאן פי אלעשר אלאול מחדש
ל]שטרות בפסטאט מצרים דעל נילוס נהרא מותב[ה
הפטי]ש החזק נר המערבי דגל הרבנים יחיד \\הדור\\ ופלאו
] אלעלא אלצב\א\ג בן אלשיך אבו סעד הזקן היקר נע
אלמח]כמה ואלמעאני אלמאכדה ובכל לישאני דזכואתא
] מר ור עמרם הלוי התלמיד היקר בר כגק' מר ור
] ומא בעדה אנני מעתרף ענדכם אעתראפא
] מן אלעין אלמצרי אלמחקק אלואזן ואלגייד
]ה מן דלך סתה דנאניר ורבע דינאר עינא
]זנה חוב גמור ומלוה זקופה דין לאזם וחק
] עלי וראתי מן בעדי אקום לה בדלך מן בעד
די]נארין וקיראטין פי כל שהר אולא הדא אלתקסיט
]לאה ואכרהא חית ינתהי אקסאט מתואליה
מ]מאנע ולא מדאפעה ולא ממאטלה ולא
א]סתחקאקה עליי מן גמיע מא אמלכה תחות
ק]אל לנא אלשיך בו עמראן אלמדכור באעלאה
] אבו אלעלא אלמדכור באלמבלג אלמדכור
]ה עליה עלי אלוצע אלמקרר פי הדא אלשטר
]ד אלקניין מנהמא גמיעא קניין גמור בכלי
או]נס כלל בבטול כל מודעין ותנאין על כל מה
] שריר ובריר וקיים
] מבשר המלמד נע
עמוד ב'
קבצת ממא פי באטנה
ה דנאניר ורבע ונצף
קיראט
וקבצת איצא תלאתה
דנאניר אלא רבע תנקץ
נצף קיראט
וקבצת איצא דינאר
וקבצת איצא דינארין
ועשר קראריט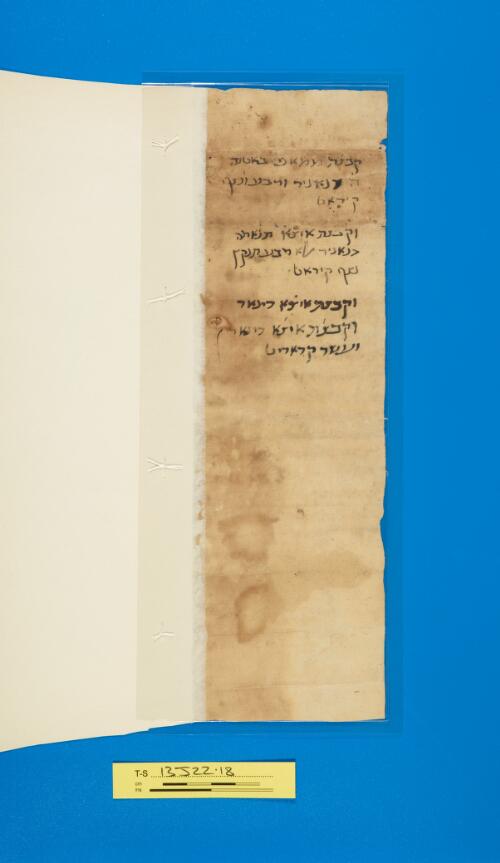 Image Permissions Statement

T-S 13J22.18: Provided by Cambridge University Library. Zooming image © Cambridge University Library, All rights reserved. This image may be used in accord with fair use and fair dealing provisions, including teaching and research. If you wish to reproduce it within publications or on the public web, please contact genizah@lib.cam.ac.uk.