Legal document: T-S 13J2.13
Legal document
T-S 13J2.13
Input date
In PGP since 1990
Description
Official confirmation at court of a debt of 60 dinars contracted three months earlier before a notary, Ab 1417/ July 1106.
T-S 13J2.13 1r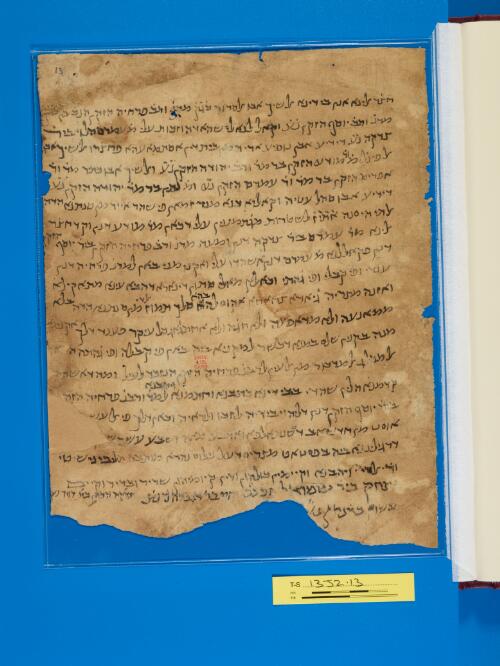 Transcription
S. D. Goitein, unpublished editions.
חצר אלינא אנן בי דינא אלשיך אבו אלסרור כגק מרנ פרחיה הזקן הנכ בן כגק
מרנ ורב יוסף הזקן נע וקאל לנא לי שהאדה וזכות עלי מ עמרם הלוי ביר
צדקה נע דידיע אבן נופיע אריד מן בית דין אסתמאעהא פחצרו אלשיך אבו
אלפצל מ //ור// מודע הזקן בר מר ור יהודה הזקן נע ואלשיך אבו כתיר מר
ור
אפרים הזקן בר מר ור עמרם הזקן נע ומ נתן בר מר יהודה הזקן נע
דידיע אבו סהל עטיה וקאלוא כנא מנד זמאן פי שהר אייר מן סנתנא הדה
אלתי הי סנה אתיז לשטרות מגתמעין עלי דכאן מר מודע דנן וקד חצר
אלינא מר עמרם ביר צדקה דנן ומעה מרנ ורב פרחיה הזקן ביר יוסף הזקן
דנן פקאל לנא מ עמרם דנן אשהדו עלי ואקנו מני באן למרנ פרחיה דנן
ענדי ופי קבלי ופי גהתי וכאלץ מאלי סתון דינארא דהבא עינא מתאקילא
ואזנה מצריה גיאדא צחאחא אקום לה[[א]] //בהא// סלך תמוז //אלדי// מן
סנתנא הדה בלא
ממאנעה ולא מדאפעה ולא חגה ולא אחתגאג כל עיקר פענד דלך אקנינא
מנה בקנין שלם במנא דכשר למקניא ביה באן פי קבלה ופי גהתה הדא
אלמבלג אלמדכור מן אלעין לרבנ פרחיה הזקן הנזכר לעיל ומה דאשהיד[ו
קדמנא הלין (!) שהדי בבי דינא כתבנא וחתמנא //ויהבנא// למר ורבנ פרחיה
הזקן
ביר יוסף הזקן דנן דליהוי בידיה לזכו ולראיה וכאן דלך פי אלעש[ר אל
אוסט מן חדש אב דשנת אלפא וארבע מאה ושבע עשר ש[נין למנינא
דרגיליננא ביה בפסטאט מצרים דעל נילוס נהרא מותבה תלי ביני שיטי
ור אלדי ויהבנא וקיימין כולהון ודין קיומיהון שריר ובריר וקיים
יצחק ביר שמואל זכ לב יחיי בר אברהם נע צדקה הכהן ביר דויד נע
... בר נתן נע'
T-S 13J2.13 1v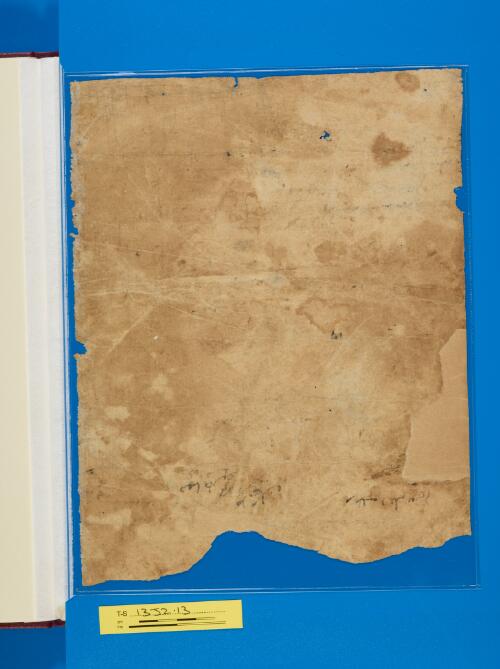 Image Permissions Statement

T-S 13J2.13: Provided by Cambridge University Library. Zooming image © Cambridge University Library, All rights reserved. This image may be used in accord with fair use and fair dealing provisions, including teaching and research. If you wish to reproduce it within publications or on the public web, please contact genizah@lib.cam.ac.uk.