Letter: T-S 13J14.20
Letter
T-S 13J14.20
Input date
In PGP since 1990
Description
Letter probably from the leaders of the Jewish community in Alexandria to Efrayim b. Shemarya in Fusṭāṭ, describing the ransoming and generous treatment of two Jewish captives by Netanʾel ha-Kohen, and the special prayers recited in honor of both Netanʾel and David b. Yiṣḥaq ha-Levi, on every Sabbath on account of their past generosity. The letter also begins to narrate the tale of a ship belonging to the Muslim pirate Jabārah ibn Mukhtār, that set sail from Anṭalya (western Turkey) heading west, but called in at Ramāda (Tunisia) with ten Jewish captives, whose money had been stolen and who needed to be ransomed. Dating: 11th century. (Information from CUDL.) This document has been cited extensively in the literature. The sender is the Alexandrian judge Yeshuʿa b. Yosef, according to Frenkel.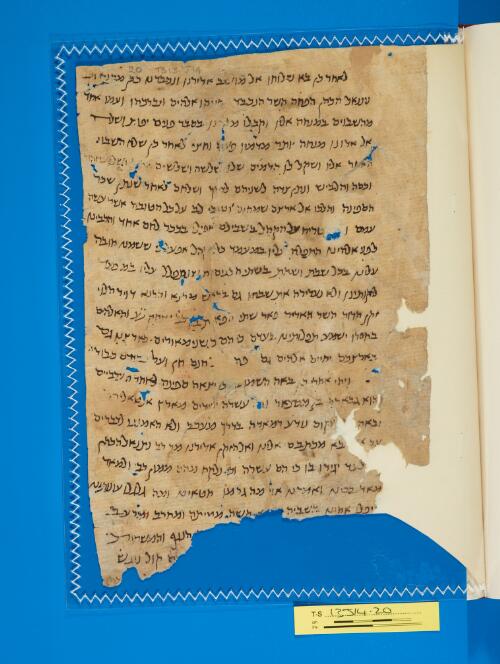 Transcription
Jacob Mann, The Jews in Egypt and in Palestine under the Fâtịmid Caliphs (New York: Ktav Publishing House, 1970), vol. 2.
לאחר כן בא שלוחו אל מושב אדירנו ונכבדנו כק מרנא ורב'
נתנאל הכהן הפחה השר הנכבד [י]חייהו אלהים ויברכהו ועמו אחד
מהשבויים במנחה אליו וקבלו מי[די]נו בסבר פנים יפות ושלח
אל אדונו מנחה יותר מדמיו פעם וחצי לאחר כן שלח השבוי
הא[ח]ר אליו ושקל לו הדמים שלו שלשה ושלשים [זהובים] ושליש זהו[ב]
וכסה והלביש ונתן צדה לשניהם לדרך ושלחם לאחר שנתן שכר
הספינה והלכו אל ארצם שמחים וטובי לב על כל הטובה אשר עשה
עמם ו[לא ה]טריח הקהל בשבילם אפילו בככר לחם אחד והרבינו
לפני אלהינו התפלה [ע]ליו במעמד כל [ה]קהל אפעל[פ]י ששמנו חובה
עלינו בכל שבת ושבת בשתי הכניס[יו]ת שנתפלל עליו במעמד
להקותינו ולא נעדירה את שבחו גם בראש מרנא ורבנא דויד הלוי
זקן הדור השר האדיר פאר שתי הפא[ו]ת בן רב יצחק נע והאלהים
בחסדו ישמע תפלותינו בעדם כי הם כשני מאורים בארצנו גם
בארצכם יחיים אלהים גם [יוסי]פה [על] חנם חן ועל כבודם כבוד
ויהי אחרי כן באה השמו[עה] כי יצאה ספינה לאחד הערביים
והוא גבארה בן מכתאר ו[בה] עשרה יהודים מארץ אנטאליה
ובאה [אל] מקום נודע רמאדה בדרך מערב ולא האמננו לדברים
עד א[שר] בא מכתבם אלינו ואל הזקן מר רב נתנאל הכהן
[יחי] לעד יגידו בו כי הם עשרה וכי נלקח מהם ממון רב ולמאד
[צערנו ו]מאד בכינו ואמרנו אוי מה גרמו חטאינו ומה גלגלו עונותינו
[כי כן] יפלו אחינו בשביה . . . [ק]שה ממיתה ומחרב ומרעב
. . . . . . . . . . . . . . . הנגף והמשחית
. . . . . . . . . . . . . . . ם קול נוגש
. . . . . . . . . . . . . . . . . .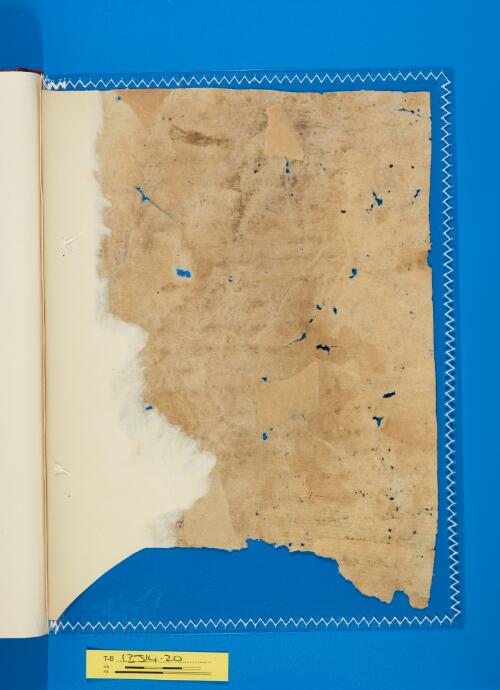 Image Permissions Statement

T-S 13J14.20: Provided by Cambridge University Library. Zooming image © Cambridge University Library, All rights reserved. This image may be used in accord with fair use and fair dealing provisions, including teaching and research. If you wish to reproduce it within publications or on the public web, please contact genizah@lib.cam.ac.uk.