Legal document: T-S 13J1.18
Legal document
T-S 13J1.18
Input date
In PGP since 1990
Description
Testimony concerning a tarika (inheritance) of two women recorded at the court of Avraham b. Ishaq, Ab 1389/July 1078, Fustat.
T-S 13J1.18 1r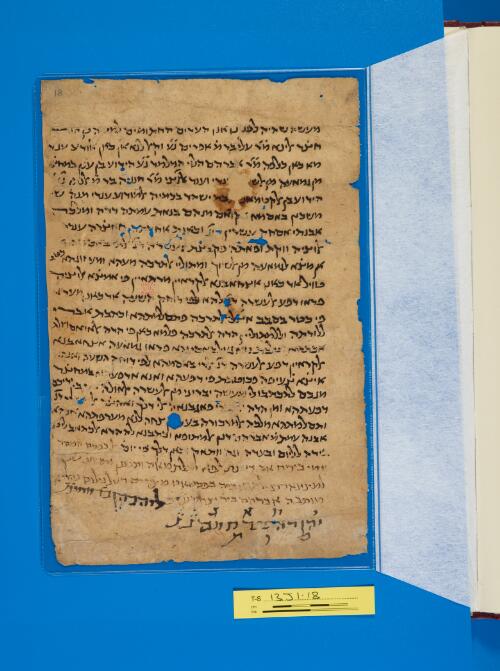 Transcription
S. D. Goitein, unpublished editions.
מעשה שהיה לפנינו אנן העדים החתומים למטה כן הוה
חצר אלינא מר עלי בר מ אפרים נע וקאל לנא אן כאן אודע ענד[י
מא כאן כלפה מר אברהם הלוי המלמד נע הידוע בן ענן במחצר
מן גמאעה מן אלש[יוך ענדי] וענד אלוצי מר חנניה בר מ אלנתן נט [רח
הידוע בן אלקטמאני [ת]בת ישהד בכמיה אלמודוע ענדי מנה ש[י
משכון באסמא אקואם מנהם בנאת עמתה דרה ומלכה
אבנתי אסחק עשרין דינ וכנאת אחדתהן חאצרה ענד[. .
אלוציה ווקת ופאתה פקבצת אלעשרה דנ אלתי באסמהא
אן מצא לגמאעה מן אלשיוך ומתוליי אלתרכה מעהא ומע זוגהא כטב
טויל אד כאנו אצחאבנא אלקראיין מרתאיין פי אמצא אלוציה
פראו דפע אלעשרה דנ להא לפי דוחק השעה אד כאנו מעהא
פי כטר בסבב אצל אלתרכה פתסלמתהא וכתבת אברי
ללורתה וללמתוליין הדה אלתרכה פלמא כאן פי הדה אלאיאם וצלת
אכתהא וטלבת מא געל באסמהא פראו גמאעה אצחאבנא
אלקראיין דפע אלעשרה דנ אלדי באסמהא לפי דוחק השעה ואגבא
איצא צעיפה פכוטבת פי דפעהא ואנא אדפעהא במחצר
מנכם לתכתבו לי מעשה יבריני מן אלעשרה אלאולה [אלדי] בין ידיכם
דפעתהא ומן הדה [. . .]רי פאגבנאה אלי דלך ואחצר אלעשרה דנ
ותסלמתהא מלכה אלמדכורה בע[ד אן] צחת לנא מערפתהא אנהא
אבנת עמת מ אברהם דנן אלמתופא וכתבנא לה הדא אלכתאב ליכון
בידה לליום ובעדה חגה וותאק וכאן דלך פי יום אלכמיס חמסר
יומי בירח אב דשנת אלפא ותלת מאה ותמנן ותשע שנין
למינינא דרגיליננא ביה בפסטאט מצרים דעל נילוס נהרא
מותבה אברהם ביר יצחק ננ עלי הכהן בר יחיי נע
י יו א ג
יהודה בר חיים ננ
מ ו ת
T-S 13J1.18 1v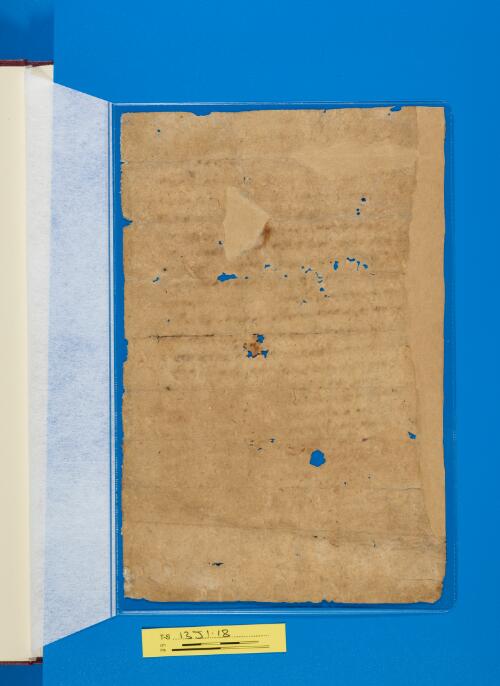 Image Permissions Statement

T-S 13J1.18: Provided by Cambridge University Library. Zooming image © Cambridge University Library, All rights reserved. This image may be used in accord with fair use and fair dealing provisions, including teaching and research. If you wish to reproduce it within publications or on the public web, please contact genizah@lib.cam.ac.uk.