Legal document: T-S Ar.53.19
Legal document
T-S Ar.53.19
Input date
In PGP since 2017
Description
Deed of sale. In Arabic script. Abū l-Ḥasan b. Ḥasan, the Jewish druggist, bought four shares of a house in Minyat Ghamr, consisting of a rectangular gate, a court, a ṣāḥa, and three buyūt, partly made of timber, from the Jewish woman Naẓar bt. Abū l-Ḥasan. The transaction took place in Minyat Zifta. The courtyard is described as containing a water closet (mirḥāḍ) and the root (? aṣl) of a ziziphus tree (sidr). The house borders on those of 3 Muslims and 1 Christian. On verso there are additional notes in Arabic script. (Information from Goitein's index card)
Edition: Pfeiffer, Athina
T-S Ar.53.19 1v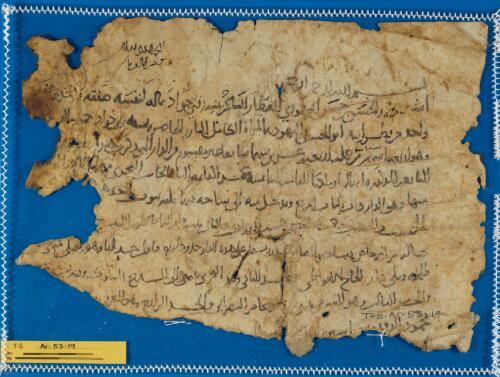 Transcription
Athina Pfeiffer, [digital geniza document edition] (n.p., 2022).
Verso
بسم الله الرحمن الرحيم
اشتر .... الحسن بن حسن اليهودي العطار الساكن بمنية زفتى جواد بماله لنفسه صفقة واحدة عقد
واحد من نظر ابنة ابو الحسين اليهودية المراة الكامل البارز الحاضرة بمنية زفتى جواد جزو الـ....
وهو اربعة اسهم من جملة اربعة وعشرين سهما شائعا غير مقسوم من الدار التي ذكرت هدا نظر [ا]بنة [ابو الحسين
الباىعة المذكورة انها لها وملكها القاىم لها بمنية غمر القاىمة اليها [بـ]ـالحانب البحري مـ.
منها وهي الدار ذات الباب المربع ويدخل منه الى ساحة فيها ثلثة بيوت احدهم [ ]
بالخشب والـ[خـ]ـشب ... [ ] خشب مدورات والثاني بيت فيها .... بالطرف اللـ..
حاله من المرحاض وساحتها لها سـ... شمل على هذه الدار حدود اربع فاول حد لها وهو القبلي ينتهي [الـ]ـى
طلحة ويلي دار الحاج الا...ط.ـي والحد الثاني وهو البحري ينتهي الى الشارع المسلوك وفيه سـ..[
الحد الثالث وهو الغربي ينتهي الى دار المخامر النصراني والحد الرابع وهو الغربي [ينتهي الى
محمود الد..... اشترى ابو الـ[حسن بن حسن]
T-S Ar.53.19 1r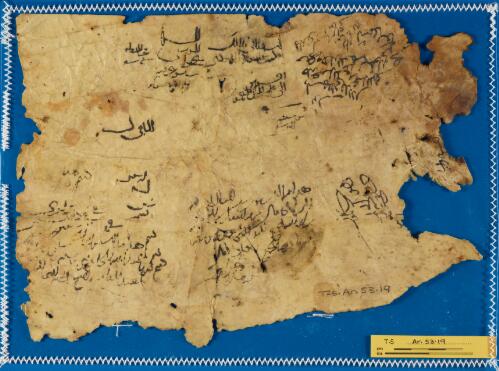 Image Permissions Statement

T-S Ar.53.19: Provided by Cambridge University Library. Zooming image © Cambridge University Library, All rights reserved. This image may be used in accord with fair use and fair dealing provisions, including teaching and research. If you wish to reproduce it within publications or on the public web, please contact genizah@lib.cam.ac.uk.