Letter: T-S 8.32
Letter
T-S 8.32
Input date
In PGP since 2017
Description
Letter from a man, in Fustat, to his brother, probably in ʿAydhāb. In Judaeo-Arabic. The sender urges him to return quickly; their mother fasts out of worry for him. Gives prices for pepper, lac, indigo, קסט מכעב, clove, red sandalwood, salsola (qāqullā).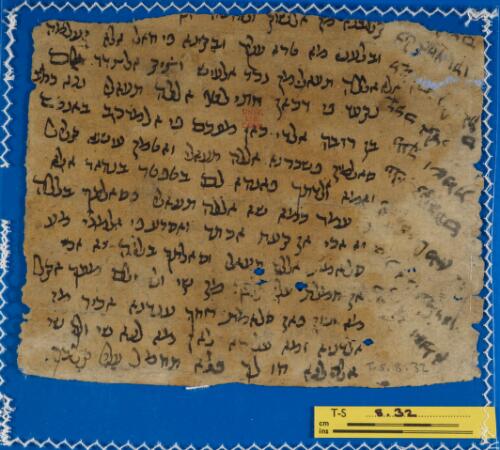 Transcription
S. D. Goitein, unpublished editions.
Recto
קלובנא מן אלשוק ולוחשה [
ובלעני מא טרא עליך ובקינא פי חאל אלא יעלמה
אלא אללה תעאלי מן נכד אלעיש וציק אלצדר ולם
נקעד פי דכאן חתי לטף אללה תעאלי וגא כת/א/ב
בן רזבה אלדי כאן מעכם פי אלמרכב באנכם
סאלמין פשכרנא אללה תעאלי ואטמן עישנא קליל
ואמא ו/א/לדתך פאנהא לם בטפטר בנהאר אלא
פי עמר כמא שא אללה תעאלי פסאלתך בללה
יא אכי אן קעת אכתר ואסרע פי אלמגי מע
סלאמת אללה תעאלי וסאלתך בללה יא אכי
אן חמלת עלי קלבך מן שי ול . . לם מעך אקל
מא יכון פאן סלאמת רוחך ענדנא אכיר מן
אלדניא ומא עליהא לאן מא לנא שי ולך שי
אלדי לנא הו לך פלא תחמל עלי קלבך
Recto - right margin
יכון מעך ואמא
בית אבו עמראן
. . . . . . מא . . . .
עלי . . . . קלבהם
מנך ושמת
בהם אלדי
ת . . . . . . הם
כל אחד והו
]ם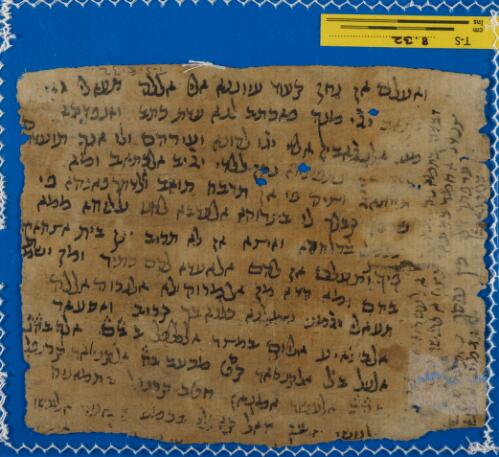 Verso
ואעלם אן נחן קעוד עיוננא אלי אללה תעאלי ואלי
כתאב יגי מנך פאכתב לנא עדת כתב ואנפדהא
מע אלנגאבין אלדי יגו להונא ועירהם ולו אנך תועדהם
. . . . . . נתפעהא נחן ללדי יגיב אלכתאב ומא
תחתאג וציה פי אן תרבח תואב ו/א/לדתך פאנהא פי
שי מן קבלך לו בצרוהא אלערבא לחנו עליהא ממא
. . . סך(?) ברוחהא ואיצא אן לא תכיב ען בית אצהארך
פיך ותעלם אן להם אלאעדא להם כתיר ומן ישמ/ת/
בהם ומא הדא מן אלמרוה ולא אלנכוה אללה
תעאלי יגמע שמלנא כלנא בך קריב ואסעאר
אלבצאיע אליום במצר אלפלפל בבם אלך בהנ
אלניל בל אלקנטאר ק/ס/ט מכעב בח אלקנטאר קרנפל
בהכ אלעשר אמנאן חטב קרנפל בתמאניה
אלעשר אמנאן האל קאקלי בכמס דנאניר אלעשר
Verso - right margin
זבדה בתמאניה דנאניר אלעשר [
צנדל אחמר בדינאר ונצף אלעשר [
ערפתך דלך כץ נפסך באתם אלסלאם
בלע לאבן [. . . . . . . . .] וגמע [שמ]לנא
Image Permissions Statement

T-S 8.32: Provided by Cambridge University Library. Zooming image © Cambridge University Library, All rights reserved. This image may be used in accord with fair use and fair dealing provisions, including teaching and research. If you wish to reproduce it within publications or on the public web, please contact genizah@lib.cam.ac.uk.