List or table: T-S NS J241 + Moss. IV,21.1 + JRL Series B 4089 + T-S NS J240 + T-S NS J1 + T-S 20.137
List or table
T-S NS J241

+

Moss. IV,21.1

+

JRL Series B 4089

+

T-S NS J240

+

T-S NS J1

+

T-S 20.137
Input date
In PGP since 2017
Description
India Book III, 18: Five accounts written by Ibn Yiju in India, 1136-1139, 1145-1149. These accounts are written on the other side of a letter from Madmun from Aden to India (see II, 23, PGPID 5479).
Edition: Goitein, S. D.; Friedman, Mordechai Akiva
T-S NS J241 1r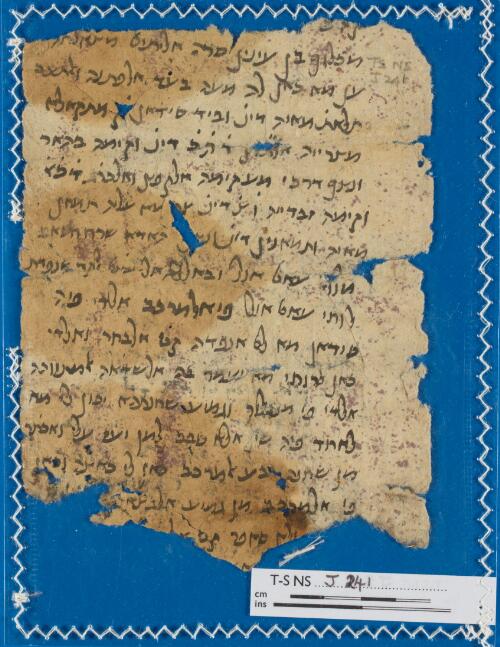 Transcription
S. D. Goitein and Mordechai Akiva Friedman, India traders of the middle ages : documents from the Cairo Geniza : India book (Leiden and Boston: Brill, 2008), vol. 3.
III, 18 A
באקי חסאב מן אלבצארה ג מתאקיל
וכאן לה ענד אלכאדאר (!) לענה אללה יד מתקאל
עלי בהארין היל מא דפע היל אשתרית לה
בהארין עוצהא מן פנדרינה ביז מתקאל
וזנת ענה זאיד ג מתאקיל ונול אלהיל מתקאל ונצף
ולה יד מתקאל תמן ד אבהרא חדיד מחדת פי מנגרור
אשתרית לה עוצהא מן פנדרינה ו אבהרא
חדיד אמלס פי גוניתין אלתמן יב מתקאל ונולתהא
במתקאלין כרג ראס בראס ואלגואני ואלמונה מן ענד
אלקימה תמן מתקאל [[//יכון// גמלה מא ענדה]] וכרג עליה
וכס מתקאלין פיליא רובג //והפסואת// קימה סדס מתקאל
אלגמלה עה מתקאל גיר תלת
אלבאקי לה מתקאל ורבע בעד כל חסאב
B
ענד לנגי ברסם אלנפקה עשרה דראהם פיליא ומתקאל מצ[רי]
[טו]אל אל נפקה מן ראש חדש ניסן והי ל נעל ה לכל שהר
אלי לנגי ד דראהם [[ד.פאג]] ולה איצא ען לג פל בתרו אלקימה
סתה דראהם ונצף ונצף פאג ולה קימה רז נפקתי ונפקה
אלעביד ואברם דרהמין ונצף אלגמלה יג דרהם [[במ]] ונצף פאג
אלי נאיר צהרי ענדי דינ ואחד
ואלי סלימאן פאג ותלת תמן דאדי
ואלי יוסף כאל צביאני ג דראהם ונצף פאג
ואל<י> יוסף לנבי אלדי פי דרמתן נעל סמן [[בנצף דרהם]]
לה ען ה נעאל רז ענדה ג פאליאת וג פאליאת איצא
ונעלין איצא בידה
[[אלי לנג[י] ]]
C
[[אלי אלאך מולאי אלנאכודה סעד ה מתאקיל פיליא סלף
קבץ מנהא בידה ג מתאקיל פיליא בקי לה
קבץֹ מתקאלין פיליא בי[דה]
a אלי אלנאכודה סעד דינר סלף
ואיצא דינר סלף
ולה דינרין מלכיין וקבץ בדינ עסל ונצאפיין
אלי ......... ז.ן וג... גיר תמן [...] קבץ דלך סלף
עלי אל.[......] בחצרה אלשיך עמרם צהרה תמן אל[...]
אלי מולאי אלשיך אלאגל אבו אלחסן בן געפר
דינרין מלכיא ברסם אקפאל מן כגנדרה [...]
ואיצא מתקאל ואחד פילי סלף
ולה אלפין חבה פופל קבץ תמניא נצאפי בידה]]
D
אלי מולאי אלשיך אבו אלחסן אבן אלמריצא אלקרוי
מתקאלין פיליא סלף ואיצא דרהם אלי צבי אלסבאך
קבץ סתה מתאקיל מצריא גיר רובג
יסלם בהא פראסלתין צפר [...]
E
לי ענד אלכאדאר(!) //פי// היל צמח בן ניסי מן אלהיל
תמאניה ועשרין פראסלה בפיש אקבצהא מנה
פי יום אול כסליו אן שא אללה ברסם אבו אלכיר
אבן אלמנקאר אבן כאלתי לה ענדי דינרין מלכיא סלף
___________________________________________
ולי ענד פלאדר שאנך דאס פי פנדרינא מן אלח(!)
חדיד אלאמלס בהארין וג פראסלאת ונה פל
היל בפיש ברסם אבו אלכי[ר] אבן אלמנקאר אבן כאלתי
יקבצהא מנה פי קניאת אן שא אללה
F
ול[י ענ]ד ל..אדתי הה. פל ו.אר מן אלפצה
T-S NS J241 1v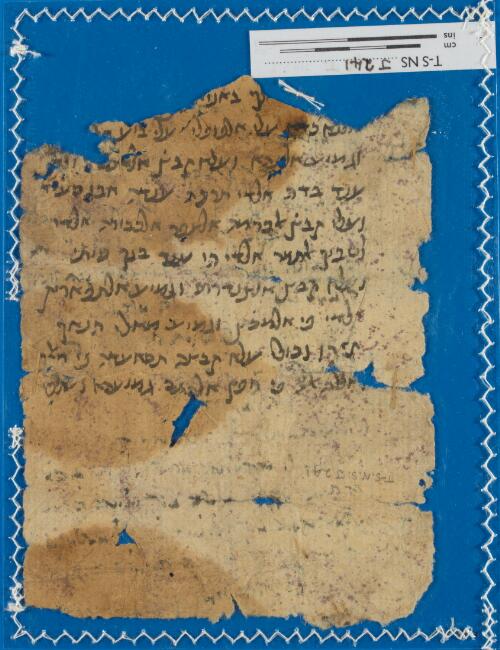 JRL Series B 4089 1 / 1 leaf, recto
JRL Series B 4089 1 / 1 leaf, verso
T-S NS J240 1r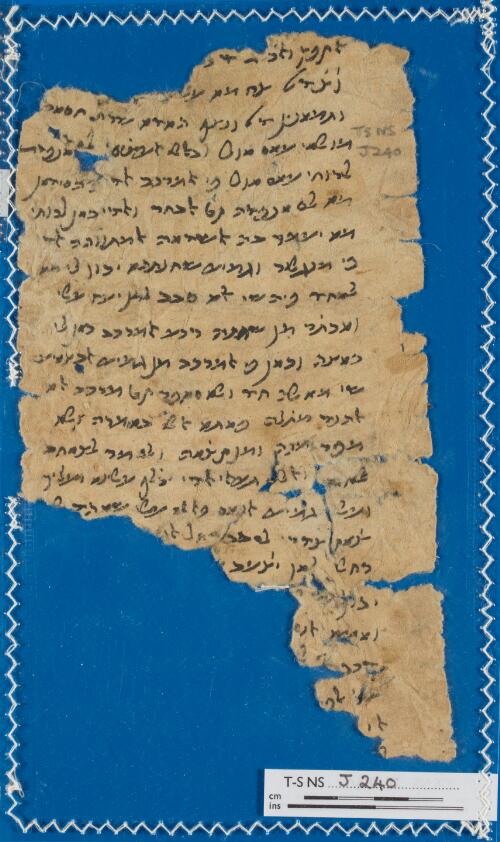 T-S NS J240 1v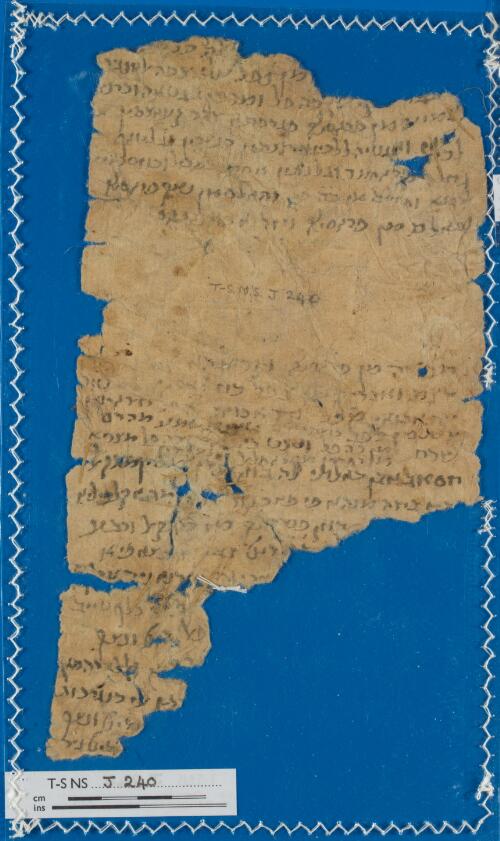 T-S NS J1 1r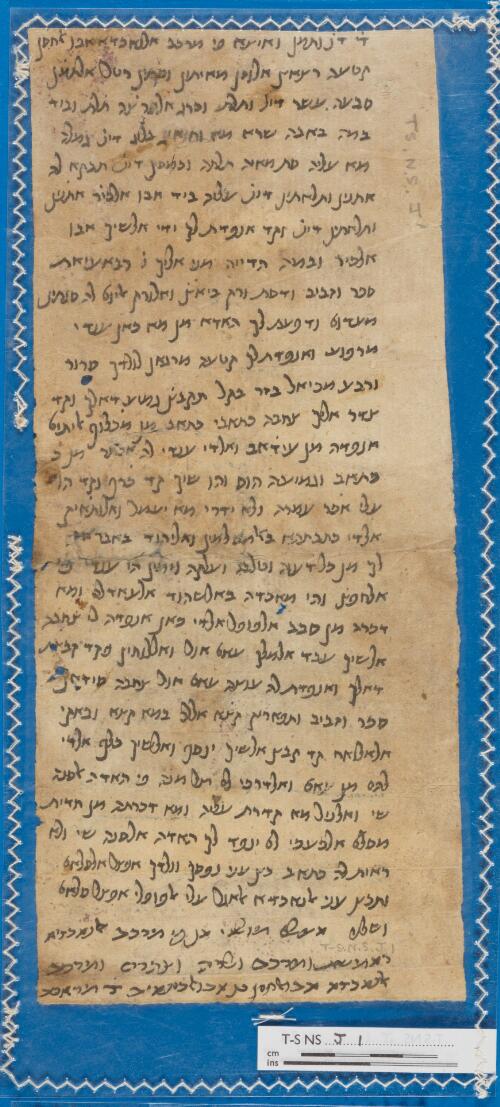 T-S NS J1 1v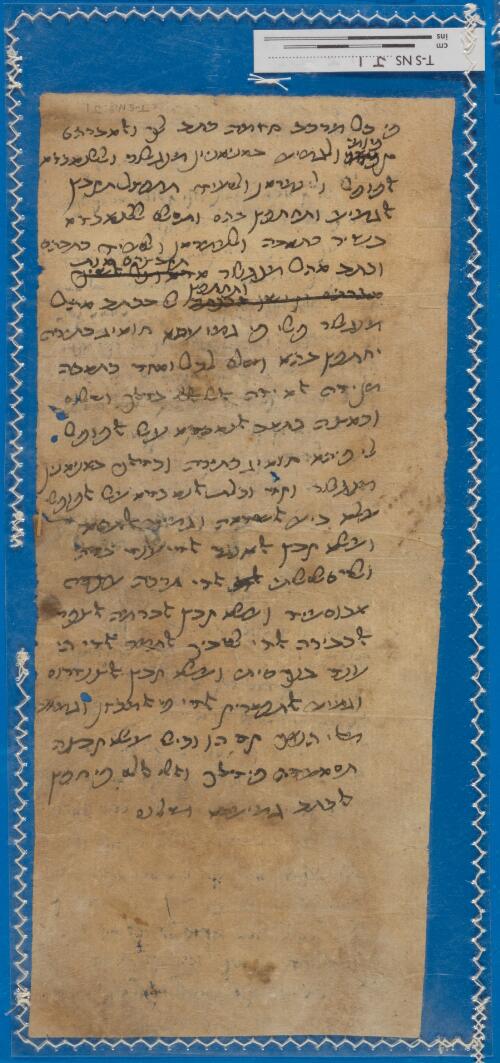 T-S 20.137 1v

Image Permissions Statement