Letter: T-S 8J17.20
Letter
T-S 8J17.20
Input date
In PGP since 2004
Description
Letter from Perahya Yiju to his brother Shemuel Yiju, complaining about his brother's failure to procure a responsum (see III, 55). Friedman-Goitein edited only the relevant lines (ll. 12-16).
Edition: Goitein, S. D.; Friedman, Mordechai Akiva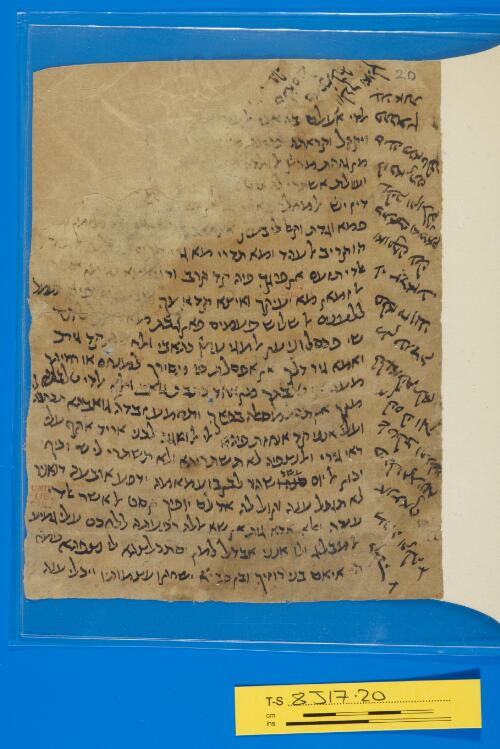 Transcription
S. D. Goitein and Mordechai Akiva Friedman, India traders of the middle ages : documents from the Cairo Geniza : India book (Leiden and Boston: Brill, 2008), vol. 3.
אלדי אעלם בה אכי [אלעזיז
ויקהל וקראתה פהמת [מצמונה
מן גההת מרץ אלואלד[
ועולה אשתרי לה[
דין יש אלמ ל[
פמא וגדת וקאל לי בעץ אצחא[
הו קריב אלעהד ומא תדרי מא ג[
אלדי תזעם אן פרגך פיה קד קרב ומא מן
אלזמאן מא יעיקך ואיצא קדאמך תעמל
ללענים אלשלוש פעמים פאן גבת מא להם
שי פכ(צ"ל פכם) סלוני ען אלמגי עוץ כתאבי ואלא קד גית
ואמא גיר דלך אן אפסלת פי מסירך למנחם או חדיתך
מעה או טלבתך מן אחד כתבת גואב ואלא אלדי טלבתה
מנך אן תסאל מסאלה בפאך ותסמע זבדה גואבהא תכתבה לי
ועלי אנני קד אנחזת פיהא אלי אלואגב לכני אריד אקף עלי
ראי גירי ואלנצפיה לא תשתריהא ולא תשתרי לי שי וכיף
יכון אליום [[סנה ו]]//עשר// שהר(!) לבן עמאמה ידפע ארבעה דנאניר
לא תגפל ענה וקול לה אד לם יופיך קסט אלאשר אלדי
ענדה ואלאן אדא גית אן שא אללה רפעתה ללחכם עלי גמיע
אלמבלג ולו אנני אבדל למן יסתכלצהא לי נצפהא פמא
הי איאם בני רוזיך ובן סביא (סביח?) ישחקו עצמותיו ויכלי ענה
Margin:
קלה אל/מרוה וקלה אל/אנצאף/פי כל וקת ונגז/אלטלב ותעלמה/אן
ליס לי וגה(?)/ ללגאליה אלא/מן ענדה/פלא יחוגני/אלי צדאע/
ואוקפה עלי/כתאבי ואומאה/עליה וקול לה/לו כאן תם/סעה מא טלבה/
פתכתץ/עני אנת/וולדך ואהלך/באפצל אל/סלאם[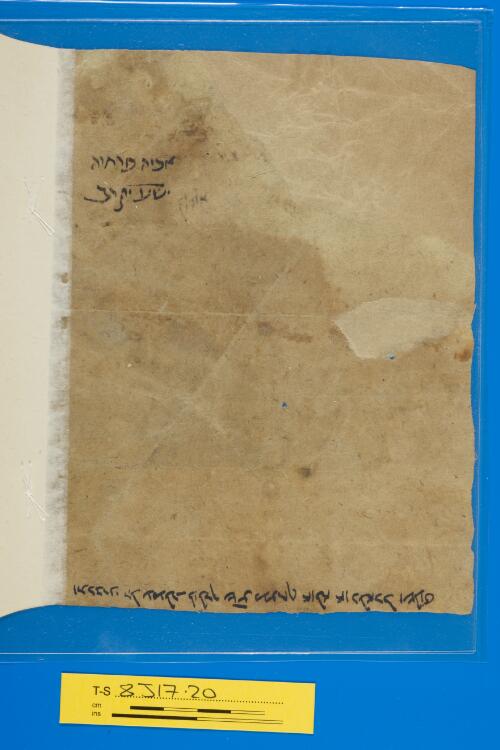 Verso:
ותכברני הל עמלת לולדך שצ' מצחף או לא או כלאכל וסיום
אכיה פרחיה
ישע יקרב
Image Permissions Statement

T-S 8J17.20: Provided by Cambridge University Library. Zooming image © Cambridge University Library, All rights reserved. This image may be used in accord with fair use and fair dealing provisions, including teaching and research. If you wish to reproduce it within publications or on the public web, please contact genizah@lib.cam.ac.uk.