Letter: T-S 18J5.5
Letter
T-S 18J5.5
Input date
In PGP since 2017
Description
Letter from Khalaf b. Yiṣḥaq to a merchant in Egypt: Attack on Aden by the King of Kish. Aden, ca. 1135-6.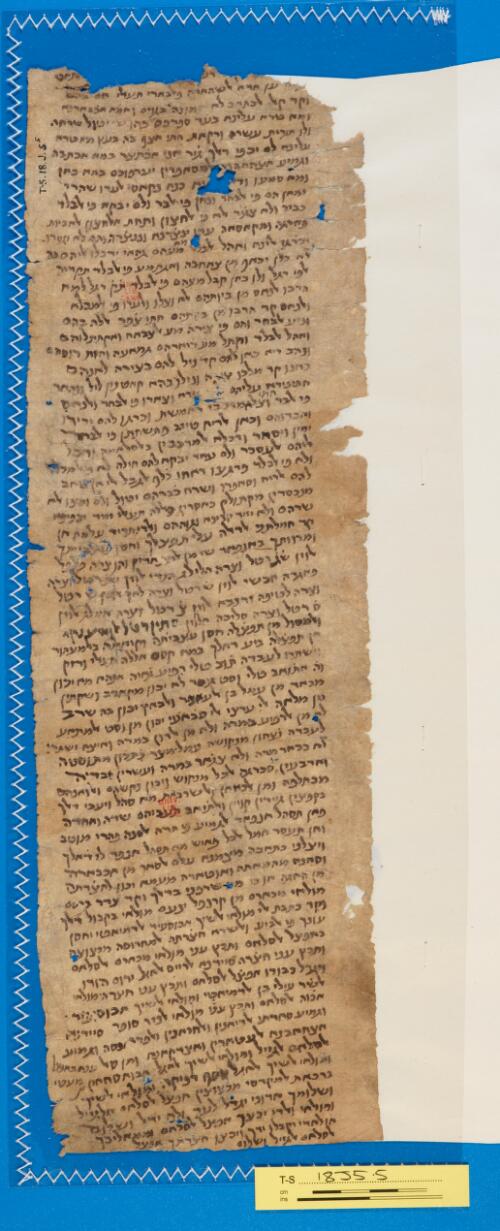 Transcription
S. D. Goitein, unpublished editions.
II, 46
[ ]רש[ ] ותאבי
[...] ען אדא אלשהאדה פאלבארי תעאלי חא[ס]בהם
וקד קאל אלכתאב לא אמונה בגוים ואמא אכבארנא
ומא טרא עלינא בעד ספרכם פהו שי יטול שרחה
ולו אגרית עשרה ורקאת חתי אצף בה בעץ מא טרא
עלינא לא יכפי דאלך גיר אני אכתצר במא אכתבה
וגמיע אצחאבנא אלמסאפרין יערפוכם במא כאן
ומא סמעו ורא[ו אנ]מא כנא נקאסי אלעדו שהרי
זמאן הם פי אלבחר ונחן פי אלבר ולם יבקא פי אלבלד
כביר ולא צגיר אלא פי אלחצון ותחת אלחצון אלא ביות
פארגה ומקאסאה עדו ינצרנא וננצרה והם לא יגסרו
יכרגו אלינא ואהל אלבלד //מא// מעהם גהאז ידכלו אליהם בה
אלא כלן יכאף מן צאחבה ואגתמע פי אלבלד תקדיר
אלפי רגל ולו כאן קבל מעהם פי אלבלד תק רגל למא
הרבו אלנאס מן ביותהם אלא וצלו ואלעדו פי אלמכלא
ואלנאס קד הרבו מן ביותהם חתי צפר אללה בהם
ונזע אלבחר והם פי צירה מע אלצבאח ואקתתלוהם
ואהל אלבלד וקתל מע דיארהם גמאעה והזת רוסהם
ונהב מא כאן [[להם]] קד נזל להם בצירה לאנהם
כאנו קד מלכו צי[ר]ה ונזלו בהא קאטנין ליל ונהאר
חתי טרא עליהם [א]ל[די] טרא וצארו פי אלבחר ואלנאס
פי אלבר //חתי// וצלא מרכבי ראמשת וכרגו להם ירידו
יאכדוהם וכאן אלריח טייב פתשתתו פי אלבחר
ימין ויסאר ודכלא אלמרכבין באלסלאמה ודכל
אליהם אלעסכר ולם עאד יבקא להם חילה לא פי אלמכלא
ולא פי אלבלד פרגעו ראחו כלף אלגבל אלי אן טאב
להם אלריח וסאפרו ושרח כברהם יטול ולם ימצו אלא
מנכסרין מקתולין כאסרין פאללה תעאלי יזיד יכפינא
שרהם ולא יזיד יורינא וגוההם ואלדי תריד עלמה אן
קד חמלתני אלדאלה עלי תפצלך וחסן עצביתך
ומרוותך באנפאד שי מן אלתפאריק והו צרה פלפל
אלוזן שג רטל וצרה הלילג הנדי אלוזן שג רטל וצרה
פאגרה חבשי אלוזן ש רטל וצרה לאך אלוזן ש רטל
וצרה לטיפה זרנבא אלוזן צ רטל וצרה אמלג אלוזן
ס רטל וצרה סליכה אלוזן סתין רטל אלגמיע נקי
ואלמסול מן תפצלה חסן עצביתה וקיאמה באלמעהוד
מן תפצלה ביע רחלך במא קסם אללה תעאלי ורזק
וישתרי לעבדה תוב טלי רפיע גאיה אנהא מא יכון
וה אתואב טלי וסט גיאד לא יכון מקארב ושקתין
מכאד מן עמל בן אלעאצר ואלבאקי יכון בה שרב
מן מלאה אלי ערצי אלי סבאעי יכון וסט אלמתאע
לא מן אלרפיע במרה ולא מן אלדון במרה ואיצא ישתרי
לעבדה ו צחון מנקושה עמל מצר [[כ]] תכון מתוסטה
לא כבאר מרה ולא צגאר במרה ועשרין זבדיה
וארבעין סכרגה אלכל מנקוש ויכון נקשהם ואלואנהם
מכתלפה ומן אלכאחן ואלשרבאת מא סהל ויעבי דאלך
בקפצין גיידין קויין ואלתיאב תעביהם שדה ואחדה
פאן תסהל אנפאד אלגמיע פי הדה אלסנה פהרי מוטב
ואן תעסר חמל אלכל פאיש מא תסהל אנפד לי דאלך
ויצלני כתאבה מצמנא עלם אלסאר מן אכבארה
וסאנח מהמאתה ואוטארה מעמא יכון לחצרתה
מן חאגה או כדמה שרפני בדאלך וקד צדר ברסם
מולאי מכארם מן קרנפל ינעם מולאי בקבול דאלך
וקד כתבת אלי מולאי אלשיך אבו סעיד אלדמיאטי יחסן
עונך פי אלביע ואלשרא חצרתה אלמחרוסה מכצוצה
באפצל אלסלאם ותכץ עני מולאי מכארם אלסלאם
ותכץ עני חצרה סיידנא אלרייס אלאגל ירום הודו
ויגדל כבודו אפצל אלסלאם ותכץ עני חצרה מולאי
אלשר עילי בן אלדמיאטי ומולאי אלשיך אבו סעיד
אכוה אלסלאם ותכץ עני מולאי אלנזר סופר סיידנא
וגמיע סאדתי אלדיאנין ואלחזאנין ואלפראנסה וגמיע
אצחאבנא אלעטארין ואצדקאנא ומן סאל ענא באפצל
אלסלאם אלגזיל ומולאי אלשיך אלאגל אבו אסחאק בן מעטי
ומולאי אלשיך אלאגל יוסף רפיקה ומולאי אלשיך
ברכאת אלמקדסי מכצוצין אפצל אלסלאם אלגזיל
ושלומך אדוני יגדל לעד ולא ידל ושלום
ומולאי ואלדי יכצך אפצל אלסלאם וממאליכך
אולאדי יקבלו ידך ויכצו חצרתך אפצל
אלסלאם אלגזיל ושלום

Image Permissions Statement

T-S 18J5.5: Provided by Cambridge University Library. Zooming image © Cambridge University Library, All rights reserved. This image may be used in accord with fair use and fair dealing provisions, including teaching and research. If you wish to reproduce it within publications or on the public web, please contact genizah@lib.cam.ac.uk.