Letter: ENA 3616.19 + CUL Or.1081 J3
Letter
ENA 3616.19

+

CUL Or.1081 J3
Input date
In PGP since 2004
Description
Letter from Maḍmūn b. Ḥasan to Avraham Ibn Yiju: two fragments. Aden, 1134.
Edition: Goitein, S. D.; Friedman, Mordechai Akiva
ENA 3616.19 1
Transcription
S. D. Goitein and Mordechai Akiva Friedman, India traders of the middle ages : documents from the Cairo Geniza : India book (Leiden and Boston: Brill, 2008), vol. 2.
II, 25: ENA 3616 19 II, 26: ULC Or 1081 J 3 II, 25
שלום עד אין קץ וברכה עד אין
מספר ליקר אדוני מר ור אברהם
בר כגק מר ור יגו נעג אהבך מצמון
בר חסן נעג וצל כתאב מולאי
וקראתה ופהמתה וסרני עלם סלאמתה
וצלאח חאלתה וחמדת אללה עלי דלך
כתירא ואנתהא עבדה אלי מא
דכרה מן אנפאד אלפלפל אלדי
צחבה אלנאכדה אלאגל מולאי עלי
בן מנצור אלפופלי חרס אללה עזה
ואלדי פי מרכב בדה וקד וצל אל[ג]מיע
[ואע]ל[ם] מולאי אן [מכ]ל[וף] בן עין סארה
[... ] פי טלבה
[... ] חגה
ב26
[גמלה מא לה תמא]ן מ[איה]
[ותמאני]ן דינ ונצף עליה קימה גוזייה
[עמל?] אלגבל ג דנ גיר רבע ובאבה
אלנאכדה אבו סעיד קימה בר מן מנגלור
ג דנ וקימה דרה דינ וסדס וקימה
פוטתין מצרי ד דנ וקימה שראביה
דינארין ונצף וקימה מקטע דינארין ונצף
וקימה זגאג לכבי נצף ורבע וקימה
דסת אקדאח מצרי ו קראריט וקימה
ד קנאני בשתות מחכם מע בן קטוס
נצאפי ועליה פי מרכב ראמשת
ידי עמר אלבנדארי צרה צפר
אחמר אלעדד יו קטעה אלוזן בהאר
ונצף אלקימה באלכרג מן פרצה עדן
תסעין דינ ועליה ביד סידאן בן
אבו אלפתח חגרין פצה אלוזן סת מאיה
וכמסה דראהם אלתמן קדכ די[נ]
Margins:
ותלת וצרה פיהא ק מתקאלא מצרייה אלתמן [...] / דינ ונצף ומצאלחה אלשיך מכלוף תלאת מאיה דינ צח מא
ENA 3616.19 2
Verso:
עליה תמאן מאיה אחד ותמאנין דינ
אלדהב ואלפצה ואלתיאב צחבה סידאן
בן אבו אלפתח ואלזגאג צחבה בן קטוס
ובאללה לקד כאן עלי פי האדה אלסנה
מן אלאשגאל מא לא אקדר אחדת
ומא כתבת כתאבי האדא אלא ואנא
כמא קד עלם אללה תעאלי יכץ מולאי
נפסה באתם אלסלאם וולדה סרור
ובמה מכצוצין באלסלאם
וקד צדר אליך מן [עבדה] הדייה לולדך
סתה רבאעיה ס[כר] וזביב וקטעה
מא ורד
CUL Or.1081 J3 1r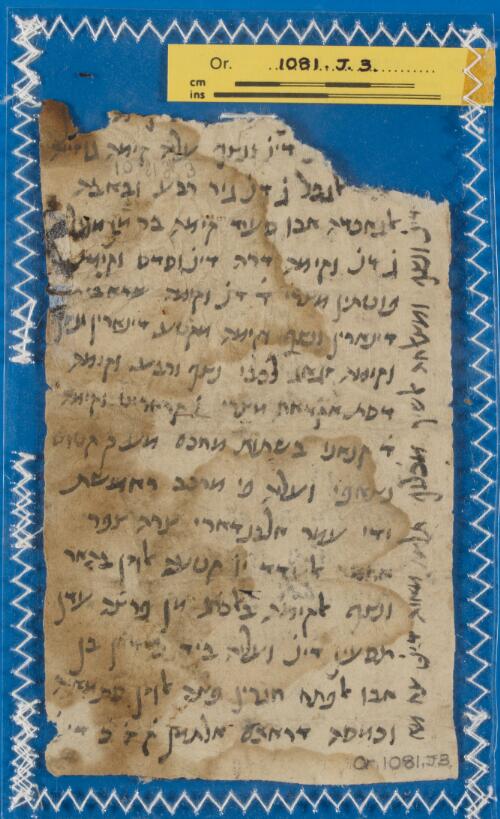 II, 25 Verso:
ליקר אדוני ואור עיני מאהבך מצמון
מר ור אברהם בר כגק בר חסן נעג
יגו נע
حضرة الشيخ الاجل مولاى ابراهيم عبده
بن يشوا المغربي الاسرا ئيلي مضمون بن الحسن بندار
CUL Or.1081 J3 1v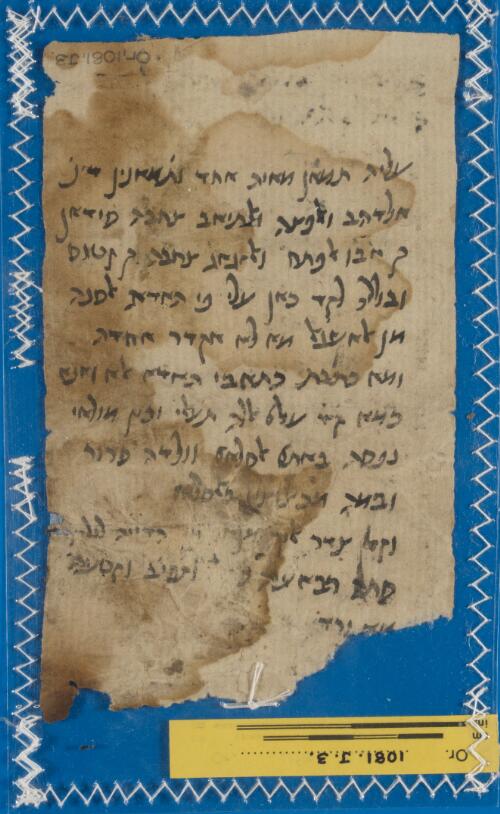 Image Permissions Statement

CUL Or.1081 J3: Provided by Cambridge University Library. Zooming image © Cambridge University Library, All rights reserved. This image may be used in accord with fair use and fair dealing provisions, including teaching and research. If you wish to reproduce it within publications or on the public web, please contact genizah@lib.cam.ac.uk.

ENA 3616.19

: Images provided by the Jewish Theological Seminary Library (JTSL)