Letter: T-S 12.337
Letter
T-S 12.337
Input date
In PGP since 2004
Description
Letter from Avraham Ibn Yiju, in Fustat, to his brother, Yosef, in Mazara, Sicily. Written in September 1152.
Edition: Goitein, S. D.; Friedman, Mordechai Akiva
T-S 12.337 1r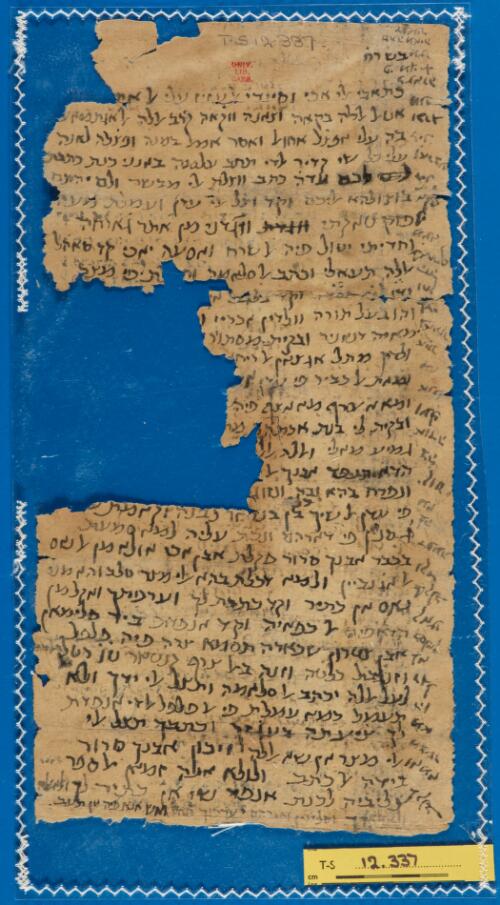 Transcription
S. D. Goitein and Mordechai Akiva Friedman, India traders of the middle ages : documents from the Cairo Geniza : India book (Leiden and Boston: Brill, 2008), vol. 3.
בשֹ רחֹ
2 כתאבי אלי אכי וסיידי אל עזיז עלי אל אתִ[יר …]
אטאל אללה בקאה וצאנה ווקאה קרב אללה אלאגֹתמאע
בה עלי אפצֹל אחואל ואסר אמאל במנה ופצֹלה לאנה
עלי כל שי קדיר אלדי תחב עלמה באנני כנת כתבת
[[לכם]] לכם עדהֹ כתב ווצלת אלי מבשר ולם יהתם
בוצולהא אליכם וקד וצל אלי עדן ועמלת מעה
פוק טאקתי [[ווגדת]] ווג'דני מן אתר גֹאיחה
וחדיתי יטול פיה אל שרח ואסעה (!) יאכי קד סאהל
אללה תעאלי וכתב אל סלאמה וחִצִלת פי מצר
ידו ליֹי חסדו וקד בלגני אן [לך ולד באלג (?) …]
והו בעל תורה וולדין אכרין ו[…]
מאיה דנאניר (!) ובקית מסתור [… וקד רזקת]
ולדין מתל אגצאן אלריחאִ[ן …]
ומאת אל כביר פי עדן אִ[…]
ומא אערף מא אצף פיה […]
ובקית לי בנת אכתהםִ מתִ[ל …]
גמיע מאלי ואללה אלל[ה …]
הדא תנפד אבנך אל [כביר …]
ונפרח בהא ובה ונזוג[הם …]
פי עדן אל שיך //כלף// בן בנדאר לבנה וקאמת עִ[נדהם]
גֹ סנין פי דארהם ונכת עליה למא סמעת
בכבר אבנך סרור פקלת אבן אכי אולא מן אלנאס
אל אגֹנביין ולמא דכלת בהא אלי מצר טלבוהא מני
נאס אן כתיר וקד כתבת לך וערפתך ואקל מן
הדא פיה אל כפאיה וקד אנפדת ביד סלימאן
אבן צטרון שכארה תסמא צרה פיה פלפל
וזנגביל כלטה וזנה באל צרף קנטאר טֹוֹ רטל
לעל אללה יכתב אל סלאמה ותצל אלי ידך //באִלִסִלאִמה// ולא
תעמל כמא עמלת פי אל פלפל אלדי אנפדת
לך צֹיעתה בעגֹזך וכתבך תצל אלי
אלי מצר אן שא אללה ויכון אבנך סרור
בידה אל כתב ולולא אנה זמאן אלספר
צליביה לכנת אנפד שי אן כתיר לך [[ולאולא.ִ]]
ולאוִלִאדך וסלימאן ואברהם יערפוך חאלי ואש אנא פיה מן תעב
[שוליים]
(1) אל קלב (2) ואמא (3) מבשר (4) מא (5) הו (6) רגל (7) אלא (8) כסלאן (9) קאצי (10) אלקלב (11) וקד
(12) דפעת (13) לה (14) מא (15) יקום (16) בה (17) אודה (18) ועלי (19) אנני (20) מא (21) אתר (22)
גֹאיחה (23) אלדי (24) וחק (25) הדה (26) אלאחרף (27) מצֹא (28) לי (29) אלף (30) דינ' (31) וארבעיִ[ן]
(32) דינ' (33) וכרג (34) מני (35) כצארה (36) פי מגי אלי (37) מצר (38) סתה מאיה (39) דנאניר
T-S 12.337 1v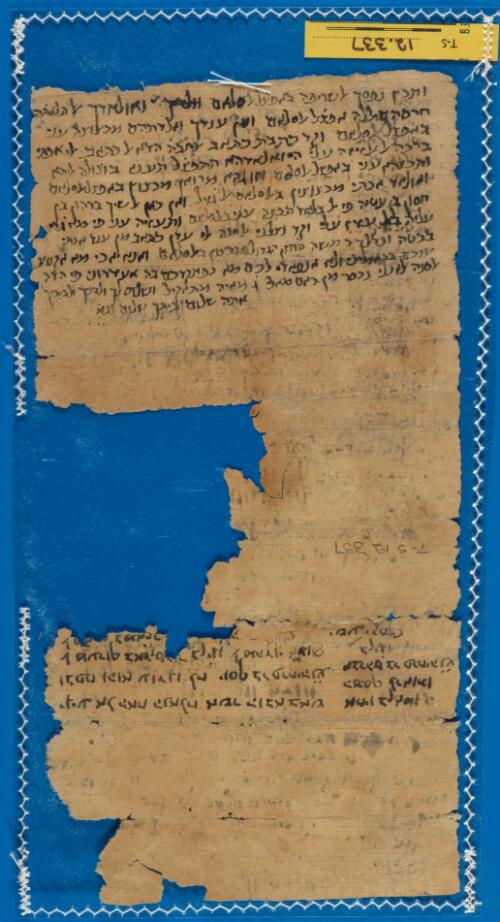 Verso
ותכץ נפסך אלשריפה באפצֹל אלסלאם [[וולדיך]] ואולאדך אלתלאתה
חרסהם אללה אפצֹל אלסלאם ומן ענדך ואלדתהם מכצוצה עני
באפצל אלסלאם וקד כתבת כתאב צחבהֹ הדא אל כתאב אלי אכתי
ברכה אל עזיזה עלי הי ואלאדהא (!) תתפצֹל תענא בוצולה אליהא
ותכצהא עני באפצל אלסלאם וזוגהא מרואן מכצוץ באפצל אלסלאם
ואולאד אכתי מכצוצין באלסלאם אל גֹזיל ואן כאן אלשיך ברהון בן
חסון בן עטיה פי אל בלאד תכצה עני באלסלאם ותעזיה עני פי מא גֹרי
עליה באל עזיז עלי וקד וצלני אלסנה אלי עדן כתאב מן ענד אכתי
בכטה וכדלך רֹ משה החזן הגדול מכצוץ באלסלאם ואנא יאכי מא אקטע
ענכם כראמתי ולא אנפאדי לכם מא נפתקדכם בה אעדרוני פי הדה
אלסנה לאנני נכסר מן ראס מאלי גֹ מאיה מתאקיל ושלום לך ולבניך ולביתיך (!)
אתה שלום וביתך שלום וגמֹ
[בכיוון הפוך, כתובת]
אחיו בן אמו
יגיע אל האח הנאלח אשר הובא באש
הנכסף לראותו
ובפח והוא עודנו לח יוסף בר פרחיה נֹעֹ
אברהם בר פרחיה נֹעֹ
אל מערוף באבןִ סרור בן יגֹו אלמהדוי אמֹונה //אומן//
בן יגֹו
אלסִאִ[כ]ןִ במאזר [חמאהא א]לִלִה
 ישע' יקרב'
Image Permissions Statement

T-S 12.337: Provided by Cambridge University Library. Zooming image © Cambridge University Library, All rights reserved. This image may be used in accord with fair use and fair dealing provisions, including teaching and research. If you wish to reproduce it within publications or on the public web, please contact genizah@lib.cam.ac.uk.