Legal document: CUL Or.1080 J6
Legal document
CUL Or.1080 J6
Input date
In PGP since 2017
Description
Court record in the record book of Fustat dealing with the remains of an inheritance in Qayrawan. Dated Adar 1345/March 1034.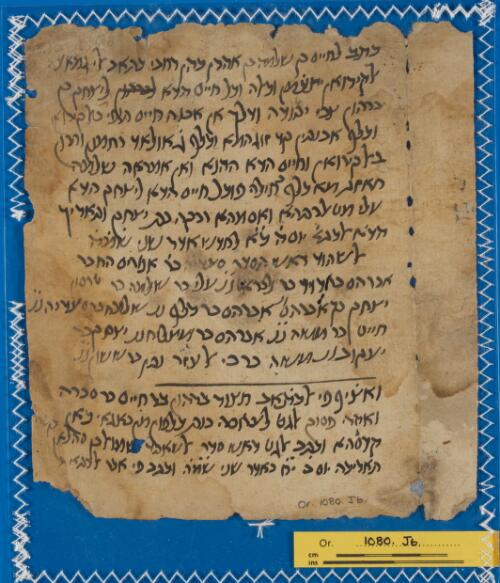 Transcription
S. D. Goitein, unpublished editions.
כתב לחיים בן שלמה בן אהרן כהן רחבי כתאב אלי גמאעה
אלקירואן יתצמן וכאלה וכל חיים הדא [[לברהון]] ליצחק בן
ברהון צבי יהודה ודלך אן אבוה חיים תופי באלקירואן
וכלף אבנתין קד זוגהמא וכלף ג אולאד רחמון והרון
באלקירואן וחיים הדא ההנא ואן אמראה שלמה
חאזת מא כלף /ב/חילה פוכל חיים הדא ליצחק הדא
עלי מטאלבתהא ואסמהא רבקה בת יצחק ותאריך
הדא אלכתא יום ה כא לחדש אדר שני שמה
אלשהוד ראש הסדר סעדיה בר אפרים החבר
אברהם בר דויד בר לבראט ננ עלי בר שלמה בר טרסון
יצחק בר אברהם //ננ// אברהם בר כלף ננ שלמה בר סעדיה ננ
חיים בר משה ננ אברהם בר מצליח ננ יצחק בר
יעקוב ננ משה ברבי אלעזר נתן בר ששון ננ
_______________________
ואציף פי אלכתאב חצור ברהון בר חיים בר סברה
ואקרי פסוך אלגט לערוסה בנת כלפון מן באגאי כאן
קדסהא וכתב אלגט ראש סדר אלשאהד שמואל בן סהלאן בן טר[סון]
תאריכה יום ב יח באדר שני שמה וכתב פי אכר אלכתאב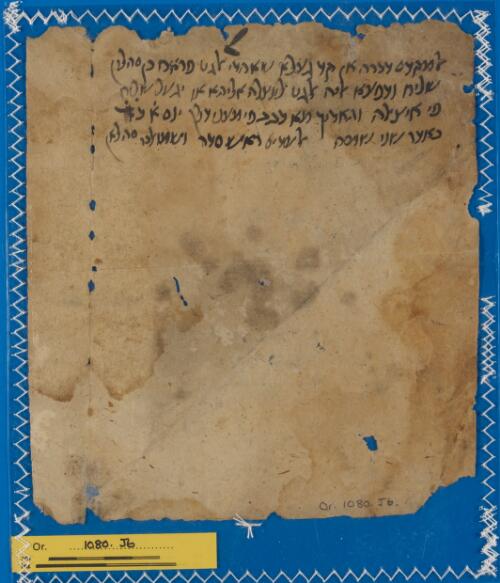 verso
אלמקדם דכרה אן קד געלא שאהדי אלגט פראח בן סהלון
שליח ודפעא אליה אלגט ליוצלה אליהא או יגעל שליח
פי איצאלה ותאריך מא כתב פי מעני דלך יום א כד
באדר שני שמה אלעדים ראש סדר ושמואל בר סהלאן
Image Permissions Statement

CUL Or.1080 J6: Provided by Cambridge University Library. Zooming image © Cambridge University Library, All rights reserved. This image may be used in accord with fair use and fair dealing provisions, including teaching and research. If you wish to reproduce it within publications or on the public web, please contact genizah@lib.cam.ac.uk.