Letter: T-S NS 308.119
Letter
T-S NS 308.119
Input date
In PGP since 2004
Description
Business letter from Musa b. Ishaq b. Hisda to Yosef b. Yaʿaqov ibn Awkal. This letter is a response to a letter sent by the addressee. The sender blames a third party, Yosef al-Sabuni, for slandering him. He also sends an account and complains that he does not have enough money for processing (beating flax) and packaging his goods. (Information from Gil)
T-S NS 308.119 1r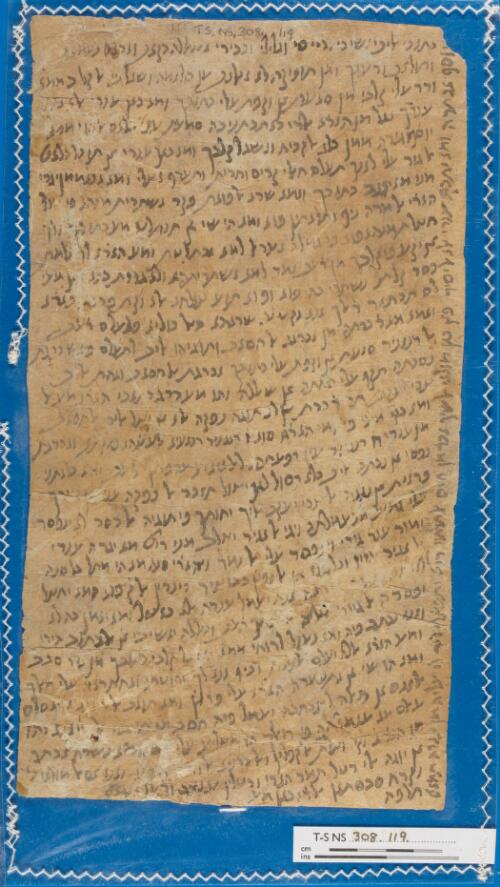 Transcription
S. D. Goitein, unpublished editions.
recto
כתאבי אליך יאשיכי ורייסי וגלילי וכבירי אטאל אללה בקאך ואדאם נעמאך
ותולאך ורעאך ומן תופיקה לא אכלאך ען סלאמה ושגל פי אלקלב ממא
ורד עלי קלבי מן סאעת אן וגפת עלי כתאבך ומא כאן ענדי אלא אנני
ענדך אגל מן האדא אלדי כאתבתני בה סמעת עני כלאם אלבגי מתל
יוסף וגירה ממן בלג אלקביח ואשגל קלבך ומא כאן ענדי אן תקבל כלאם
אלגיר עלי לאנך תעלם חאלי קדים וחדית ותערף אצלי ומא ארא ממן יגרי
מני מא יוגב כתאבך ואמא שרא אלפואת פקד אשתרית מנהא פי אול
האדי אלמרה ניף ותלאתין פוא ומא הי שי אן תכתלט מע כתאבך ולך
חצלת מנהא פוא פי גמלה אעדאל למא אכתלטת ומע האדא לו עלמת
אן יקע פי קלבך מן דאלך אמר למא אשתריתהא ולא גוזת בהא מן מאלי
כסר קלת נשתרי בה פוא ופוא תקע צאלחה אלא וקת פרכהא ואדא
לם תכתאר דאלך אנא נקטע שראהא באלכוליה פתעלם דאלך
ואמא מא דכרתה מן אכראג אלחסאב ותוגיהו(!) אליך לתעלם פאש כרגת
אלדנאניר סאעת אן וקפת עלי כתאבך אכרגת אלחסאב וגהת(!) אליך
נסכתה תקף עלי צחתה אן שאללה והו מע דרג כתאבי האדא מע אל
צבי יעקב חתי דכרת אן לא תוגה נפקה אלא אן וצל אליך אלחסאב
ומא בקי מעי פי יומי האדא סוא ז דנאניר רבאעיא בעצהא נאקצה ואכרגת
מן ענדי ח דנאניר עין דפעתהא ללאוגרא ערפתך דאלך ומא כלאתני
נפסי אן נכתב אליך בלא רסול לאן וצול תאכר אלנפקה עני מן ענדך
פראית אן נוגה אלצבי יעקב אליך יחותך פי מגיה אלכסר לא ינפסד
עלי גמיע מא עמלתה ויגי אלאגיר יטלב מני דינר מא יגדה ענדי
ימור ענד גירי וינפסד עלי אלאמר ודאדי סנה(!) מא הי מתל כל סנה
אלאגיר עזיז וכלאנא אן אלנפץ בבוציר דינרין אלק פוא פימא יחצל
ולא יום . . . . . . . . . . . . . אלמאל ענדה אלא באטל ומא יאמן בה לא
יפסדה אלגייר עליה ערפתך דאלך ובאללה יאשיכי אן אלכתאב בידי
ואנא נכתב פיה ומא נעקל לרוחי ממא אשגל קלבי . . . ק מן גיר סבב
ומע האדא אללה יעלם אל . . . וכיף אנא לך וחוטתי ואחתראזי עלי מאלך
ומא הו שי אן נתשכרה האדא עלי פרץ ומא תוגב אלדיאנה אד אסלם
אלאנסאן חאלה לצאחבה ועמל פיה חסב מא תוגבה אלדי אנה והו
עאלם מא עאמלתה פי חאלך הו מטלע עלי [[…]] ומא נשרח אכתר
מן האדא יקד וצלת אלגפלין ואלברניה אלת[אניה] . . . . ואנא אסאל מולאי אן
אן(!) יוגה אלי רטל תמר הנדי ורטלין ענאב ורטל…
וקדח סבסתאן אלדי כאן מעי
תלפה
right margin, at 90 degrees to main text
יוסף אכתרה ימא אתבקא(!) ענדי אלא יסיר פאן כאן מולאי
אלשיך אכד מן חיים אלתלתין דינ יתפצל יזיד לי עליה מן ענדה תמאם
T-S NS 308.119 1v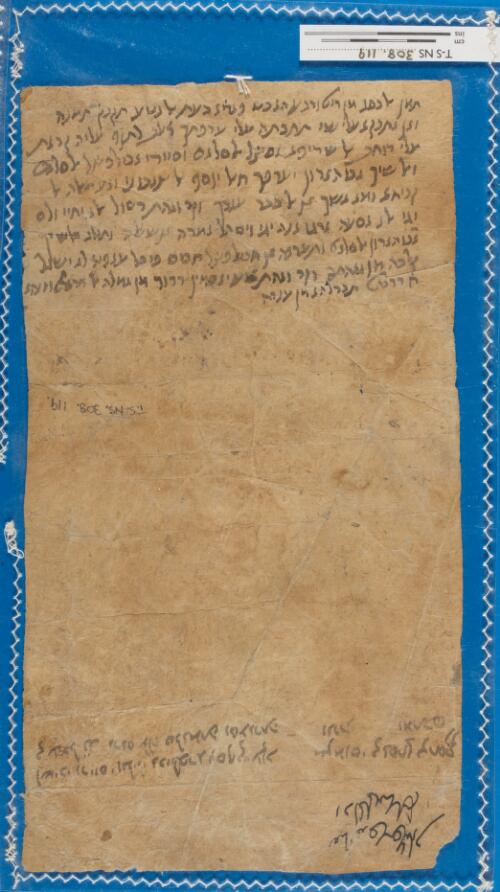 Image Permissions Statement

T-S NS 308.119: Provided by Cambridge University Library. Zooming image © Cambridge University Library, All rights reserved. This image may be used in accord with fair use and fair dealing provisions, including teaching and research. If you wish to reproduce it within publications or on the public web, please contact genizah@lib.cam.ac.uk.