Letter: CUL Or.1081 J5
Letter
CUL Or.1081 J5
Input date
In PGP since 2019
Description
Letter sent by a physician from Qalyub, who had opened an office in Fustat, inviting his wife (who is his paternal cousin) to join him there and mentioning that the response of the public had been excellent, although he suffers from professional competition. Her daughter, who lives in the capital, is pregnant and wishes her mother to assist her at the time of birth. Information from Mediterranean Society, II, p. 256; III, p. 30. The writer also conveys his sadness upon hearing that the addressee had an eye illness; he wishes he could be there to treat in in person, but suffices with sending a prescription together with this letter. ASE.
CUL Or.1081 J5 1r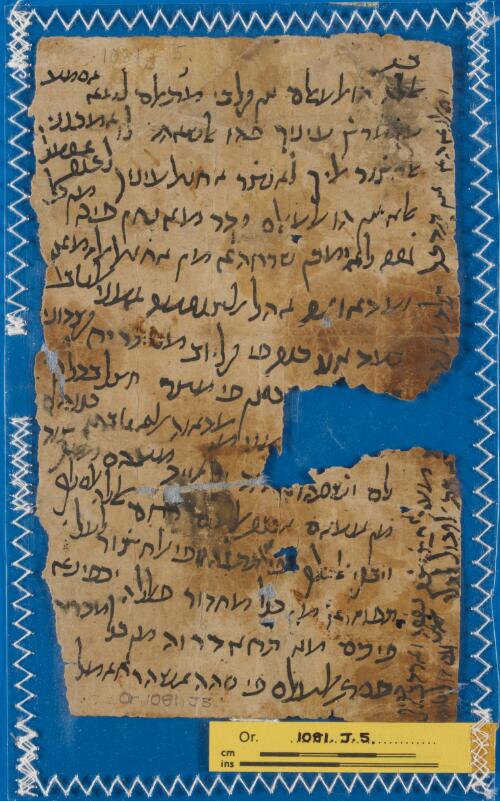 Transcription
S. D. Goitein, unpublished editions.
בה
אללה הו אלעאלם אן קלבי מתאלם למא אסמע
ען מרץ עיניך פהו אלשאהד לו אמכנני
אלחצור אליך לאנצר אחואל עיניך לכנת אפעל
אלא אן הו אלעאלם קדר מא נחן פיה מן כל
גהה לא ימכן שרחהא מן אחואל אלזמאן
ועדאואת אהל אלצנאעה אעני אלטב
בעד אני כנת פי קליוב מסתריח קצדוני
. . . . . . .]כאן פי מצר חצל בדלך
. . . . . . .]עלי מן עדאוה אלאטבא כאנהם
לם ישתהו אנה יתזייד מעהם ואלמקצוד
מן אנעאם אבנת אלעם רחם אללה אלסלף
ויבקי אלכלף פי //אן// תתגה פי אלחצור לעל
תפוזוא מן כל מחדור פאללה יכפינא
פיכם מא תחאדרוה מן כל מכרוה
פסת אלעלם פי סתה אשהר חאמל
Right margin, straight line at 90 degrees to main text.
וסאלנאהא אן תדכל תלד ענדכ[ם ומוצל]ה מעה //יא// פציצה נפקה וארדב דקיק
. . . . . . . . . . . . . . . . . . . . . . . . .]אבת אלקבול לדלך וגם זו לטוב[ה
CUL Or.1081 J5 1v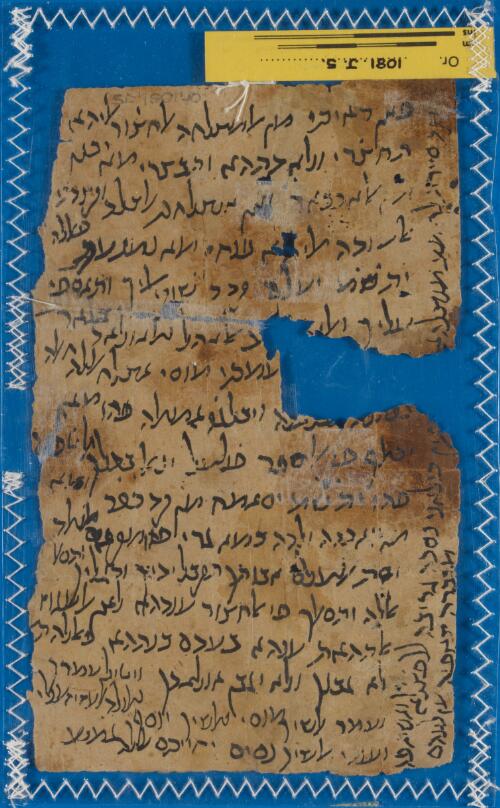 Verso.
פאן ראיתי מן אלמצלחה אלחצור אליהא
תחצרי ולאדתהא ותבצרי מא יכון
מן אלאכבאר ואן אנצלחת אלבלד וקצדתי
אלעודה אליהא פנחן מא נמנעך פאללה
ית שמ יעלם קדר שוקי אליך ותאספי
עליך ואלי [גמי]ע אלאהל ואלאולאד בגאר
. . . . . . . . . .] עמתי מוסי אצלח אללה חאלה
. . . . . .] נעה ויבלגה אמאלה פהו מא
יכאלף פי אלספר פלעל ינאל בדלך אלטפר
פהו ית שמ יסאמח מן קד כפר ואנא
מן יואכדה ולדה כמא גרי פי מקאם אלואלד
וסת אלעלם אבנתך תקבל ידיך ורגליך ותסאל
אללה ותסאלך פי אלחצור ענדהא לאן אלעגוז
אלתהאת ענהא בעדם בנתהא פאללה תע
לא גבנך ולא יגבן אולאדך ויטיל עמרך
ועמר אלשיך מוסי ואלשיך יוסף ואלולד אלעזיז עלי
ועמר אלשיך נסים יחייכם אללה גמיע
Right margin, straight line at 90 degrees to main text.
וקד סיירת לך מע מוצלהא [. . . . .]תין כולאני נסכה גריבה ללפצלא ואשיאפה
. . . . . . . . . . . . . . . . . . . . . . . . . . . . . . . .] מכברה צאפיה ען לינהם (או: לונהם)
Image Permissions Statement

CUL Or.1081 J5: Provided by Cambridge University Library. Zooming image © Cambridge University Library, All rights reserved. This image may be used in accord with fair use and fair dealing provisions, including teaching and research. If you wish to reproduce it within publications or on the public web, please contact genizah@lib.cam.ac.uk.