Letter: T-S 8J36.2
Letter
T-S 8J36.2
Input date
In PGP since 2004
Description
Letter from Yehuda b. Yosef of Qayrawān (active 990s–1030s), apparently sojourning in Alexandria, to the three senior Tustari brothers (Sahl, Yosef, and Saʿīd the sons of Yisraʾel), in Fustat. In the letter Yehuda states that he will bring all the letters except those for Abū l-Faraj Yosef b. Yaʿaqov (Ibn ʿAwkal), which he had already given to Abu Mansur Ghalib to deliver. (Information from Mediterranean Society, V, pp. 239 and 572, and Goitein's index cards.) On Yehuda b. Yosef, see Menahem Ben-Sasson, "ראשי הציבור בצפון-אפריקה — הדמות והתדמית: היצירה הספרותית כמקור היסטורי," Peʿamim 26 (1986), 134f.
T-S 8J36.2 1r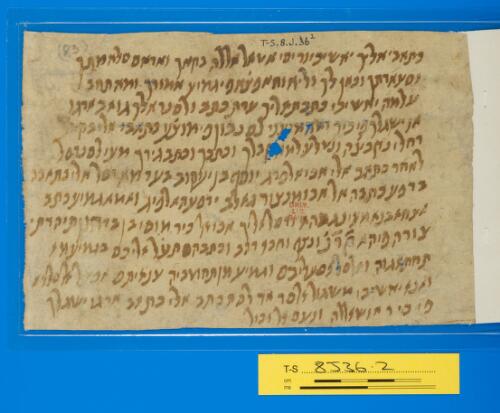 Transcription
S. D. Goitein, unpublished editions.
כתאבי אליך יא שיכי וריסי אטאל אללה בקאך ואדאם סלאמתך
וסעאדתך וכאן לך וליא וחאפצא פי גמיע אמורך ומא תחב
עלמה יא שיכי כתבת אליך עדה כתב ולם נרא לך גואב ארגו
אן ישגלך פי כיר ומא מנעני לם נכון פי מוצע כתאבי אלי בקיה
רחלי נקבצה ונטלע למא קבלך וכתבך וכתב גירך מעי לם נרסל
לאחד כתאב אלי אבו אלפרג יוסף בן יעקוב בעד מא רסל אלי כתאבה
בדפע כתבה אל<י> אבו מנצור גאלב ידפעהא לפיג ואמא גמיע כתב
אצחאבנא מעי נגבהא ורסל אליך אבו אלכיר מוסי בן ברהון תיהרתי
צורה פיהא קידני ונצף וחבה דהב וכתבהם תעל אליכם בגמיע מא
תחתאגוה ואלסלאם עליכם וגמיע מן תחוט ביה ענאית<כ>ם אפצל אלסלאם
ואנא יא שיכי משגול אלסר אללם תכתב אלי כתאב ארגו ישגלך
פי כיר אן שאללה ונעם אל וכיל
T-S 8J36.2 1v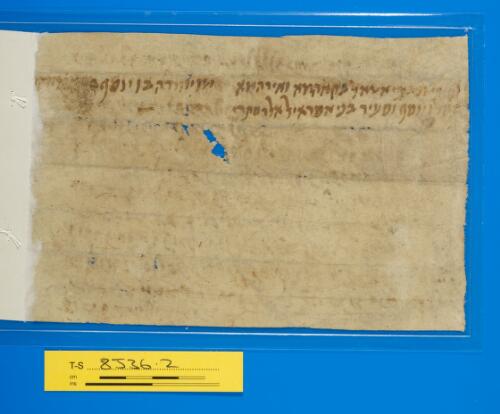 Verso. Address.
לסידי ושיכי אטאל בקאהמא ואידהמא מן יהודה בן יוסף. . . . . .
סהל ויוסף וסעיד בני אסראיל אלתסתרי
Image Permissions Statement

T-S 8J36.2: Provided by Cambridge University Library. Zooming image © Cambridge University Library, All rights reserved. This image may be used in accord with fair use and fair dealing provisions, including teaching and research. If you wish to reproduce it within publications or on the public web, please contact genizah@lib.cam.ac.uk.