Legal document: T-S 8J32.2
Legal document
T-S 8J32.2
Input date
In PGP since 2004
Description
Statement of evidence for the declaration of a son unable to fulfill his father's deathbed wish to provide a dinar for his wife. Dated Monday, 8 Kislev 1463/October 1151.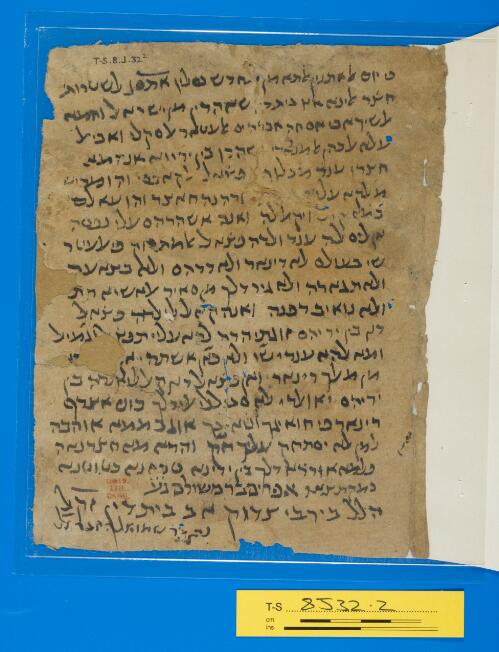 Transcription
S. D. Goitein, unpublished editions.
פי יום אלאתנין אלתאמן מחדש כסליו אתסג לשטרות
חצר אלינא אלא בית דין שאהדין מן ישראל והמא
אלשיך אבי אסחק אברהים אלעטאר אלסקלי ואבי אל
עלא אלכהן אלמנאדי ישהדו בין ידינא אנהמא
חצרו ענד מכלוף פצאל אלקאבסי והו מריץ
מלקא עלי פ[ראש]ה ודהנה חאצר והו עאלם
במא קיל ויקאל לה ואנה אשהדהם עלי נפסה
אן ליס לה ענד ולדה פצאל אלמתסוק פי אלעטר
שי בעולם לא דינאר ולא דרהם ולא בצאעה
ולא תגארה ולא גיר דלך מן סאיר אלאשיא חת(!)
ולא נואיב דפנה ואנה קאל לולדה פצאל
דנן בין ידיהם זוגתי הדה להא עליי תפצל וגמיל
ומא להא ענדי שי ולא כאן אשתהי אן [ . . . . .
מן מאלך דינאר ואן פצאל דנן קאל לואלדה בין
ידיהם יא ואלדי לא סביל לי אלי דלך כוני אצרף
דינאר פי חואיגך ונואיבך אוגב ממא אוהבה
למן לא יסתחק עליך חק והדא מא חצרנאה
פלמא אורדא דלך בין ידינא טרחנא כטוטנא
במקתצאה אפרים בר משולם נע
הלל בירבי צדוק אב בית דין זקל
נתן בר שמואל החבר זל
T-S 8J32.2 1v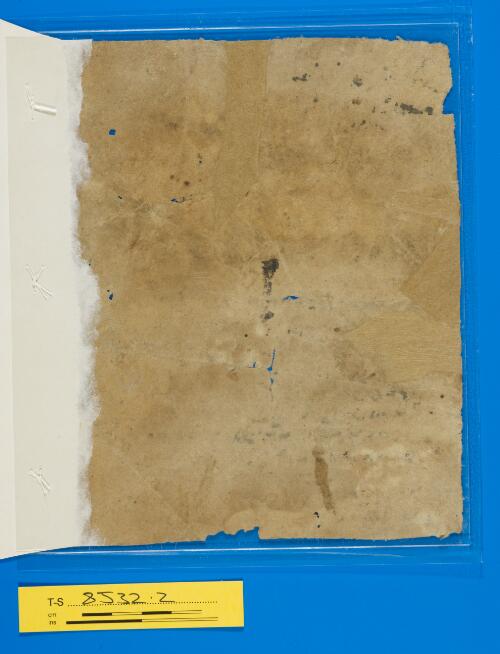 Image Permissions Statement

T-S 8J32.2: Provided by Cambridge University Library. Zooming image © Cambridge University Library, All rights reserved. This image may be used in accord with fair use and fair dealing provisions, including teaching and research. If you wish to reproduce it within publications or on the public web, please contact genizah@lib.cam.ac.uk.