Letter: T-S 8J22.31
Letter
T-S 8J22.31
Input date
In PGP since 2017
Description
Letter, likely sent to Abū l-Majd Meir b. Yakhin, in Fustat. In Judaeo-Arabic. Dated: 1216/17 CE (1528 Seleucid). The writer urges the addressee to come see his sister, who is very sick. She has a throbbing pain (ḍarabān) in her right hip; a burning pain in her heart; a nonhealing wound (the word looks like khalal) in her right thigh; and her tongue is dry. She prays to God that she will see the addressee's face before she dies. "When your [brother?] said to her, 'Let her take the rhubarb-barberry pastille and make it […] and hopefully it will abate,' my master, she said, 'I do not want any of this unless he obtains a prescription, and the prescribing physician prepares it for me and sends it.' This is deliverance, my master. They prescribed hiera oil (duhn al-iyārij) for her thigh, but it was not effective. What is killing her is the pain in her thigh. I do not need to urge you to come. If her condition becomes fatal, your mother will die next. She will never live after her. The best is for them to slake their yearning for you, and you will gain your mother's prayers." The letter continues with an update on the addressee's brother Hilāl ('his condition is the same'); a description of a large funeral; something to do with the addressee's request for Masā'il Ḥullin and how he needs to be more specific; a long series of rebukes for the addressee's negligence in writing; and regards to various people. ASE.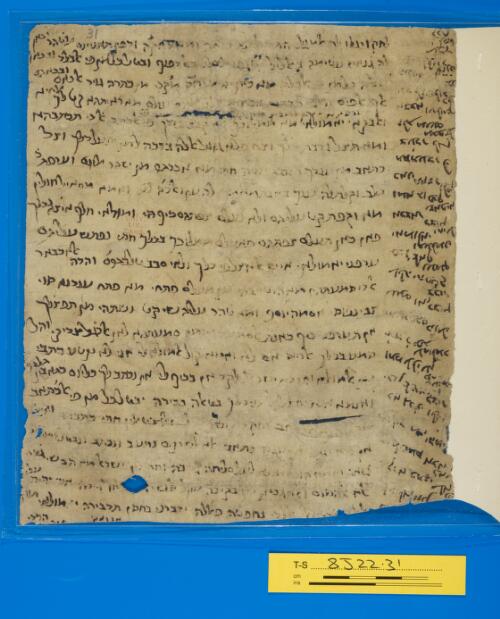 Transcription
S. D. Goitein, unpublished editions.
recto
לחק ויגלו לה אלמגל . . . . . . . . ומא . . קה ורפק תאני יום אלטהר וכאן
לה גנאיז עטימה באלליל יטופו אלבלד באלדפוף ובטל כל מן פי אלבלד ו . כאן
עליה כל מן פי אלבלד מא כאן . . . קה מקרי מן כתרה גויר אלנאס ובכאהם
אלף אלפים . . . . . . . . . . . . . . . . . עולם מא ראיתהא קט לך אלחיא
ואלבקא // ערפת . . . . אלמבין מ . . . . // יא מולאי מא ממלוכך . . . . . עדרך פי אלכתב אלדי תכתבהא
ומא תצל גרבת דלך וצח פלא גמל אללה ברכה למן יפעל דלך וצל
כתאב מן ענדך תיסר (?) עליה חתי מא אכדתה מן שהר אליום וערפת ר
כלב וקלת לה ענך באגתמאעך לה ען ואלדה נע ואמא מסאיל חולין
מא וקפת קט עליהם ולא נעלם צפתהם כיף הי ומולאי תלף איצא כדלך
פאן כאן תעלם צפתהם פאעלם ממלוכך בדלך חתי נפתש עליהם
ערפני יא מולאי איש אלאצל פי דלך ולאי סבב טלבתהם והדה אלאכבאר
אלדי סמעתהא מא הי טייבה מן מעלם פתחי מא פתח ענדנא סוי
צבי נפוסי אסמה יוסף ומא טהר עליה שי קט נשתהי מן תפצלך
אן תערפני כיף כאנת אלסמעה וממא סמעתהא לאן אלרגל צדיקי והל
סמע בדלך אלרייס אם לא ואמא קול אלמולא לי אני לא נקטע כתבי
ען אלמולא וחק דין ישראל לקד אן בכיף לי אן נכתב לך כל יום כתאבין תלתה
ואנמא אנא יחצל לי פי דלך בטאלה כבירה יבטל כל מן פי אלכתאב
א . . ה . . . . . . ב וחק דין ישראל . ל . בטאלין חתי כתבתה ואנא
אן מא יגיני מן ענדך כתאב אלא לשוקכם (?) נתעב ונכתב ונבטל ומ[א יגי?]
גואב ואמא קול . . אנא לעל סליחה גריבה (?) וחק דין ישראל מא תכשי גד . .
אלא אלהמום ואלאגבאן מן בקי לה מא ל . ל . . . . . . או גירה אשתהית עלי
. . . . . . . . . . נחפטה פאללה ידברני בחסן תדבירה יא מולאי מא
. . . . . . . . . . . . . . . . . . . . . . . . . . . . . . . . . . . . . . .]הר.י
recto, right margin, 180' to main text:
אלמולא אנך [
תקרא כתבי אלא פי
צו (?) אלשמס אדא כאן
. . . . מא יהמ . .
הדא גרצי ולא
יכון אל . . . כביר
ותסאל לי ען סת אלעאדה (?)
אכת ר יפת אלמלמד
ותערפהם סואלי
ענהם ואן רבינו
אללה יחפטה בכיר
פי ו׳ אלאף נעמה
יא מולאי ותעלמני
אכבאר רבינו יחיאל
ומא הו פיה שאפיא
כאני חאצר ולא
תסתעדר לי
בעדר לא
זלת מנעם מתפצל
אבדא ושלומך
יגדל ושלום כל
הנלוים אליך שצ
ואל ידל לעד אנס
אלכד
. . . קכח לשט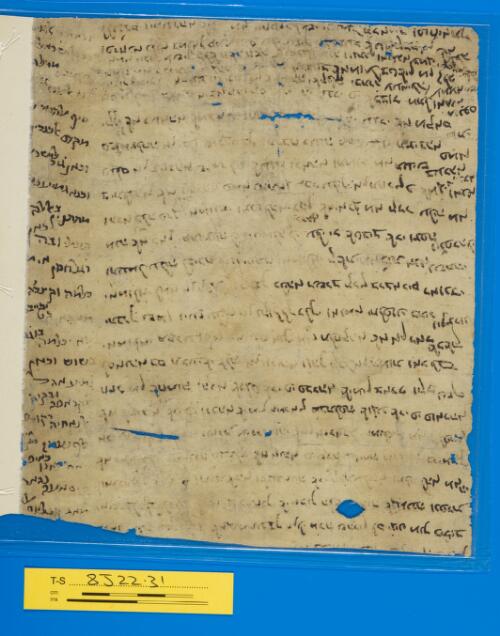 verso
אדאם אללה [עז]ך וקרב אלאגתמאע בך אן לי מדה שהרין לם יגיני מנך כתאב
ואשתגל קלבי לדלך ולמא גא כתאבך אלי אכוך הלאל הדה אלגמעה ונפדת
לואלדתך . . . . . . . אליהא ואלגוכאניה אלדי קלת עליהא וצלת להא מא הי
אלא . . . . . . . . . . . . . . . אלא אנהא פי שדה עטימה מן גהת כרימתך
אם . . . . . . . . . ומארת אלי ור[א] והי אלאן אזדאדת יא מולאי מא תלפהא
אלא אלצרבאן אלדי פי ורכהא אלימין אמראץ מכתלפה אלוגע אלדי פי פואדהא
חאר מן אלחמרה הדא אלכלט אלדי פי פכדהא אלימין בארד וקד נשף
לסאנהא כם תדעו אלי אללה אן יוריהא וגהך קבל אן תמות ואד לם
יא מולאי תסרע ואלא פאעלם אנך מא תלחקהא אלא אן ראד אלכאלק
יתברך שמו ויעז עליא אן נקול לך דלך ואנמא יחלפוני כתיר ויקצדוני
יא מולאי למא אן קאל [להא אכו?]ך כליהא תשרב קרץ ברבאריס ראונדי
ותעמל עליה לביבה(?) לעל יפתר(?) יא מולאי קאלת מא כנת אנא נשתהי
מנה אלא כאן יסתוצפה לי ויעמלה לי עלי יד אלטביב אלדי וצפה וינפדה לי
והדא כלה פרג יא מולאי וצפו להא //לפכדהא// דהן אלאיארג מא קדר עליה מא
ביתלפהא אלא //וגע// פכדהא פלא נחתאג אכד עליך אן תחרץ פי אלמגי ואנא
נעלם אן צאבהא שי מתלף אלעגוז וראהא ותמות מא תעיש בעדהא אבדא
פאלמצלחה אן יבלו שוקהם בך ותרבח דעוה מן אלעגוז תציבהא פמא
יקף //לך// אלא דעאהא אלמבאל[ג] [. . . . . . . ]. ענדי אלא מקאם חתי
יום [ו]צול[ך] . . . . . איצא חתי יום [ו]אלד[תך?] הי [ע]נדי פי אלכבוד מתל ואחדא מנכם
לא יור[י]ך . . . . חאל יכון ומן אלצאיקה ואלקלה וכתרה אלעאילה ואלמעאיש
הדא מא דכרתה מן גהת . . . . . . . ארבאב אלאמואל בטאלין מן קלה
ואמא אכוך אלשיך הלאל חאלה חאלה . . . . . ענה זוגתה ואמהא במגי יוסף מא יטאלבוה
ופרחנא כלנא במלאך סמ[ואל?] . . . עלי אלשיך . . . . . אלעאקבה אן שא אללה
לל . . . ויסעדהא אללה מא אחסן כל שי . . מ . הדא . . . ופי חיאתך
verso, right margin, 180' to main text
וראח [אלי?] אלגוים
... ישראל
. . . מדלה
. . . . . .
סיף אלהמ . .
מקדם אלכנדין
וכאן גיד לישר[אל]
וכנא גמיענא
מתהנין באללה
תעאלי ובה כאן
רגל חסן אימ .
כלמה וקצדה
מא כאן קט יכייבה
אלא יכלמה בוגה
בשוש וכאן
גמיע אהל
אלקראפה ובקיה
אלנאחיה רקוד פי
אלף נעמה מן חית
. . . כאנו כאיפין
פי סאעה נהאר
מא ג . . כל יום אל . .
Image Permissions Statement

T-S 8J22.31: Provided by Cambridge University Library. Zooming image © Cambridge University Library, All rights reserved. This image may be used in accord with fair use and fair dealing provisions, including teaching and research. If you wish to reproduce it within publications or on the public web, please contact genizah@lib.cam.ac.uk.