Legal document: T-S 18J1.23
Legal document
T-S 18J1.23
Input date
In PGP since 2017
Description
Legal document recording that Sitt al-Husn, daughter of Saadya, sought a gold tiara ('isaba) that she had pawned to the recently-deceased physician Abu al-Murajja b. Daniel against a loan of 24 dinars, from his heirs. A witness testifies that the deceased had forgiven the loan. Dated Tammuz 1440/ July 1129. (Information from Mediterranean Society, III, 487). Written by Halfon b. Menashshe Halevi.
T-S 18J1.23 1r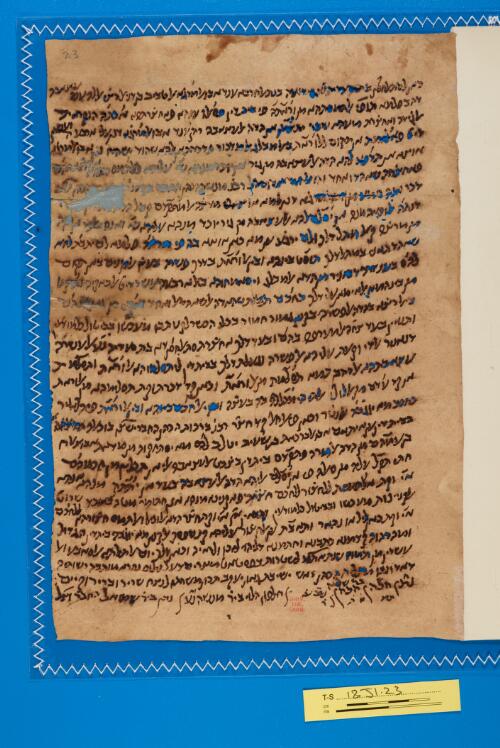 Transcription
S. D. Goitein, unpublished editions.
כאן לסת אלחסן בת סעדיה נע הידועה בנת אלחדבא ענד אבו אלמרגא אלטביב בן דינאל רצי אללה ענה עצאבה
דהב פלמא תופי אלתמסתהא מן וראתה פי בית דין פסאלו ענהא פאחצרתהא אכתה הנקראת
אלגידה ואחצרת מעהא שטר יתדען אן הדה אלעצאבה רהן ענד אבו אלמרגא דנן עלי ארבעה ועשרין
דינ מאלזמה אן תקום ללוראת באלמבלג אלמדכור פדכרת אן להא שהוד ישהדו אן אבו אלמרגא
אוצא אן תדפע להא הדה אלעצאבה מן גיר אן יוכד מנהא שי עליהא פאלתמס מנהא אחצארהם
פאחצרה שאהד ואחד והו אלחבר אבו סהל רבנ מנשה הכהן החבר בר מ [. . . . . .] הכהן נע
דבר אנה סמע מן אבו אלמרגא דנן למא אוצא פי מרצה אלמתקדם קבל ה[דא אלמעיין אל
דנפה אלוסאה סנה אן יסלם להא אלעצאבה מן גיר יוכד מנהא עליהא שי ואנה בעד אן חבר
מן מרצה קאל מתל דלך ולם ירגע ען מא כאן אוצא בה פי מרצה פלמא לם יתבת להא
שאהד תאני במתל דלך תוסט בינהא ובין אלוראת בדרך פשרה בעץ אלזקנים כאן תקום
להם בעשרה דנאניר מן הדא אלמבלג ויסאמחהא באלארבעה עשר דינ אלבאקיה ותסקט
מן בינהמא אלאימאן עלי דלך כחכתכות שהאדה אלשאהד אלואחד אסקט מן גמיעהם
באלרצא בהדה אלפשרה בקנין גמור חמור בכלי הכשר לקנות בו מעכשו בביטול כל מודעין
ותנאין בעד צחה אלמערפה בהם ובעד דלך אחצרת סת אלחסן דא גת סעדיה נע אלעשרה
דנאניר אלדי וקעת עליהא אלפשרה וגעלת דלך בבית דין ליחמלמוהא אלוראת ותסלמת
עצאבתאה אלדהב כמא תסלמת מן אלוראת וכאן קד דכרת וקת תסלימהא מן אלוראת
אן קד עדם מן אללולו אלתי הי מכללה בה בעצה ובקי אלחכם בינהא ובין אלוראת פיה לא גיר
בחסב מא יוגבה אלנטר וכאן פי אלחאל קד חצר רבנ ברכות הכהן החבר יש צו בוכאלה . . . . .
בבית דין ען איתאם אבו אלברכאת בן שעיב יטלב להם מא יסתחקוה מן מיראת אבו צאלח
בן עמהם מן הדה אלמרה פתקדם בית דין בצבט אלעצאבה אלי אן תכלץ מן תכמהם
חתי תקל עליה מן סאלה פי אן יסלם אליהא הדה אלעצאבה בעד אן יחתק מנהא אנהא
אי וקת אלתמסת ללחצור ללחכם חצרה פאקנינא מנהא אנן חתומי מטה באוכד שרוט
אלקניינות מעכשו ובביטול כל מודעין ותנאין אן אי וקת חצר הדא אלוכיל ואלתמס חצורהא ללחכם
אי וקת כאן ליל או נהאר ותאבת ען אלחצור עליהא קנס פסך אלקנין מא יוגבה בית דין הגדול
ומה דהוה קדמנא כתבנא וחתמנא דליהוי לזכו ולראיה וכאן דלך יום אלתלתא אלסאבע ואל
עשרין מן תמוז שנת אתמ לשטרות בפסטאט מצרים דעל נילוס נהרא מותבה רשותיה
דאדוננו מצליח הכהן ראש ישיבת גאון יעקב תכון משרתו לנצח שריר ובריר וקיים
ח ש
נתן הכהן //בר שלמה// הכהן נבע חלפון הלוי ביר מנשה נע נתן ביר שמואל החבר זצל
תמ א את . ר
T-S 18J1.23 1v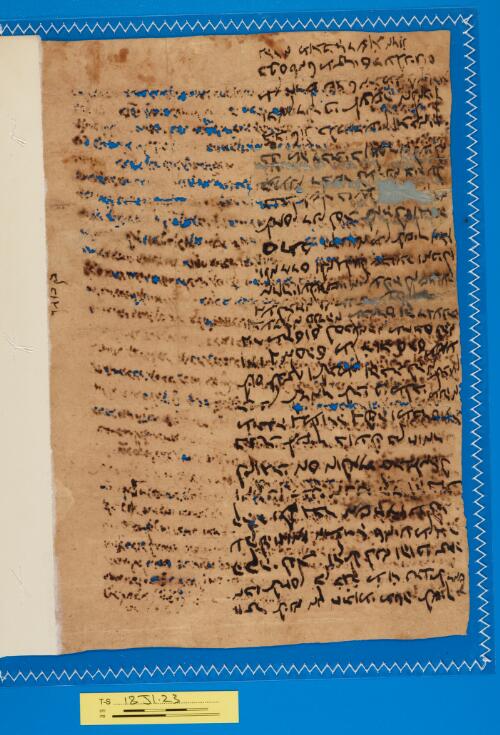 Image Permissions Statement

T-S 18J1.23: Provided by Cambridge University Library. Zooming image © Cambridge University Library, All rights reserved. This image may be used in accord with fair use and fair dealing provisions, including teaching and research. If you wish to reproduce it within publications or on the public web, please contact genizah@lib.cam.ac.uk.