Letter: T-S 13J22.34
Letter
T-S 13J22.34
Input date
In PGP since 2017
Description
Letter from Shelomo b. Eliyyahu, in Qalyūb, to his father Eliyyahu the judge, in Fustat. In Judaeo-Arabic. Dealing with various small business matters and ordering collyria (ashyāf). (Information in part from Goitein's index cards)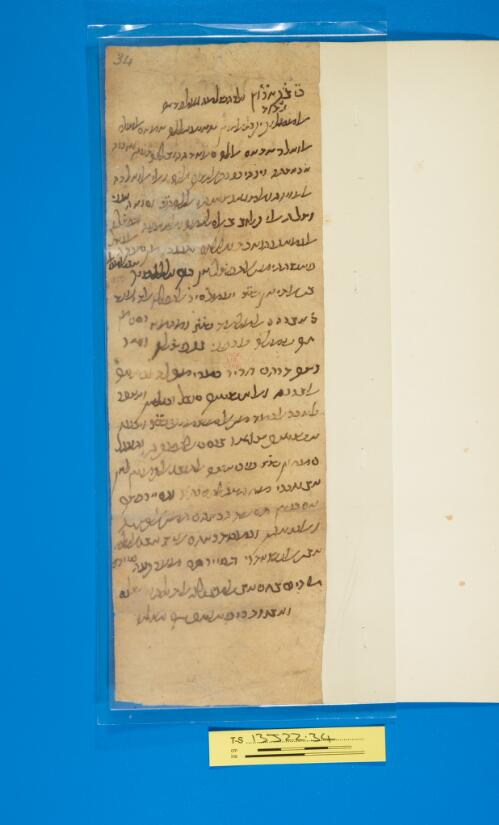 Transcription
S. D. Goitein, unpublished editions.
כי בך ארוץ ולדה שלמה געל פדאה
גדוד
אלממלוך יקבל אלארץ טאיעא ללה אמאם אלמולא
אלואלד אדאם אללה סעאדתה ובלגה דניאה וא . . . ה
אראדתה וינהי כתרה אלשוק אליה ואלי אלואלדה
אלעזיזה ואלצגאר צאנהם אללה תע וסואה אנני
וצלת אלי קליוב באלסלאמה ואלעאפיה ותפצלו
אלגמאעה ואכדו אללחם(?) ותגנבו מן סערה אלגאל
פאשתהי מן אלתפצל אן תקול ללשיך אבו אלמעאלי
בן אלדיאן שצ יעמל סיר אלתפלץ אלדי ענד
ר אברהם אלמלמד שצ ומהמא רסם מן
חק עמלה ערפני בתפצלה וסייר
נצף דרהם חריר כמרי מקלד לכיאטה
אלברכה ואלאשיאף סנבל וכולאן ואצפר
אלאכר אלרמד מן אלמשמיע שצ ויכונו
אשיאף צ.או ברסם אלתפרקה ותעגל
סמחון שצ פי כיאטה אלתובה אלקמאן לאן
אבו זכרי מחתאג להם כתיר ותסייר פצה
אם בנין תסעה דראהם תמן אלק . . .
ואלטאגן וכמס דראהם ענד אבו אלעלא
אבן אלנשאדרי תסיירהם מע רקעה וסיירני
אלקיום(?) בחסאב אלמבלג אלדי להא שלום
ואבו זכרי פי אלעאפיה ושלום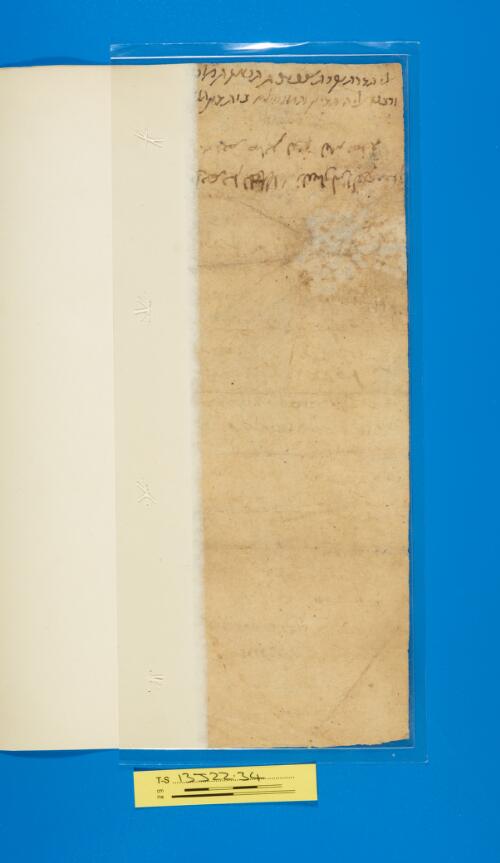 Verso.
אלי הדרת יקרת צפירת תפארת מר[נו
ורבנו אליה הדיין והמופלא בית דין הג[דול
Parallel lines written upside down. Address. Arabic:
الى مصر يسلم للمولا الاجل الديان ابو الفرج . . . .
. . . . صانهم الله امانة . . . .
Image Permissions Statement

T-S 13J22.34: Provided by Cambridge University Library. Zooming image © Cambridge University Library, All rights reserved. This image may be used in accord with fair use and fair dealing provisions, including teaching and research. If you wish to reproduce it within publications or on the public web, please contact genizah@lib.cam.ac.uk.