Letter: T-S 13J21.18
Letter
T-S 13J21.18
Input date
In PGP since 2017
Description
Letter from Ḥalfon b. Menashshe's daughter to her maternal uncle ʿEli b. Hillel, the deputy overseer (nā'ib al-nāẓir) of Bahnasa. In the hand of Ḥalfon b. Menashshe. In Judaeo-Arabic. Dating: 1100–38 CE. The writer urges her uncle to visit herself and her mother. She is in the sixth month of her pregnancy (r5). She asks the addressee to buy for her a black girl about 5 or 6 years of age from the jālib (slave trader), because she has heard that there are many available in Bahnasa (r15–17). The writer is sad to be separated from her daughter (r26–27). She reports in the margin on the sad condition of Sitt Ikhtiyār, who has been bedbound (rāqida lāzima) for three months with hectic illness (ʿillat al-diqq). "There is nothing left in her but that we say, 'right away, right away'"—does this mean they wait on her hand and foot? or that they expect her to die soon? In any event, her condition is a terrible blow to the writer. ASE.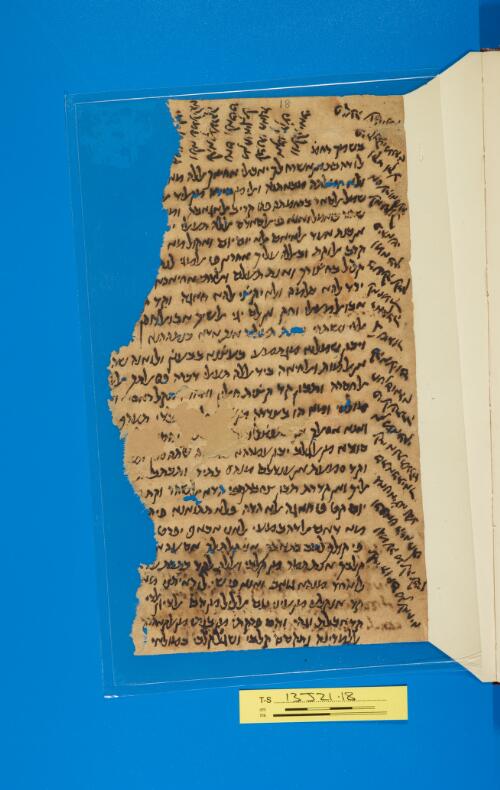 Transcription
S. D. Goitein, unpublished editions.
בשמך רחמ
לו דהבת אן אשרח לך יא כאלי אחיאך אללה מא [
ולא חמלתה מכאתבה ואלי מן [ידה] מקאליד אל[
שמל אלסאר ברחמתה פהו קריב אלאגאבה ומ[
שהור כואמל ואנא פי אלסאד אללה תעאלי י[
אן כנת אעד אלאיאם אלא יום יום ואקול מא [
קרב אלוקת ובאללה עליך אחרץ פי אלמגי לנ [
קליל בחצורך ואנת תעלם ואלדתי אחיאהא [
ירד להא סלמה ולא יקצי להא חאגה וקד [
אבו אלמעאלי וחק אן לם יגי אלשיך אבו אלחסן [
אלדי נשתהי ו[אנ]ת תעלם אנך אדא כנת ההנא [
ויכון שמלנא מגתמע בעצנא בבעץ ולו אנה שה[
אן אלמות ואלחיאה ביד אללה תעאלי דכרה פסאלתך אלל[
אלחסרה ותכון קד קצית חאלין ואח[דה] תקל ראסי ו[
מולאי ומא הו בצדדה מן [ . . . . . . . . ] אלדי תערף [
ואנא אסאלך אן תתפצל ו[ . . . . . . . ] . . . [
סודא מן אלגאלב יכון עמרהא [כמס]ה שתה סנ[י]ן . . [
וקד סמעת אן ענדכם מנהם כתיר ותכתב [
אליך ואן קדרת תכון צחבתך פי הדא אלשהר וקת [
יוסקט פי חאגה אלא הדה פלא תתואנא פיה [
מא דאם אלדהב מעי לאני אכאף יפרט [
פי קולך ליום כתאבך אני קלת לך אסעה א[
קלבך אנת תמר מן קלבי ואללה לקד כתבת ע[
לואחד מנהא גואב ואנא פי שי לו ראיתני מא [
קד אנקלע מן עיני נום אלליל מן הם אלדיון אלדי
קד אכלת וגהי והם פרקתי מן בנתי מן אלקאהרה
ללמדינה ותקסם קלבי ושגל קלבי במולאי
Right margin, diagonal lines written upside down.
אלדי הו יום מן אלאחיא | וגמעה מן אלהאלכין | וכפאני הדא חתי | גאני איצא וגע | סת אכתיאר | אלדי אנת תעלם | אן מא בקי | פי אלעתרה | חנין סואהא | להא אליום | ג שהור | ראקדה | לאזמה | בעלה אלדק | ומא בקי | פיהא שי | אלא נקול | אסעה ואסעה | וקד וקע | פי קלבי מנהא | פגעה עטימה
Top margin, perpendicular lines.
| וואללה יאכי | אן כאן קצי | לבנתי חאגה | מן חואיג אל | נאס ולא גיט | להא מערקה | ולא עמל להא | ג[ . . . . . . . . .
Verso.
בכברך וינחמל הדא אלהם אלדי עלי קלבי קליל
כץ נפסך באתם סלאם וגמיענא נכצך באתם אלסלאם
ואבו אלמנא ואבו אלמעאלי יכצוך אלסלאם
וצהרך וכלף יכצוך אלסלאם ונעים ומופק יכצו
אלסלאם ואבו סעיד בן קטאיף יכצך באתם אל[סלאם
Bottom margin, written parallel to verso text but separated by 10 lines of blank space.
אבי ומולאי אבו אלחסן עלי בן הלאל אכוה וצדיקה [
נאיב אלנאטר באלבהנסא
אטאל אללה בקאה ואדאם נעמאה בלג תוגר[
Image Permissions Statement

T-S 13J21.18: Provided by Cambridge University Library. Zooming image © Cambridge University Library, All rights reserved. This image may be used in accord with fair use and fair dealing provisions, including teaching and research. If you wish to reproduce it within publications or on the public web, please contact genizah@lib.cam.ac.uk.