Letter: T-S 13J18.4
Letter
T-S 13J18.4
Input date
In PGP since 2017
Description
Business letter from Seʿadya b. Avraham b. Sasson of Alexandria to his relative Ṣedaqa b. Ṣemaḥ of Fustat, a maker of Sūsiyāt textiles. Seʿadya opens by inquiring about Ṣedaqa's ill health. "I was tranquil when I received frequent letters from you, and when they ceased, I became distressed due to imagining (? tajwīzī) an illness or something else. May God protect us from what we fear. Then my cousin (ibn ʿammatī) arrived and informed me that you had become ill, and that you had begun to recover, and I and those with me rejoiced and thanked God for that." Saadya also Ṣedaqa if he wants to secure passage on the Byzantine ship that had just arrived. (Information from Mediterranean Society, I, p. 31; V, p. 103; and Goitein's index cards.) ASE.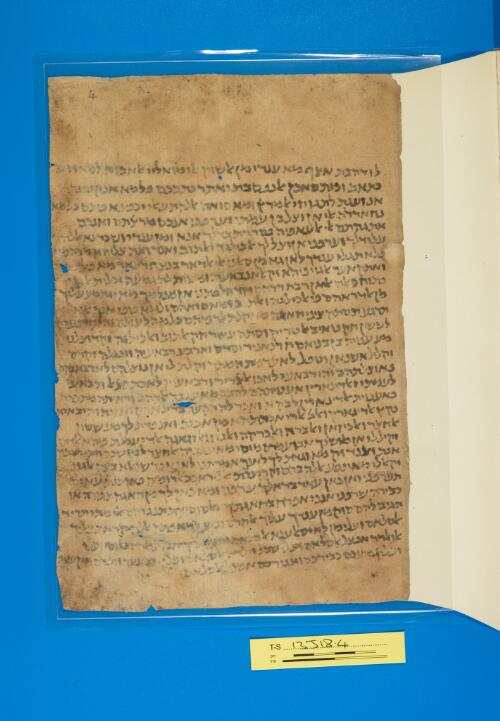 Transcription
S. D. Goitein, unpublished editions.
לו דהבת אצף מא ענדי מן אלשוק אלי מואליי אלאכוה למא וסע
כתאב וכנת סאכן אלנפס בתואתר כתבכם פלמא אנקטעת
אנזעגת לתגויזי אלמרץ ומא סואה אללה תעאלי יכפינא פיכם כל מא
נחאדרה אלי אן וצל בן עמתי וערפני אנכם מרצתם ואנכם
אתגהתם אלי אלעאפיה פסררת בדלך אנא ומן ענדי ושכרנא אללה
עלי דלך וערפני אן וצל לך אלכילגה ואלתוב ואם ראת עליהא דרהמין
פלא תגלה ענדך לאן גא מן סאלני אלי אלדאר בנצחה אד מא פעל
ואתקאעד אלגוי פיהא וקאל אנבאעת ומשית לה גמעה וכלית אלגוי
פתוח כאלה אלי אן רבח דרהם וקד חלפתני אן נעלמך מא יגתמע עליך
מן אלדראהם פי אלכילגה ואלתוב ומא סואהם ולולא כופי אנך מא
תרגע תסתקציני חאגה מא קלת לך פיהם כלמה לעולם והי ח דפעהם
לששון חק נואיב אלטריק וסתה עשר חק אלתוב ואלכילגה וקד וצלני
מע עטיה בן בניאם ח דנאניר וסדס וארבע רבאעיה וזנגלה וקרס
וקליל אשנאן ונופל לא עדמת המתך וקלת לי אן נוצלהם לארבאבהם
פאוצלתהם והו רבאעי לאכו אלצריר ורבאעיין לאכת פצאל ורבאעי
לעמתי ואלדינארין אעטיתהם להבה מא עגבה אלדהב וראיתה מתכרה
פאעטית אלדינארין לבקא ואכד לה רקעה הדינארין ואזנהא והי באי . .
נקץ אלדינארין ואלב אלדי אכדתהא מן אכוה ואנפדת לך מע ששון
אלחצר ואלכיזאן ואלברה ואלכרקה ואלגוז ואלזגאגה אלדי עמלת פיהא אלדהן
וקיל לי אן אלשיך אבו עמרם מוסי מא עגבוה אלחצר למן שכר חתי ישכר
אנת ואלצנדוק מא וגדת לך לאנך אמרתני לא נאכד שי אלא בעין אלגוי
וקאל לי מא ינפע אללה בהם וקד דכלת אלמראכב אלרומיה פאן כנת עאזם
תערפני ואן כאן עאד בדאלך ערפני ומא כאן לך מן חאגה צגירה או
כבירה שרפני אנני אפרח בחאגתך ואלסוסיאת תנגזהם אלי מתי תריד
תגיב להם סוק מן ענדך עליך אלחרס וביע במא פתח אללה קראת עליך
אלסלאם ועלי מן לא יסאל ענא אלסלאם . . . ואלשיך אבו עמרם מוסי ועלי
אלואלדה אפצל אלסלאם ועלי שבל וולדה אלסלאם ועלי אבו נצר וולדה ומן ענדה
ועלי גמיעכם כבירכם וצגירכם אפצל אלסלאם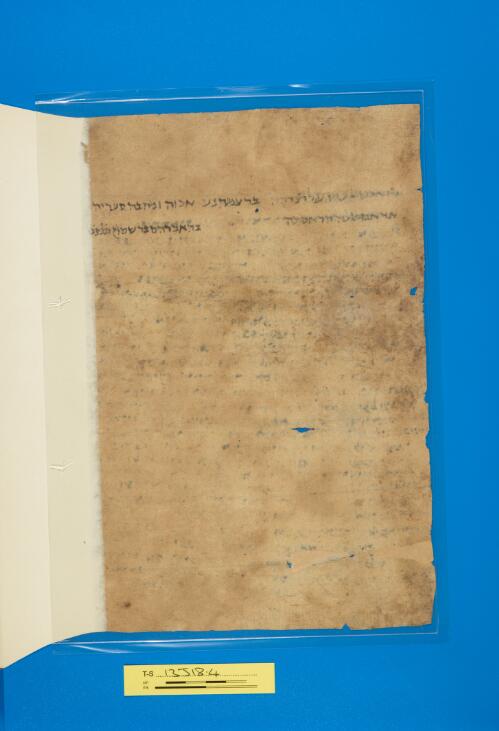 Image Permissions Statement

T-S 13J18.4: Provided by Cambridge University Library. Zooming image © Cambridge University Library, All rights reserved. This image may be used in accord with fair use and fair dealing provisions, including teaching and research. If you wish to reproduce it within publications or on the public web, please contact genizah@lib.cam.ac.uk.