Letter: T-S 13J16.10
Letter
T-S 13J16.10
Input date
In PGP since 2017
Description
Letter from a young man named Sibāʿ, in Alexandria, to his mother, in Fustat, but addressed to his brother Abū l-Najm. In Judaeo-Arabic. Dating: Possibly early 13th century, if Abū Saʿīd b. Thābit al-Ḥazzān mentioned at the end is identical with the brother of Meir b. Yakhin (aka Bū l-Majd b. Thābit). The letter describes the troubles the writer encountered from a capitation tax official on his travels in a Nile boat and saying he had arrived safely in Alexandria. (Information in part from Mediterranean Society, I, pp. 299, 300.)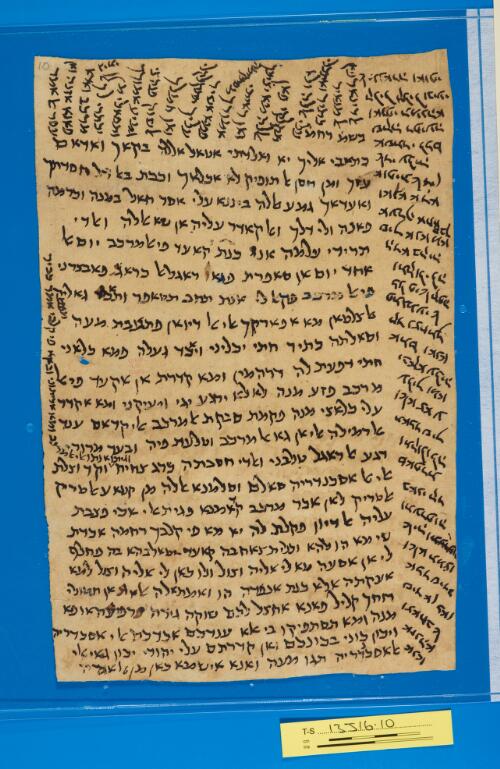 Transcription
S. D. Goitein, unpublished editions.
בשמ רחמ
כתאבי אליך יא ואלדתי אטאל אללה בקאך ואדאם
עזך ומן חסן אלתופיק לא אכלאך וכבת באלדל חסדתך
ואעדאך גמע אללה ביננא עלי אסר חאל במנה וכרמה
פאנה ולי דלך ואלקאדר עליה אן שא אללה ואלדי
תרידי עלמה אני כנת קאעד פי אלמרכב יום אל
אחד יום אן סאפרת פגא[[ו]] ראגל אלכראג פאבצרני
פי אלמרכב פקאל לי אנת תחב תסאפר ות/א/כד גאליה
אלצלטאן מא אפארקך אלי אלדיואן פתעבת מעה
וסאלתה כתיר חתי יכליני וי/א/כד געלה פמא כלאני
חתי דפעת לה דרהמין ומא קדרת אן אקעד פי אל
מרכב פזע מנה לאלא ירגע יגי ויעיקני ומא אקדר
עלי כלאצי מנה פקמת סבקת אלמרכב אלי קדאם ענד
אלרמילה אלי אן גא אלמרכב וטלעת פיה ובעד מרורי
רגע אלראגל טלבני ואלדי חסבתה כרג צחיח //וגיתו אנתו אלי אלמרכב ומא אריתוני ובקא פי קלבי //מנה// אמר כביר// וקד וצלת
אלי אלאסכנדריה סאלם וסלמנא אללה מן קטאע אלטריק
אלטריק(!) לאן אכד מרכב ק/ד/אמנא פגית אלי אכי פצבת
עליה אלדיון פקלת לה יא מא פי קלבך רחמה אכדת
שי מא הו להא וכלית צאחבה קאעד יטאלבהא בה פחלף
לי אן אסעה מא לי אליה וצול ולו כאן לי אליה וצול למא
אעקתה אלא כנת אנפדה הו ואמתאלה אלא [[ת]] אן תטולי
רוחך קליל פאנא אחצל לכם שוקה גירה פרפיעה אופא
מנה ומא תסתפיקו בי אלא ענדכם אכדכם אלי אסכדריה(!)
ויכון כוני בכונכם ואן קדרתם עלי יהודי יכון גאי אלי
אלאסכ/נ/דריה תגו מעה ואנא איש מא כאן מן אלאגרה
Right margin, diagonal lines written upside down.
אנא | אזנהא | וצאחב אל | שיד אן כאן | אכד שידה | ואלא תמצו | אליה [[ותערפו]] | ותערפוה | באני קד | סאפרת | ותקולו
לה | תאכד שיך | ואלא צאע | עליך ומא | יבקא עליה | אתם ואנא | קד נצחתך | פתגמעי אל | כל פי אלקפה | ותקולי לה |
הדא בקיה | שיך אנא מא | אערף אחא/ס/בך | ואנא אדא | אופית אלדין | אלדי עליה | אשתרי לכם | שקה רפיעה | ואופי תמנהא | קליל קליל וביעי | אלמנארה ואופי
Top margin, perpendicular lines.
אלדינאר פאן | אלמנאיר | כתיר ואתכלי | עלי אללה ולא | תקלקי פאן | אללה מא יציעך |
ואן ראיתי | אמורך מסתקימה | פמא אשיר | עליך תתקלקלי | ואן חמלך | אלשוק פנהצי | גמיע אמורך | ותסאלי מן | יכתרי לך אל | מרכב ואדא גיתי | פאנא אזנה ואן | עסר אלאמר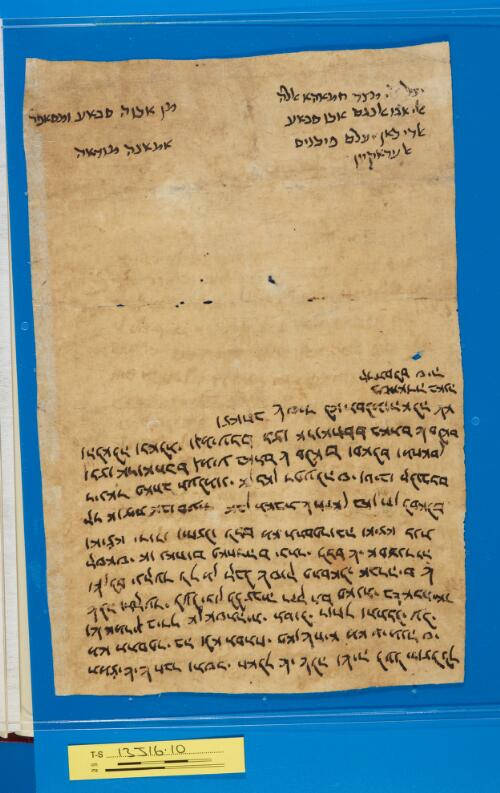 Verso.
תמצי אלי אלחבר ותשכי חאלך אלי אללה ואליה לעל יחצל לך
מא תתספרי בה ולא תסתחי פאן אלחיא מא יגי מנה שי
ואלאמרין בידך אן אשתהיתי תטולי רוחך ותתכלי עלי
אללה ותקעדי לעל יכון ללצביה רזק תם פאנתי באלאכתיאר
ואן לם ינקעד לך מן קבל אלשוק פתסאלי אברהים אל
קשאשי או נאחום פאחדהם יכתרי לכם אלי אסכנדריה
ואיצא ידורו ויחצלו לכם מא תתספרו בה ואיצא כנת
קד אוצית אבו סעיד אבן תאבת אלחזאן באן יזן לסאלם
דינאר פאחב תעלמוני אן כאן דפע לה שי וטיבו קלובכם
וכצו ארואחכם גמיע באתם אלסלאם וסאלם ומחאסן
והלאלה וכאלתי וגמיעכם כצו ארואחכם באתם אלסלאם
וצאחב אלשיד לא תסלמוהא לה אלא
בשהאדה באנה
קד תסלם שיה
Bottom margin, parallel lines written upside down. Address.
יצל אלי מצר חמאהא אללה
אלי אבו אלנגם אכו סבאע
אלדי כאן יעלם פי כניס
אלעראקיין
מן אכוה סבאע ומסאפר
אמאנה מודאה
Image Permissions Statement

T-S 13J16.10: Provided by Cambridge University Library. Zooming image © Cambridge University Library, All rights reserved. This image may be used in accord with fair use and fair dealing provisions, including teaching and research. If you wish to reproduce it within publications or on the public web, please contact genizah@lib.cam.ac.uk.