List or table: T-S 12.125
List or table
T-S 12.125
Input date
In PGP since 2017
Description
Recto: Trousseau list. Location: Al-Maḥalla. Mentioned in Med Soc. IV, section IX, B, 2, notes 465, 472, 486–88. Dating: ca. 1155 CE (based on?).
T-S 12.125 1r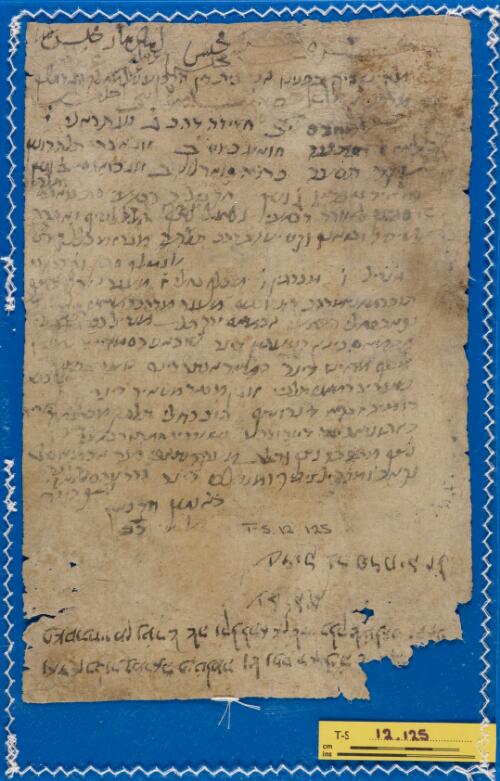 Transcription
S. D. Goitein, unpublished editions.
מה שהיה בפנינו אנו ביתדין הקבוע באלמחלה הגדולה
מלפני (
( ) מחבס חדידה יבדהב ג' זוג תכאני י'
עו חואיג כיום ב' זוג באברתלתה ונצף
עקד תסעה פרדה סואר לולו ב זוג כואתם ב' ונצף
סואיר ג' ונצף חק רפאעי סת כואתם ותלת
וסנינה למאורד רבאעי גלאגל (מנאח) נצף הלאל לטיף ואכרה
לטיפיה ובואנק וקטיעאת דהב תלתה מכרז מכלל קידט ( )
אלגמלה סתין וה' קראט
מנדיל ו' מכדתין ו' מכלף כחלי ז' מעגר אזרק נצף
תוב רמאני מדהב דינ ונצף מעגר מדהב רמאני (....)
נקאב כחלי רפאעי אכמאס זרק תלת מנדיל כם רפאעי
אכמאם ביאץ קטעתין דינר שבאניה סמאוי דינר ונצף
מכלף מר/ד/איש דינר /ב/כתיאר אכתר דינר מצרי רפאעי
שעריה רמאני תלתיי זוגין מכאד מטאיר דינרין....
רומיה זרקא דינר ונצף תוב כחלי תלתין מכתומה חריר
כאתוניאת פצה דינר ורבע ושעריה חמרא רפאעי דינר
ונצף מבתה נצף ותלת מערקה נצפי דינר אכמאם..
נקאב (ומנדיל ציניה) ומנדיל כם דינר ברדעה סמאוי דינר
ונצף דינר
כא ונצף יזק חק נצף
אלגמיע כב
T-S 12.125 1v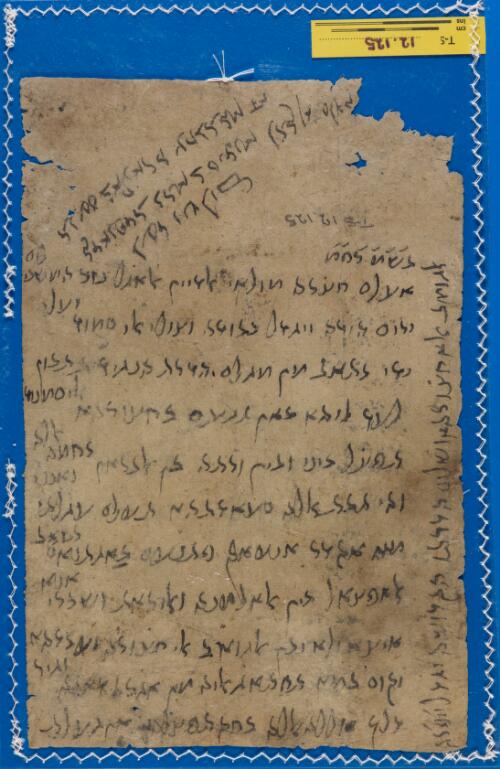 Image Permissions Statement

T-S 12.125: Provided by Cambridge University Library. Zooming image © Cambridge University Library, All rights reserved. This image may be used in accord with fair use and fair dealing provisions, including teaching and research. If you wish to reproduce it within publications or on the public web, please contact genizah@lib.cam.ac.uk.