Letter: T-S 10J9.1
Letter
T-S 10J9.1
Input date
In PGP since 2020
Description
Letter of condolence written by a man to his sister, Rayyisa, on the occasion of their mother's death. "If you cried for a thousand years, it would have no benefit except to sicken you, and no one would perish other than you. My sister, I ask you by God to have endurance, and for all that you endure, there will be a great reward. My sister, read Ecclesiastes, the word of Solomon, for he will counsel forbearance (taqwā) to you. I am sending you al-Faraj baʿd al-Shidda to occupy yourself with it. Know that I wrote this letter only after softening my eyes with tears for she whom I have lost. . . . . My sister, by God, I ask you not to make yourself perish for something that will not benefit you. Look at others who have lost their mother and father and children and who endure the judgment of God. . . . Occupy (shāghilī for shaghghilī) yourself so that you do not perish." (Information from Mediterranean Society, III, p. 22 and Goitein, Hadassah Magazine.) ASE.
T-S 10J9.1 1r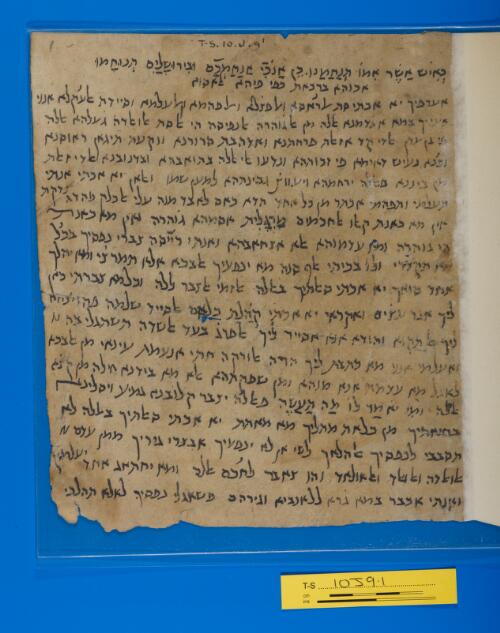 Transcription
S. D. Goitein, unpublished editions.
כאיש אשר אמו תנחמנו כן אנוכי אנחמכם ובירושלים תנוחמו
אכוהא ברכאת כפ פיהא אלאסוא
אערפיך יא אכתי כת אלצראסא ואלפצלא ואלפהמע ואלעלמע יס"דת אלעקלא אנני
אעזיך במא אעדמנא אללה מן אלג יהרה אלנפרה ה אלסת אלואלדה געלהא אללה
פי גן עדן אלדי קד אזאלת פרחתנא ואדהבת סרורנא ווגעת תיגאן ראוסנא
יכנא נעים דאימא פי זכותהא ונדעו אלי אללה בתואבהא ובדנובנא אלדי זאלת
מן ביננא אללה ירחמהא ויעווץ גבינתהא למען שמו ואלאן יא אכתי אנתי
תעלמי ותפרדמי אכתר מן כל אחד הדא כאס לא בד מנה עלי אלכלק פהדה צדקת
אין מא כאנת קאלו אלחכמים מרגלית אסמהא גוהרה ואין כיאנת
ה גוהרה ימא עדמוהא אלא אצחאבהא ואנת רייסה צברי נפסק בכל
מא תקדרי ולו בכיתי אלף סנה מא ינפעיך אלבכא אלא תמרצי ומה יהלך
אחד אלא סואך יא אכתי סאלתיך באללה אלגמי אלצבר ללה וכלמא צברתי כאן
ליך אגר עטים ואקראי יא אכתי קהלת כלאם אלסייד שלמה ההי יצחח
ליד אלתקוא והודא אנא אסייר ליך אלפרג בעד אלשדה תשתגלי בה זו
ואעלמי אנני מא כתבת ליך הדה אלורקה חתי אנעמת עינאי מן אלבכא
לאגל מא עצמת אנא מנהא ימן שפקתהא אלא מא בידנא חילה מן קצא
אללה ימי יאמר לו מה תעשה פאללה יצבר קלובנא גמיע ויסלינא
בחיאתיך מאן כלאת מתליך מא מאתת יא אכתי סאלתיך באללה לא
תסבבי לנפרן אלהלך לשי אן לא ינפעיך אבצרי גוריך ממן עצם מ
אלואלדה ואלואלד ואלאולאד יהו צאבר לחכם אלה ומא יחתאג אחד יעלמיד
ואנתי אכבר במא גרא ללאנביא וגורהם פשאגלי נפסיק לאלא תהלכי
T-S 10J9.1 1v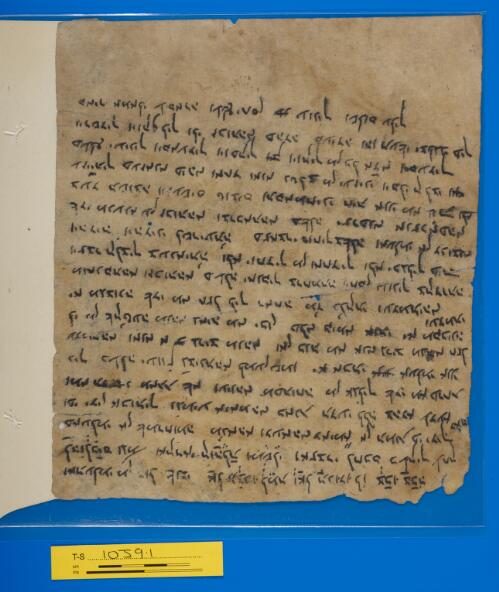 Verso.
ו(א) תעלמי מן קול אלנבי אל תבכו למת ואל תנודו לו בכו בכה
להולכים וגמ ואקראי קוהלת ומשלי וצברי לחכם כאלדים אלחן
פאעלמי אן אלמרתומה מנאהא ודעהא דאימ"א אן תמות פי ידיך
יפי ידין אכותיך גמיע איאמהא כאנת תדעי ללה בהדא אלדעא דאים
ומא (תתסי) מאת אלא ועינהא מפתוחה מן אגליך אלדי מע פרחת
ביך פאללה יעווץ גבינתהא למען שמו יא אכתי (צע) אעלמי אנני
עצמתהא ואנא איכ<ן> גריב מנהא ואן כנת מא אנא גריב מנהא חצו
לי מן אלקטעה מנהא גאיה מא יכון פלא סימא אנתי יא מסכינה
יא מגבינה אלדי מא חצל ליך ראתה מד כלקתי ועצמתיהא ועצמתי
מואנסתהא וזכנתהא פאללה יאנסיך ברחמתה ויחסן עוניך בקצרתה
ויצבר קלביך בענאיתה ולא יוחציך מן ואחדיך ולא יכליך פיה
ויהדיה ויהדיני לשריעתה פצאברי רוחיך פאללה ואעלמי אי דנובנא
אלדי מנענא ען זכותהא וברכאמהא פאללה יצר מא אנאראפהא
בעד תשובה ומעשיך טובים ותסאמחיני חית אנני מא גית ולא
עזייתיך פעזאנא פיהא ואחד ואנא נטלב מן יעזיני ויסלי קלבי (ויוד)
פאללה יעיניך ויסאעדיך ויופקין (ויבק) ויוקיך מן כל אדא ויסעדיך
ויכשדיך ויוקלף ליד ולי זכותהא פהדה סעידה יהו תעאלי יבלגני פיך
סאיר אמאלי אלסארה ואללה יחסן (ען) עוניך שלום עליך
Image Permissions Statement

T-S 10J9.1: Provided by Cambridge University Library. Zooming image © Cambridge University Library, All rights reserved. This image may be used in accord with fair use and fair dealing provisions, including teaching and research. If you wish to reproduce it within publications or on the public web, please contact genizah@lib.cam.ac.uk.