Letter: T-S 10J17.19
Letter
T-S 10J17.19
Input date
In PGP since 2020
Description
Letter from Walad al-Nezer (i.e. Mevorakh b. Nathan b. Shemuel) to the notable Netanel b. Avraham, a physician living in the Rif (and muqaddam of al-Mahallah, see 10J20.21), recommending ha-Hazzan Abu l-Bayan Moshe b. ha-Hazzan al-Ahuv who traveled to the Rif in order to collect money for his capitation tax. The young man is recommended as one growing up among the hazzanim in the time of Sar Shalom - may his name live forever - and in our own time. Information from Goitein's note card and S. D. Goitein, Mediterranean Society, 2:389-90, 612. EMS. ASE.
T-S 10J17.19 1r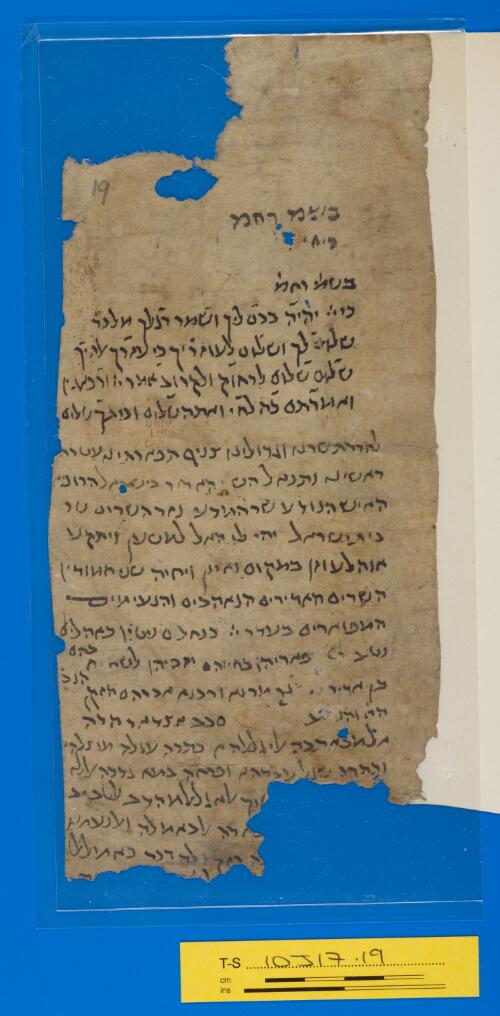 Transcription
S. D. Goitein, unpublished editions.
בשמ רחמ
כי ייי יהיה בכסליך ושמר רגלך מלכד
שלום לך ושלום לעוזריך כי עזרך אלהיך
שלום שלום לרחוק ולקרוב אמר ייי ורפאתיו
ואמרתם כה לחי ואתה שלום וביתך שלום
להדרת שרנו וגדולינו צניף תפארתינו עטרת
ראשינו נתנאל השר האדיר בישראל הרופא
האיש הנודע שר המדע נזר השרים שר
בית ישראל יהי לו האל למשען ויתקע
אוהל עוזו במקום נאמן ויחיה שני חמודיו
השרים האדירים הנאהבים והנעימים
המפוארים בעדר ייי כנחלים ניטיו כאהלים
נטע ייי יפאריהו בחייהם יזכיהו לשמוח בהם
בן אדירנו בן מרנא ורבנא אברהם הזקן הנכ
הח והנ . . סבב אצדאר הדה
אלמכאתבה אלי גלאלהא כתרה עגלה מוצלהא
וכתרה שגל עבדהא ופרחה במא גדרה(!) אללה
. . . . . . . . אל]שיך אלאגל אלמהדב אלטביב
. . . . . . . . . . . . ] . דה אלכאמלה ואלנעמה
. . . . . . . . . . ] ה הזקן לך דכר כאמלל(!)
T-S 10J17.19 1v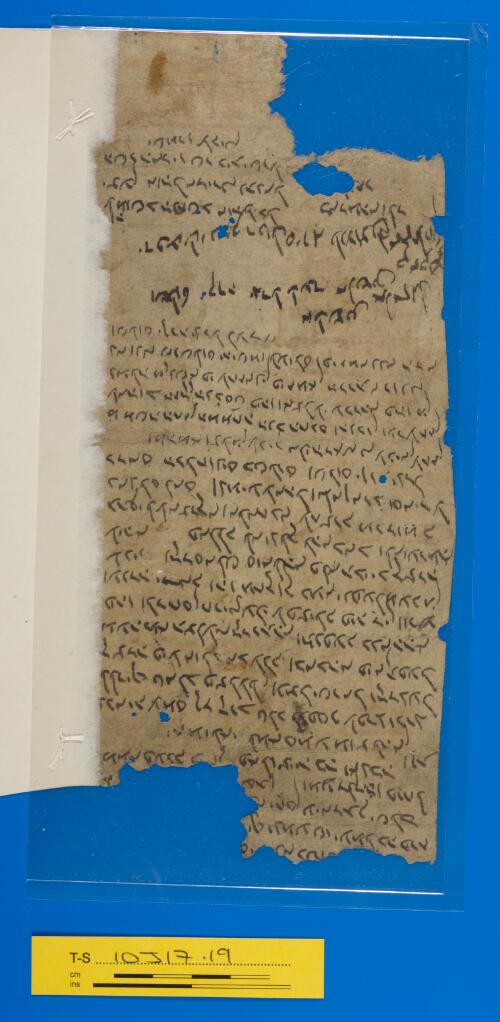 Verso.
. . . . . . . . . . . . ] סי [ . . ] לא כנ . [
. . . . . . . . . . . . ] יף יגמע שי יעמל בה פרח
. . . . . . . . . . . . . ] לא יחסן עיאדתה יסלם
. . . . . . . . . . . . . ] עתו ומע דלך הו פרח ל
ממא פעלה [ . . . . ] פאלוצייה בה ואגבה
יא מולאי למא סמע מוצלה אן וקת
גבאיה אלמס קד קרב טלב לנפסה אלפרג וכרג
ללריף טאלב פצל אללה ופצל ישראל וקד געל
קצדה פי אלאול באב אללה ובאבהא פי אן תפעל
מעה מא תצל אליה קדרתהא ותנפעה בגאההא
פהו ולד חסן חריץ עלי אלפצילה פיה דין וורע
וענדה יראה והו מחקוק במא ינפעל מעה מן
אלכיר וקד סאלני סואלהא פלא תגייר קצדה
אליהא פאללה לא יגלק להא באב ולא יעדמהא
תתקיל אלאצדקא ואלאחבא אלחצרה מכדומה
באגל סלאם וגמיע אלאהל ואלאקארב וסאיר אל
כדאם הכל חונים בשלום ושלום יקרב יגדל
ומהמא וצל מן אלכיר אלי הדא אבו אלביאן אלחזן
מ משה החזן הממחה הנכ החכם והנבון ולד אלחזן
אלאהוב הזקן הנכ סט פהו ואצל אלי עבדהא פהו מן
גמלה מן נשא פי אלחזאנין פי זמאן הדרת אדוננו
גאוננו שר שלום יהי שמו לעולם פי זמאננא הדא
ושלום יקרה יגדל לעד .
Bottom margin, straight lines written in same direction. Address.
אל/ה/מושב הנחשב אוהל בלכאדמהא ולד
יצען אוהל אדירנו נתנאל א]לנזר
השר האדיר שר בית ישראל
ישמרו אלהינו
Image Permissions Statement

T-S 10J17.19: Provided by Cambridge University Library. Zooming image © Cambridge University Library, All rights reserved. This image may be used in accord with fair use and fair dealing provisions, including teaching and research. If you wish to reproduce it within publications or on the public web, please contact genizah@lib.cam.ac.uk.