Letter: T-S 10J14.27
Letter
T-S 10J14.27
Input date
In PGP since 2004
Description
Letter from a father in Cairo to his son, Abū Manṣūr al-Rashīd, in the Fayyum. The name Jamāl al-Dīn also appears in the address. In Judaeo-Arabic, with the address in Arabic script. The addressee is told not to get involved in any banking deals with the government. The writer illustrates his warning with examples of people who had suffered both monetary losses and physical torture because of their dealings with the diwan. The addressee is advised to pursue a modest, safe living as a moneychanger. (Information mainly from Mediterranean Society, I, pp. 240, 269, 460, 467; IV, p. 161.) Dating: Likely late 12th or early 13th century based on handwriting and typical names; more precise dating should be achievable by identifying the people mentioned in the letter, such as Fakhr al-Dīn ʿUthmān, Abū Saʿd Ibn al-Shavuy, Ṭāhir b. al-Gadol and his partner Ibn al-Wazzān, Ibn al-Ḥaver, Ibn Wahbān, Abū Saʿd the addressee's cousin, Sitt Ḥaẓẓ, Sitt al-Ahl, Sitt al-Milāḥ, Sitt Nadd, al-Shaykh al-Thiqa and al-Wajīhiyya. It was written in a year when Shevaṭ corresponded to Rabīʿ I. Might be related to ENA 4100.25 (PGPID 12368).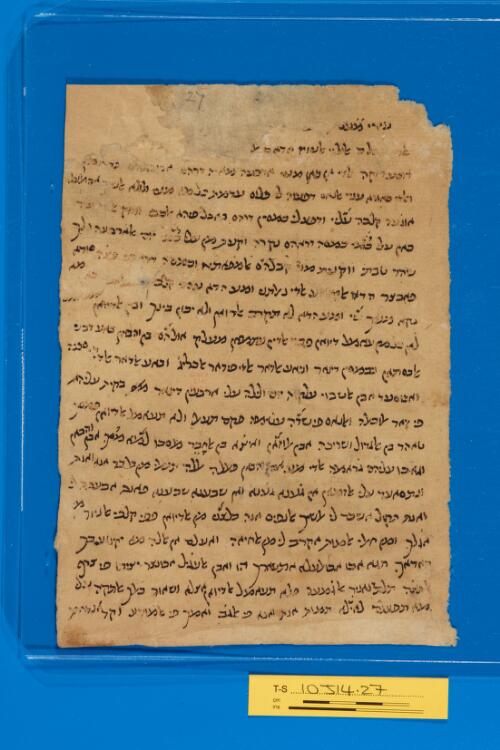 Transcription
S. D. Goitein, unpublished editions.
Recto
עזרי מעם [ . . . . . . . . . . . . . . . . . . . . . . . . . . . . . . . . . . .
אלדי אעלם אלולד אלעזיז אדאם אל[לה עזה . . . . . . . . . . . . . . . .
ויוסע רזקה אלדי אן כאן מעי ארבעה מאיה דרהם אבעתהם . . . . מן
ואלדי כאנוא ענד אלנאס דפעוה לי פליס עדמת כל מא מעי ולולא אלשיך אבו אלעלא
אוגעה קלבה עליי ודפע לי כמסיין דרהם באכל פיהא אלכם ווחק אלשריעה
כאן עלי כמי כמסה דראהם נקרה וקעת מן עלי כמי יום אלארבעה דלך
שהר טבת ווקעת מני קבלהם אלמפאתיח וכמסה דראהם פצה סודא
פאבצר הדה אלקטאע אלדי נאלתני ומע הדא עסר קלבי [ . . . . . . . ] פא . ו מא
בקא מעך שי ומע הדא לא תקרב אלדיואן ולא יכון בינך ובין אלדיואן מעאמלה
לאן כל מן עאמל דיואן פכר אלדין עתמאן מעלק אולהם בן והבאן באע רבע
אלבסתאן בכמסין דינאר ובאע אלדאר אלדי פי דאר אלכליג ובאע אלדאר אלדי הי סכנה
ואבו סעד אבן אלשבוי עלקוה יום ולילה עלי ארבעין דינאר מא בקית עליהא
פי דאר אלוכאלה ואלנאס פי שדה עטימה פקם תעאל ולא תעאמל אלדיואן פמסך
טאהר בן אלגדול ושריכה אבן אלוזאן ואיצא בן אלחבר מסכו למא מסך אבן והבאן
וגאבו עליהם גראמה אלדי מע אבן והבאן פאללה תעאלי מן כל בד אנא ואנת
ונתסאעד עלי אלזמאן אן גענא גענא ואן שבענא שבענא פאנת אבעתת לי
ואנת תקול אשכר לי אלשיך אלנפיס אנה כלצני מן אלדיואן פפי קלבי אלנאר מן
אגלך ומן חאלי אלמות אקרב לי מן אלחיאה ואעלם אן אללה מא יקטע בך
באדאך תנא אכו אבו אלעלא אתשארך הו ואבן אלעגאל אבו נצר יציבו פי צרף
אלפצה תלת דנאניר אלגמעה פלא תעאמל אלדיואן אצלא ושאור כאלך אלתקה עלי
מא תפעלה לאילא תמות אנת ואנא פי אלגב ואמך פי אלמודע וקד אנדרתך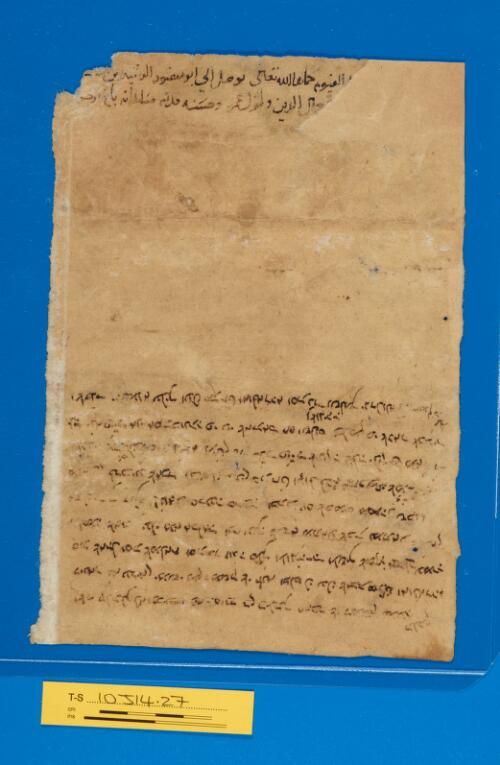 Verso
ואלדי קלת לך לא תכאלפני פאבו סעד בן כאלתך סאפר אלי דמשק ומעה תלתין
דינאר גא עריאן ימשי מן דמשק אלי הונא וסלם לי עלי אלאכת סת /ח/ט ואולאדהא
סת אלאהל וסת אלמלאח וסת נד זוגה כאלך ואלוגיהייה ואלשיך אלתקה . . . . עמרה
ואל . . ה אלצב עלי מא אכלאה ו . . . . . . ק אל . . א מתאע אלבת ומתאע . . . אן
אעלמתך דלך אלגואב סרעה סרעה וכתב יום אלכמיס מסתהל שבט
מואפק לרביע אלאכר . . . . . . . . . סת חט וקול להא אחרצי פי אלמ[גי
. . . . . . . . . . . . . . . . . . . . . . . . . . פייד אלתקה אללה ולך למא . . . .
לה י . . פייד אני א . . כונתה פי שי אלאיתאם חס ושלום וכל מן פי אלדאר אלכביר
ואלצגיר יסלמוא עליך ועלי סת חט ואולאדהא וסת נד //ואלוגיהייה// ושלמך יגדל ולא ידל אמן נצח [סלה]
Verso - address
[ ] الفيوم حماها الله تعالى يوصل الى ابو منصور الرشيد بن . .[
[ ] جمال الدين وطول عمره وحسنه قدام سلطانه بلغ توجر
Image Permissions Statement

T-S 10J14.27: Provided by Cambridge University Library. Zooming image © Cambridge University Library, All rights reserved. This image may be used in accord with fair use and fair dealing provisions, including teaching and research. If you wish to reproduce it within publications or on the public web, please contact genizah@lib.cam.ac.uk.