Legal document: T-S 8J8.4
Legal document
T-S 8J8.4
Input date
In PGP since 1990
Description
Sales contract of the Persian slave-girl called 'Perfume' for ten and a half dinars including brokerage and sales tax. Written in the hand of Mevorakh b. Natan (1150-1181).
T-S 8J8.4 1r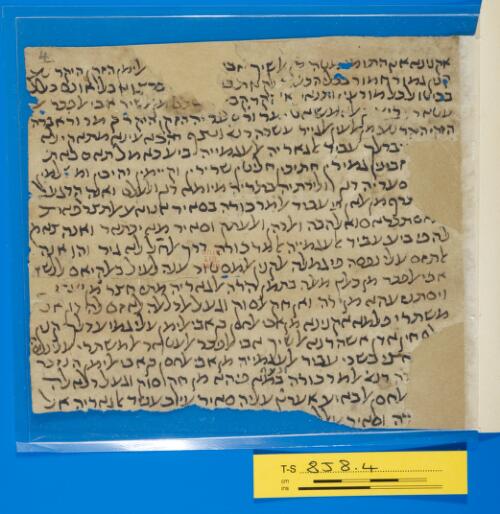 Transcription
S. D. Goitein, unpublished editions.
אקנינא אנן חתומי מטה מן אלשיך אבי [אלחסן בן אבי] אלימן הזקן היקר נע'
קנין גמור חמור בכלי הכשר לקנות בו [ ] ברצונו בלי אונס כלל
בביטול כל מודעין ותנאין אנה קד קב[ ]תכם מן אלשיך אבי אלפכר אל
עטאר דידיע בן אלאמשאט מר ור סעדיה הזקן היקר בן מר ור אברהם
הזקן היקר נע' מן אלעין אלגייד עשרה דנא ונצף דהבא עינא מתאקילא
] בדלך עביר אלגאריה אלעגמייה ביע כאמל תאם באת
] זבינין גמירין חתיכין חליטין שרירין וקיימין יהיבין ומשלמין
] סעדיה דנן ולירתיה בתריה מיומא דנן ולעלם ואנה קד געל
]צרף מן אלאן פי עביד אלמדכורה בסאיר אנואע אלתצרפאת
]אסתכדאם ואלהבה ואלכהן ואלעתק וסאיר מא יכתאר ואנה צאמן
לה פי ביע עביר אלעגמייה אלמדכורה דרך אלחל לא גיר והו אנה
אלתזם עלי נפסה פי גמלה אלקנין אלמסטור ענה לעיל באלקיאם ללשיך
אבו אלפכר מן כאלץ מאלה בתמן הדה אלגאריה מתי חצר מן יעת[
ויסתנזעהא מן ידה ואן חק אלסוק געל אלדלאלה לאזם לה דון אל
משתרי פלמא אקנינא מן אבי אלחסן בן אבי אלימן עלי גמיע דלך קנין
]לם חין אדן אשהדנא אלשיך אבי אלפכר אלעטאר אלמשתרי עלי נפסה
]אצי בשרי עביר אלעגמייה מן אבי אלחסן בן אבי אלימן הנזכר
]רה דנא אלמדכורה //ונצף// במא פיהא מן חק סוק וגעל דלאלה
]אלחסן אלבאיע אערץ עליה סאיר עיוב עביר אלגאריה אל
]רה וסאיר [
T-S 8J8.4 1v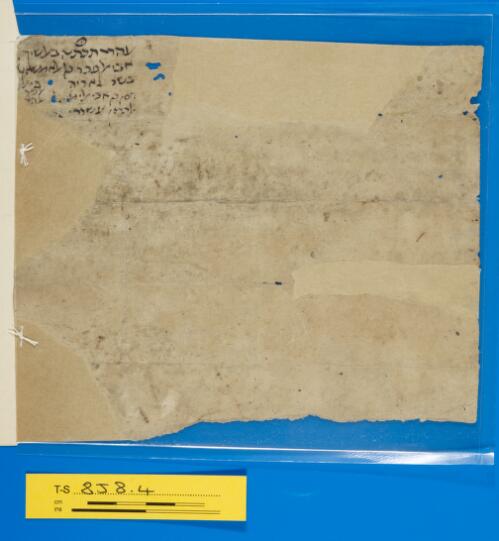 Image Permissions Statement

T-S 8J8.4: Provided by Cambridge University Library. Zooming image © Cambridge University Library, All rights reserved. This image may be used in accord with fair use and fair dealing provisions, including teaching and research. If you wish to reproduce it within publications or on the public web, please contact genizah@lib.cam.ac.uk.