Legal document: T-S 8J7.2
Legal document
T-S 8J7.2
Input date
In PGP since 1990
Description
Sales contract between Yosef b. Efrayim and Sadaqa b. David Ha-Kohen. Fustat, 1103. The verso contains a beautifully drawn-up poem by the Egyptian poet Sahlan b. Avraham.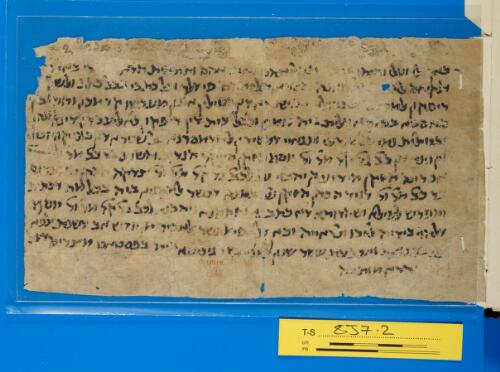 Transcription
S. D. Goitein, unpublished editions.
כאן עלי ועלי וראתי בעדי תכליצהם ותתבית הדא [אלאב]ארי בא
תקאם בה ואנה תלזמהם פי דלך וצל כתבי בכל כתב ולשון
דיפקון למדעם ולבטולא ית שטרא דא בטילין אינון מעכשו קדמכון וחשובין
כחספא בשוקא ולית ביה ממש ולכל בית דין דיפקון לא ליעבדון דינא מנה
ובטילית נמי כל מודעי ותנאיי דמסירין לי ודמסרנא על שטרא דנן כתיקון
חכמים
וקנינא מן כב' גד' מר' ור' יוסף הזקן היקר הנדיב והשוע בר כב' מר' ור'
אפרים הזקן הידוע בן יהבוי נע' לכב' גד' קד' מר' ור' צדקה הכהן המתרגם
בר כב' מר' ור' דויו הכהן הזקן נע' במנא דכשר למקניא ביה בכל מה דכתיב
ומפרש לעילא ושהדותא דא כתבנא וחתמנא ויהבנא לכב' גד' קד' מר' ורב'
יוסף
דלהוי בידיה לזכו ולראייה (!) וכאן דלך פי אלעשר אלאכיר מן חדש אב דשנת
אלפא
וארבע מאה וארבעת עשר שנין למנינא דרגיליננא ביה בפסטאט מצרים דעל
נילוס נ]הרא מותבה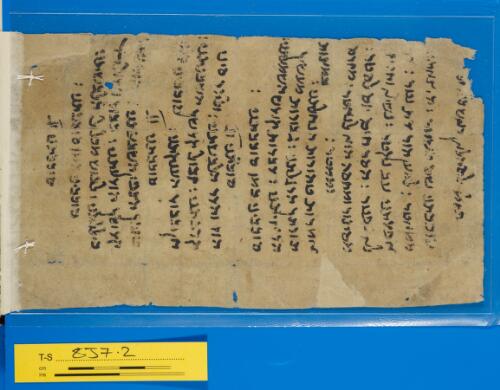 Image Permissions Statement

T-S 8J7.2: Provided by Cambridge University Library. Zooming image © Cambridge University Library, All rights reserved. This image may be used in accord with fair use and fair dealing provisions, including teaching and research. If you wish to reproduce it within publications or on the public web, please contact genizah@lib.cam.ac.uk.