Legal document: T-S 8J5.18
Legal document
T-S 8J5.18
Input date
In PGP since 1990
Description
Bifolium from a court notebook. Fol. 1a: End of a legal query (ll. 1–4) and complete answer/responsum (ll. 5–19) in the case of Hilāl the husband of the son of the deceased female slave. The Jewish muqaddam lost 75 dinars to the wālī of the town owing to his own fault, and Hilāl is not responsible for this loss. The 40 mujalladāt (volumes) which Hilāl had taken from the estate of the deceased and which he had used for his litigation with the muqaddam are not his, and he has to pay for them to the heirs and to return the rest. The wālī acted illegally, but the muqaddam cannot blame anyone other than himself. Fols. 2r and 2v: Possibly more details about the same case, with a lot of details about silk. (Information from Goitein's index cards.) EMS. Written by Mevorakh b. Natan. AA.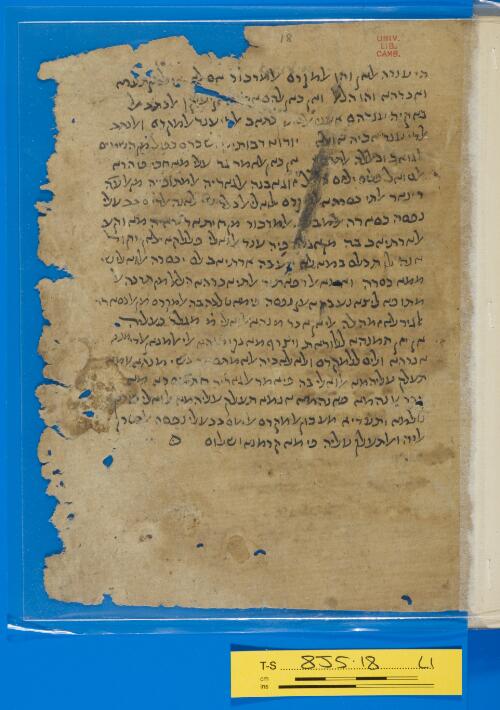 Transcription
S. D. Goitein, unpublished editions.
TS 8 J 5, f. 18a
הי ענדה אלאן והו אלמקדם אלמדכור אם לא או למן תעדא
ואכדהא והו הלאל ואן כאן להם צ אן יעיקו אלכתב אל
באקיה ענדהם אעני אל עין כתאב אלדי ענד אלמקדם ואלכתב
אלדי ענד אכיה או לא יורונו רבותינו ושכרם כפול מן השמים
אלגואב ובאללה אלתופיק אן כאן אלאמר בה עלי מא חכי פי הדא
אלסואל פליס ילזם הלאל זוג אבנה אלגאריה אלמתופייה מן אלעה'
דינאר אלתי כסרהא אלמקדם לואלי אלבלד שי לאנה אלדי סבב עלי
נפסה כסארה אלמבלג אלמדכור מן חית אד בראיה מא וקע
אלארתיאב בה מן אגרה פיה ענד אלואלי פללקאיל אן יקול
אנה לו תכלם במא לם יקע בה ארתיאב לם יכסרה אלואלי שי
ממא כסרה ואמא אלדפאתיר אלתי אכדהא הלאל מן תרכה אל
מתופא ליצאנע בהא ען נפסה פי מא טלבה בה אלמקדם מן אלכסארה
אלגיר לאזמה לה אלי אן אכד מנהא אלואלי מ מגלד פעליה
אן יזן תמנהא ללוראת ויצרף מא בקי מנהא אלי אלמכאן אלדי מנה
אכדהא וליס ללמקדם ולא לאכיה אלאמתסאך בשי מנהא עמא
תעלק עליהמא אלואלי בה פי אמר אלגאריה חתי כסרא מא
דכר ענהמא פאנהמא תעלק עליה מא לואלי
טלמא ותעדיא מע כון אלמקדם אלמסבב עלי נפסה אלתטרק
אליה ואלתעלק עליה פי מא קדמנא ושלום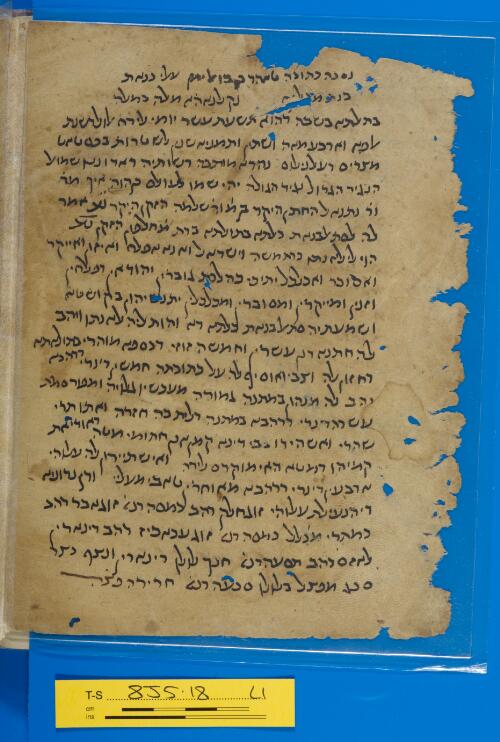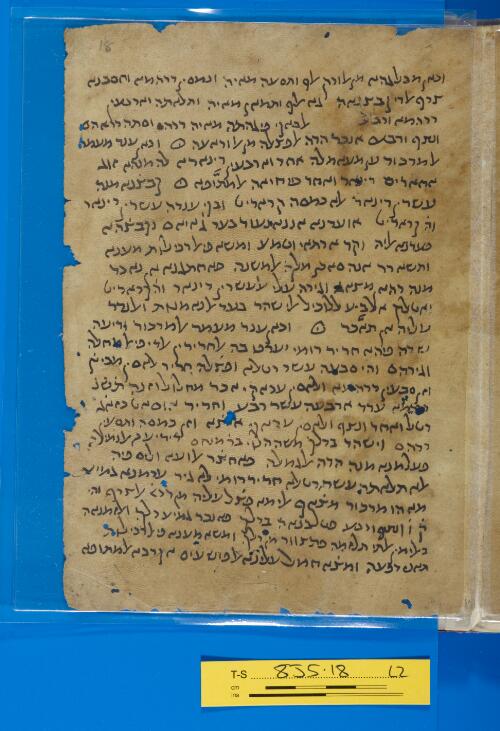 TS 8 J 5, f. 18c
וכאן מבלגהא מן אלורק אלף ותסעה מאיה וכמסין דרהמא וחסבנא
צרף אלדי קבצנאה גא אלף ותמאן מאיה ותלאתה וארבעין
דרהמא ורבע אלבאקי פי גהתה מאיה דרהם וסתה דראהם
ונצף ורבע אנכר הדה אלפצלה מן אלודאעה וכאן ענד מעמר
אלמדכור ען מעאמלה אחד וארבעין דינארא לה מנהא זוג
אחאריס דינאר ואחד פי חיאה אלמתופא קבצנא מנה
עשרין דינאר אלא כמסה קראריט ובקי ענדה עשרין דינאר
וה קראריט אועדנא אננא נעוד בעד ג איאם וקבצהא
פעדנא אליה וקד ארתאי וטמע ומשא פי אלרכילות מענא
ותשארר אנה סאכן מלך אלמשנה פאחתגנא אן נאכד
מנה רהאן מצאג וגירה עלי אלעשרין דינאר וה קראריט
ואטלק אלביע ללוכיל אלי שהר בעד אלנאמנות ואלנדר
עליה אן תאכר וכאן ענד מעמר אלמדכור ודיעה
שדה חריר רומי יערפו בה אלחרירין אלדי פי אלמחלה
וגירהם והי סבעה עשר רטלא ופצלה חריר לאסין מביץ
וזן סבעין דרהמא ולאסין עראקי אכר מחלול וזנה תשנ
דרהמא עדד ארבעה עשר רבע וחריר אוסאט כזאב
רטל ואחד ונצף ולאסין עראקי איצא וזן כמסה ותסעין
דרהם וישהד בדלך משה הלוי בר מנחם דידיע בן אלנמילה
פעלמנא מנה הדה אלגמלה פאחצר אלועא וליס פיה
אלא תלאתה עשר רטלא חריר רומי לא גיר עדמנא גמיע
מא הו מדכור מצאף אלי מא פצל עליה מן דרא אלצרף והי
ק ו ונצף ורבע פטלבנאה בדלך פאנכר גמיע דלך ולזמנאה
באלימין אלתי תלזמה פתצוור מן דלך ומשא מענא פי אלרכילות
תאני דפעה ומצא חמל עלינא אלפושעים אקרבא אלמתופא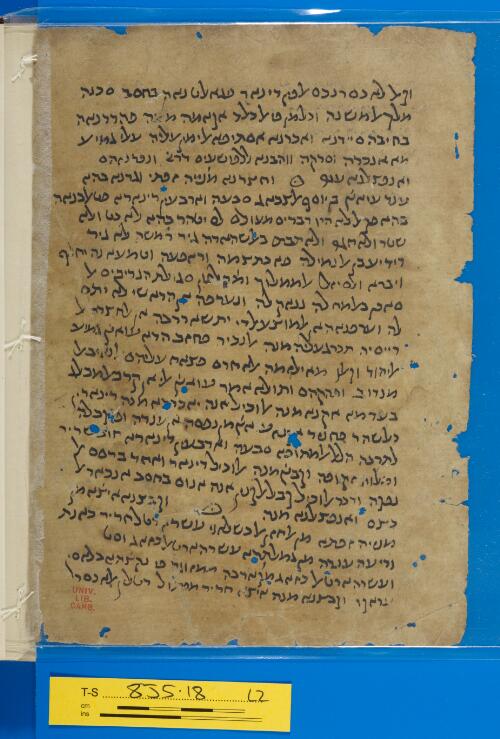 TS 8 J 5, f. 18b
וקאל לא כסרנכם אלפין דינאר פגאלטנאה בחסב סכנה
מלך אלמשנה וכל מן פי אלבלד אקאמה מעה פהדדנאה
בהיבת סיידנא ואכרנא אסתיפא אלימין עליה עלי גמיע
מא אנכרה וסרקה ווהבנא ללפושעים דרא ונפדנאהם
ואנפצלנא ענה וחצרנא מנייה זפתי וגדנא בהא
ענד עואץ בן יוסף אלצבאג סבעה וארבעין דינארא פטאלבנאה
בהא פקאל לא היו דברים מעולם לם יטהר בהא לא כט ולא
שטר ולא חגה ולא תבת באלשהאדה גיר ר משה לא גיר
דידיע בן אלנמילה פאכתצמה וראפעה וטמע אנה יחלף
ויברא ולם יזל אלממלוך ומ חלפון סגולת הנדיבים אל
סאכן באלמחלה ננאקלה ונערפה אן הדא שי לא יתם
לה וערפנאהא אן אלמוצע אלדי יתשארר בה אן אלחצרה אל
רייסיה תכרג עליה מנה אלנביד פחזב הדא עואץ גמיע
אליהוד וקאלו מא ילזמה אלא חרם פצאח עליהם אלנאיב אל
מנדוב ו הקהם ותולא אמר עואץ אלי אן קרב אלמבלג
בעד מא אקנא מנה אלוכיל אנה יאכדהא מנה דינארין
באלשהר פחניד אקנא עואץ מן נפסה אן נפסה אן ענדה ופי קבלה
לתרכה הלאל אלמתופא סבעה וארבעין דינארא חוב שריר
ומלוה זקופה וקבץ מנה אלוכיל דינאר ואחד ברסם אל
נפקה ודכר אלוכיל קבל אלקנין אנה אנוס בחסב אנכאר אל
כצם ואנפצלנא מנה וקבצנא איצא מן
מנייה זפתא מן אלחזן אלכשלאוי עשרין רטל חריר כאנת
ודיעה ענדה מן גמלתהא עשרה ארטאל כזאג וסט
ועשרה ארטאל כזאג מקארבה ממזוגה פי נקצהא בלאסין
עראקי וקבצנא מנה איצא חריר מפתול רטלין אלא כסר
Image Permissions Statement

T-S 8J5.18: Provided by Cambridge University Library. Zooming image © Cambridge University Library, All rights reserved. This image may be used in accord with fair use and fair dealing provisions, including teaching and research. If you wish to reproduce it within publications or on the public web, please contact genizah@lib.cam.ac.uk.