Legal document: T-S 8J4.20
Legal document
T-S 8J4.20
Input date
In PGP since 1990
Description
Legal document regarding potential claims of Ḥiyya b. Yeshuʿa ha-Kohen against the orphan son of Abū l-Surūr al-Ḥalabī. Mentions Peraḥya b. Natan. Dated: Kislev 1419 of the Seleucid Era (= 1107 CE), and signed by Berakhot b. Aharon ha-Kohen and Yefet b. Hillel (GRU updated by MRC 05.17.16) See Frenkel, Qehillat Halab, 63-69.
T-S 8J4.20 1r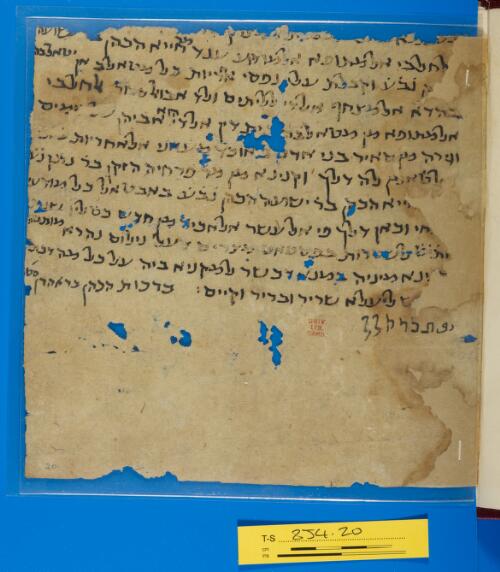 Transcription
S. D. Goitein, unpublished editions.
, כסלו.
]צו[
א]לחלבי אלמתופא אלמודוע ענד //מר// חייא הכהן בר ישועה
]ק נבע וקבלת עלי נפסי א/ח/ריות כל מטאלב אן יטאלבה
בהדא אלמצחף אלדי לליתים ולד אבו אלסרור אלחלבי
אלמתופא מן מטאלבה בית דין אלדי //הוא// אביהן של [ית]ומים
וגירה מן סאיר בני אדם באוכד מעאני אלאחריות [
אלטאמן (!) לה דלך וקנינא מן מר פרחיה הזקן בר נתן נע
]חייא הכהן בר ישועה הכהן נבע באבטאל כל מודעי
ותנ]אי וכאן דלך פי אלעשר אלאכיר מן חדש כסליו שנת
אתיט לשטרות בפסטאט מצרים דעל נילוס נהרא מותבה
וקנ]ינא מיניה במנא דכשר למקניא ביה על כל מה דכת[יב
ומפר]ש ליעלא (!) שריר ובריר וקיים: ברכות הכהן בר אהרן סט' (והוא שכתב)
יפת בר הלל
T-S 8J4.20 1v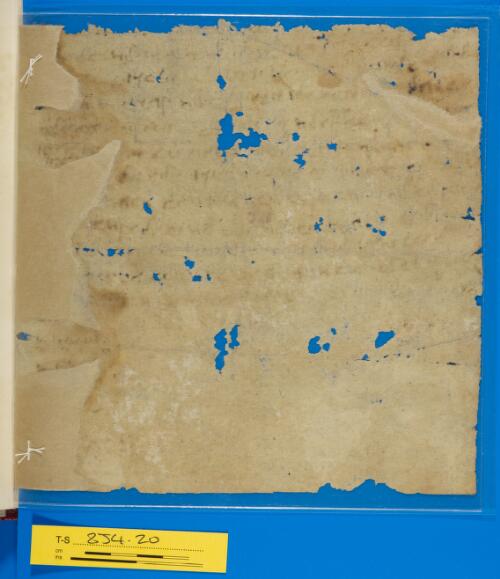 Image Permissions Statement

T-S 8J4.20: Provided by Cambridge University Library. Zooming image © Cambridge University Library, All rights reserved. This image may be used in accord with fair use and fair dealing provisions, including teaching and research. If you wish to reproduce it within publications or on the public web, please contact genizah@lib.cam.ac.uk.