Letter: T-S 8J20.24
Letter
T-S 8J20.24
Input date
In PGP since 1990
Description
Letter from a certain Efrayim concerning consignments of wheat and sums of money, written in a very polite form with many Hebrew phrases, among them biblical citations such as Deuteronomy 26:11. (Information from CUDL) See also Goitein's index card.
T-S 8J20.24 1r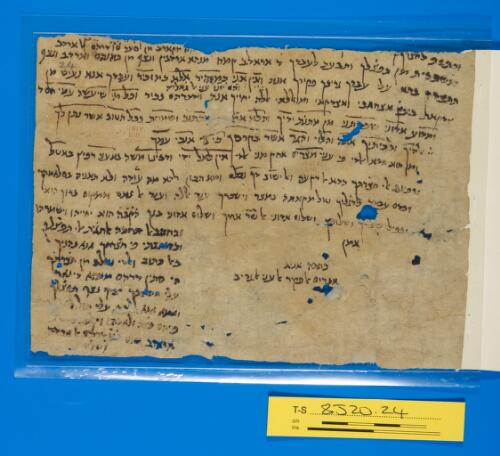 Transcription
S. D. Goitein, unpublished editions.
וכתאב לחצרתך [
אשתכית מן תפצלך ותבעת לעבדך ד אראדב קמח מנהא ארדבין ונצף מן תמנהם
// מקארב מן סער סו דרהם אלארדב // וארדב ונצף
תתצרף בהא עלי עבדך גריבך פקירך אנת ואין אני כמזהיר אלא כמזכיר ועבדך
אנא נעיש מן
צדקאת בעץ אצחאבי ואצדקאי // והם יזנו עני אלגאליה // ומולאי אללה יחייך
אנת וידכרהם בכיר וכל מי שיעשה עמי חסד
ומדוע אדוני שכ[ח]תני מן מתנת ידיך והלא אמ הכתוב ושמחת בכל הטוב אשר
נתן לך
י/י/י אלהיך ולביתיך אתה והלוי והגר אשר בקרבך כי גר אנכי עמך
ומן סוא הדא אלדי פי עניי מצרים אחק מני אלדי אין לאל ידי ורבינו משה
באעני רכיץ באטל
ורפעת אלי חצרתך הדא (!) אלרקעה ואל ישוב דך נכלם ומא תכון להא מא עודה
ולא תאניה (או תמניה) בסלאמתך
ויכדם עבדך לרגליך טול מקאמה במצר וישכרך ענד אללה וענד אלנאס והמקום
ברוך הוא
יכפיל שכרך ושלומך ושלום אדוני אלנזר אחיך ושלום אדוני בנך הקבה הוא
יחייהו וישמרהו
אמן ובחסב אלמחבה אלתגית אלי תפצלך
כתבה אנא וכתאבתי פי חצרתך אנא נדניך
אפרים אלפקיר אלעני אלגריב באלכתוב ואלדי נטלב מן חצרתך
הי סתין דרהם א דינאר
עלי חסאבך יצרף נצף תפצלך
ומא אנא עלי ל
פיהם פצה ולא דהב וק
א דרהם אלארדב
ושלום
T-S 8J20.24 1v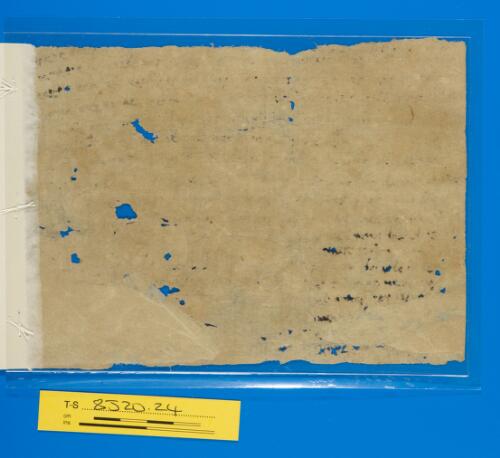 Image Permissions Statement

T-S 8J20.24: Provided by Cambridge University Library. Zooming image © Cambridge University Library, All rights reserved. This image may be used in accord with fair use and fair dealing provisions, including teaching and research. If you wish to reproduce it within publications or on the public web, please contact genizah@lib.cam.ac.uk.