Letter: T-S 8J18.8
Letter
T-S 8J18.8
Input date
In PGP since 1990
Description
Letter from Avraham b. David b. Sughmār, probably in Alexandria, to his son, David, in Fustat. Dating: ca. 1055 CE. The father rebukes his son for losing money. He mentions several negative events that happened probably in the Maghreb. Also describes how his son lost trading goods as silk. He also complains about his illness (r6). Information from Gil, Kingdom, vol. 4, pp. 1-4, #609. VMR. ASE.
T-S 8J18.8 1r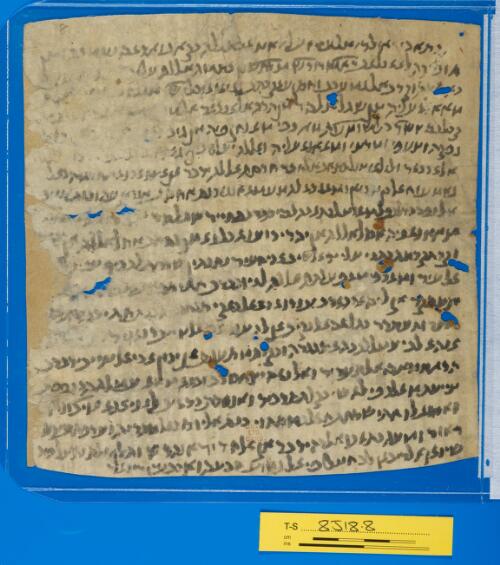 Transcription
S. D. Goitein, unpublished editions.
כתאבי יא ולדי אלעזיז אטאל אללה בקאך ואדאם נעמאך ומן [חסן
תופיקה לא אכלאך ראש חדש מרחשון כתמה אללה עליך [
ב וקרב אלגמע בך וחסן עאקבתך ואנא וכל יש' א [
מא אנא עליה מן שגל אלסר מן הדה אלאכבאר אלמ[
קבלכם אשר כל שומעה מא כפי מא נחן פיה מן גיר[
נפקה וצעפי ומרצי ומא אנא עליה ואללה יעלם כיף ג [
אלאכבאר ולולא וצול כתאב אלחבר חרסה אללה ידכר אן אצחאבנא
גאמע וחאן בן צביאן ומא גרא לה מע מא אנני כנת אח ך א
אל פ בדלך למא וצל כתאבה מתלהם
מא אנא פיה אסל אללה אן יהדי רוענא כלנא מן מתל אללה
וקד תקדמת כתבי עלי יד אלסיד אבי סעיד נסכתין לכ
אלעיד ומא כפי מא פעלתה אללה לא י ך חתי [
תעתקד אן ליס ענדנא ובאלבאקי
ותעתדר בגלאם אלנקיב אן לה ענד א אכר ו
אנהא לך יעמל לך בהא ענך אן יכון אבי אלטייב ידכרך
הדא אלתעדיד ואל יצח עמל נפסך
צייעת פי לא ש לת ואנפכת (?) בראיך לאני אנא
ו חתי שרחת כנת אליום באלמהדיה וערפת
דאוד ומעה כתאך (צ"ל כתאבך) אליה ידכר אן אלחריר אנהרש ותלף ולם יחצל
פיה
שי ואן אלדי כאן לך חצל פי אלגמיע סבעה וארבעין דינאר
T-S 8J18.8 1v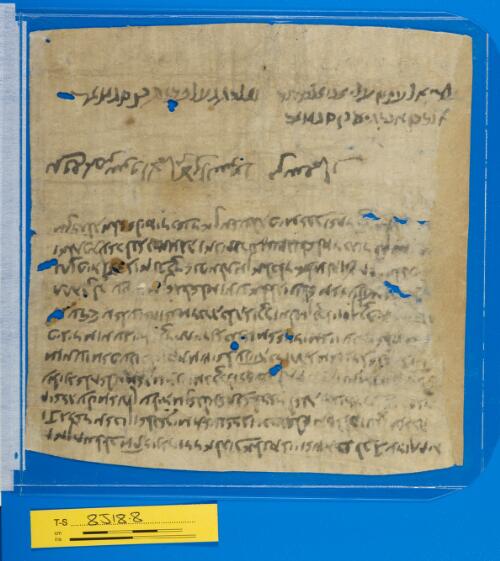 page b
ואן חצל לך מז' דינאר ורד אלתוב אלנסאוי ואש לך ג' ע
וג' גראר צאבון ואלבאקי וארגו
זיאדה עלי מא נחן עליה מן אגל צאחב לאנה
עלינא אלחאל אמא
מוצע ומא פעלו תמשי אלענייה
פי גיר מוצע גייד די
עד' טאלע ו מדכרה כלהא וקד וצל מן נקל יוסף קפי[פה
ת לך ע מוצע אללה יעלם עלמ [
נחן פיה וארגו אנ קד אנפצלת מן אלבלד אלמנחוס
ואלת עאד לנא בכתאבה ואני כתיר
מן דלך אלא אליסיר בעד אן לע פי
ולדי אלעזיז אבי אלסרור ואלדה געל פדאה בן סגמאר
ד]אוד בן אברהים בן סגמאר
يدفع بمصر سوق الحمام ﻻبى السرور بن سغمار
Image Permissions Statement

T-S 8J18.8: Provided by Cambridge University Library. Zooming image © Cambridge University Library, All rights reserved. This image may be used in accord with fair use and fair dealing provisions, including teaching and research. If you wish to reproduce it within publications or on the public web, please contact genizah@lib.cam.ac.uk.