Letter: T-S 8J18.33
Letter
T-S 8J18.33
Input date
In PGP since 1990
Description
Letter from Nissim b. Ḥalfon b. Benaya, in Tinnīs, to Barhūn b. Mūsā al-Tāhirtī al-Maghribi, in Fustat, both prominent in the Geniza correspondence of the eleventh century. The writer mentions merchants from the Maghreb, Syria, and Iraq doing business in the busy Mediterranean seaport. He probably alludes to his illnesses in lines r3–6: "You tasked me with buying ladies' caps (maʿājir), but you know what a 'pain' (wajaʿ) it is, especially selling clothing in Tinnīs, from morning to evening. I relapsed only twice due to the burdens I take upon myself (mimmā najūr ʿalā nafsī). But today, praise be to God, I am in every state of well-being." In lines v4–5, Nissim invokes the common trope of assuming a business partner (here Ibn Juhā) is ill if one has not heard from him in a longer-than-usual time. Information from Gil, Kingdom, III, #597, and Goitein, Med Soc, II, p. 520; IV, pp. 176, 406, and V, pp. 110, 536. EMS. ASE.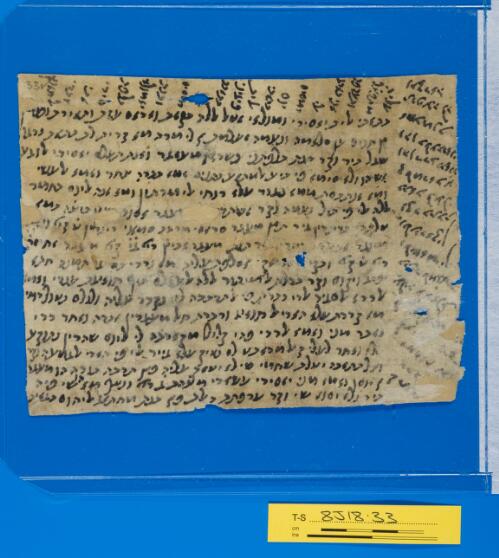 Transcription
S. D. Goitein, unpublished editions.
כתאבי אליך יאסידי ומולאי אטאל אללה בקאך ואדאם עזך ותאידך וסעא[דת]ך
מן תניס ען סלאמה ונעמה אעלמך אן לי מדה מא קרית לך כתאב ארגו
שגל כיר וקד כנת כלפתני בשרא מעאגר ואנת תעלם יא סידי אלוגע
אש הו ולא סימא פי ביע אלמתאע בתניס אמא בכרה צחר ואמא אלעשי
ומא אנתכסת ממא נגור עלא רוחי אלי מרתין ומא אנה (אנא ?) אליום בחמד
אללה אלי פי חאל נעמה לקד אשתר[ית לך ] מעגר אסוד [בחאטיה (?)]
ביצה כמא
טלבתה בדינרין גיר תמן מעגר סדאסי מדהב סמאי (!) דינרין ט קר' ו[
מעגר אבאבי דינרין גיר תלת מעגר אביץ די' גי קר מעגר אחמר
דינ' ט קר' [ובקי אסלפת עליה מא נדרי מא יגי תמנה חתא
יפרג ויקום וקד בדלת אלמגהוד אללה אלעאלם כיף חואגיך ענדי ואמא
אלרדא אלסגיר (!) אלדי דכרת פי אלתדכרה לם נקדר עליה ולו לם נטול רוחי
מא קדרת עלא האדי אלחואיג] ודכרת חאל מעגרין אכרה ואחד דרי
ואחד מני ואמא אלדרי פהי קליל מקארבה לי אליום שהרין נתוקע
אלי ואחד לעלי בן אלמראבט לם נטיק עלא גייד אלי (אלא) פי האדי אלגמעה
וקד
וצל כתאבה יטלב שחראי (=שחארי) שי לא יטאק עליה [פאן תרכה בידה הו מעגר
בן יוסף ואמא מני יאסידי עשארי מדהב ג דנ' ונצף מא הו שי פיה
כיר ולא יסוא שי וקד ערפתך דאלך פאן כנת מחתאג אליהום ד איך
margin
] עליה אלטאלבין / כתיר אלמגא[רבה] / ואלשאמיין / ואלעראקין / וקד כתבת
/ כתאב לעלי / בן אלמראבט / והו דרג כתאבי / והו באלעבראני / אחב מנך
תדפעה לה /ותקראה / עליה מתפצל / ותערפה /אני כארג / אלי / דמסיס / יום /
כתאבי / אליך / פיגיני / כתאבך / [אלי] / דמסיס / וכנת / יא מולאי / כלפת /
סידי / אבי / זכרי / אלתאגר / אן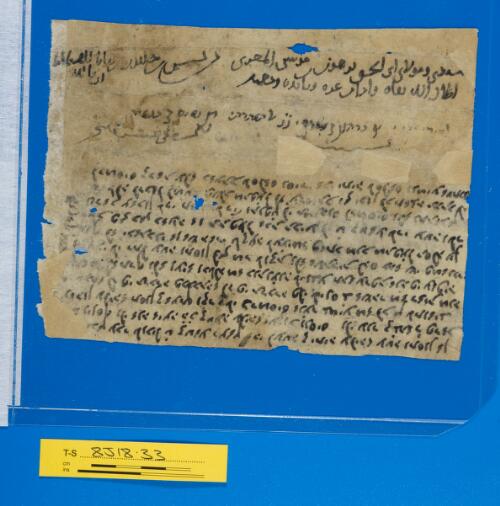 page b
]בץ עבד אלוכיל ט קטאע רצאץ הי לעטה בן יחיה עליהא עטה וחסון אן
] ויוסף ולי אנה איצה הכ קטעה עליהא יעקוב ונסים ולי ענד בן גהא ד
פראך
צאבון עליהא חסון בן אצחק וקד קאלי בדמסיס אנצר גמיע מא לך מן אלחואיג
]א לי פי תדכרה פכתבתהא לה פי תדכרה פלי אליום ג אשהר מא ראית מנה
] לא חרף ולא וציא (!) ובאללה מא כנת נצנה אלי וגע חתא ערפת אנה פי עאפיה
] י אלי רחל עטה וחסון לאן מר אלוקת ולא אשתרית להם בהא שי פמא נבדי
]ך לא יכאתבני אן אש האדי אלקצה אלעצימה פאחב מנך מתפצל תסלה ען
דאלך פאן כאן באעה או תתפצל אנת תביע לי ט קטאע אלדי עטה ואלד
פראך צאבון אלדי ת[ ] ל די' ותנפץ לי תמנהום לדמסיס ולא נחתג אן
[שא] אללה לדכול למצר פעלת מתפצל לא עדמתך ואן יכון לך חאגה ינכתב אלי
לדמסיס קראת עלא כאצתך אלסלאם וסידי אבי יחיה אלסלאם וגמיע אצחאבנ[א
לסידי אבי יצחק ברהון בן מוסי ננ אלתאהרתי מן נסים בן בנאיה
سيدى وموﻻى ابى اسحق برهون بن موسى المغربى من نسيم بن خلفون بن بنايا
للفسطلط ان شا الله
Image Permissions Statement

T-S 8J18.33: Provided by Cambridge University Library. Zooming image © Cambridge University Library, All rights reserved. This image may be used in accord with fair use and fair dealing provisions, including teaching and research. If you wish to reproduce it within publications or on the public web, please contact genizah@lib.cam.ac.uk.