Letter: T-S 8J17.6
Letter
T-S 8J17.6
Input date
In PGP since 1990
Description
Letter from Yeshuʿa ha-Melammed b. Avraham, in Minyat Zifta, to Eliyyahu the Judge, in Fustat. In Judaeo-Arabic. Dating: 1236 CE (Iyyar 4800+196 = 4996 AM, line 16). The writer reports that the income from the 'quppa' was used as a school fee for poor children. Goitein also makes note of the greeting for an old man in precarious health in a high position: "May God not wound Israel through him" (line 4), i.e., may God not wound Israel by causing him illness or death. (S. D. Goitein, Mediterranean Society, 2:105-6, 515, 544.) EMS. ASE.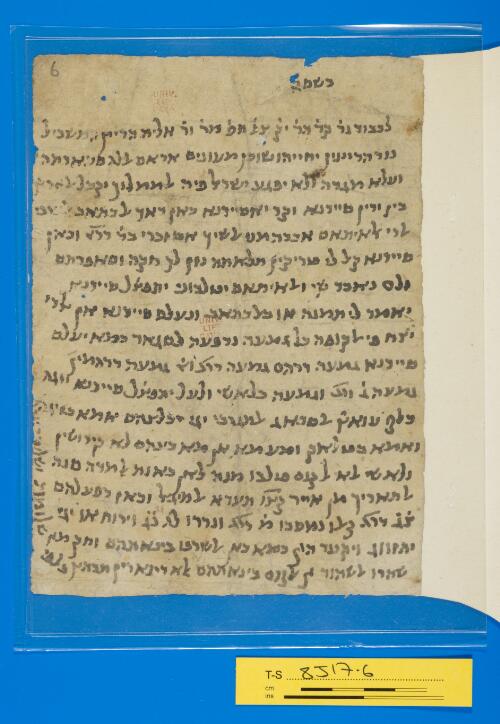 Transcription
S. D. Goitein, unpublished editions.
בשמא
לכבוד גד קד הד יק צפ תפ מר ור אליה הדיין המשכיל
נזר הדיינין יחיהו שוכן מעונים אדאם אללה סעאדתה
ועלא מגדה ולא יפגע ישראל פיה אלממלוך יקבל אלארץ
בין ידין סיידנא וקד יאסיידנא כאן דאך אלכתאב אלערבי
אלדי אלאיתאם אכדה מני אלשיך אבו זכרי בד דרא וכאן
סיידנא קאל לי טריקין תלאתה נזן לך חקה וסאפרתם
ולם נאכד שי ואלאיתאם יטלבוני יתפצל סיידנא
יאמר לי תמנה או באלכתאב ונעלם סיידנא אן אלדי
יצח פי אלקופה כל גמעה נדפעה לסגאר כמא יעלם
סיידנא גמעה דרהם גמעה דרה' ו< גמעה דרהמין
גמעה ג ורב' וגמעה בלא שי ולעל יתפצל סיידנא ווגה
כלף עואץ אלסבאג אלמגרבי יגי יכלצהם אמא בזיגה
ואמא בטלאק ומע מא אן מא בינהם לא קידושין
ולא שי אלא אלקום טלבו מנה לאן כאנת אלמדה סנה
אלתאריך מן אייר קצו' תעדא אלמיגאל וכאן דפע להם
צג דרה' קאלו נמסכו מ דרה' ונרדו לה נג וירוח או יגי
יתזווג ויקעד הון כמא כאן אלשרט בינאתהם וחק מא
שהדו אלשהוד אן אלקום בינאתהם אלא דינארין תכתץ באלפי
margin
שלומות ושלומך יגדל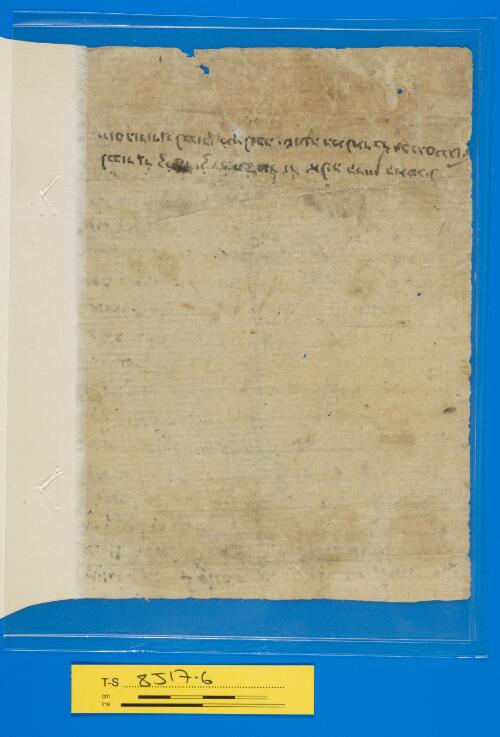 page b
לכ גד קד הד יק צפ מר ור אליה הדיין המשכיל
ירום הודו ויגדל כבודו ממלוכה ישועה המלמה בר אברהם נבתויא
Image Permissions Statement

T-S 8J17.6: Provided by Cambridge University Library. Zooming image © Cambridge University Library, All rights reserved. This image may be used in accord with fair use and fair dealing provisions, including teaching and research. If you wish to reproduce it within publications or on the public web, please contact genizah@lib.cam.ac.uk.