Letter: T-S 8J16.7
Letter
T-S 8J16.7
Input date
In PGP since 1990
Description
Letter addressed to Abu Sahl b. Moshe, the cantor, in which the writer requests aid in a mixture of Hebrew and Judeo-Arabic. In a post-scripted note, the petitioner also requests some food should the addressee have a Jewish celebration. (Mark Cohen, Voice of the Poor in the Middle Ages, Princeton University Press: 2005, 57-8). "By constant fasting and hunger my eyesight has become faint and my heart blotted out, so that I do not know what I am writing" (Goitein, Med Soc V:87). EMS.
T-S 8J16.7 1v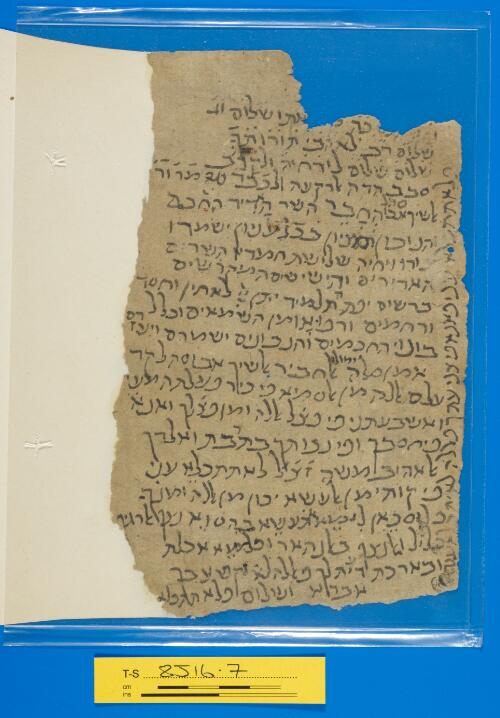 Transcription
S. D. Goitein, unpublished editions.
תו שלום וג'
שלום רב לאהבי תורותך
שלום שלום לירחוק (!) ולקרב
סבב הדה אלרקעה ולכבר מן מר' ור'
אלשיך אבו // סהל // החבר השר ה/א/דיר החכם
והניבון (!) ומציון (!) בכל עניון (!) ישמרו
צורו ויחיה שלושת חמדיו השרים
האדירים והישישים המקדשים
ברשים (!) יפת /ה/תלמיד יתן י/י/י לא[הלו] חין וחסד
ורחמים ורפואו (צ"ל: ורפואתו) מן השמאים (!) וכלל
בינה (?) החכמים והנבונים ישמרם ויעזרם
אמן סלה // ומולי // אלחביר אלשיך אבו סהל קד
עלם אללה מן אלסמא פי כיר פעלתה מעי
ואשבעתני פי פצל אללה ומן פצלך ואנא
פי חסבך ופי נכותך ב/ר/תבת ואלדך
אלאהוב משה זצל לא תתכלא עני
פי קותי מן אלעשא יכון מן אללה ומנך
ליס כאן לי מא /א/תעשא בה סוא נצף אלרגיף
ליל ואלנצף באלנהאר וכלמא אכלת
ובארכת ד/ע/ית לך פאללה לא יקטע בך
אבדא ושלום פלא תתכלא
margin
פלא תתכלא עני פאנא פי צניעתך פאללה לא יתכלא ענהא
T-S 8J16.7 1r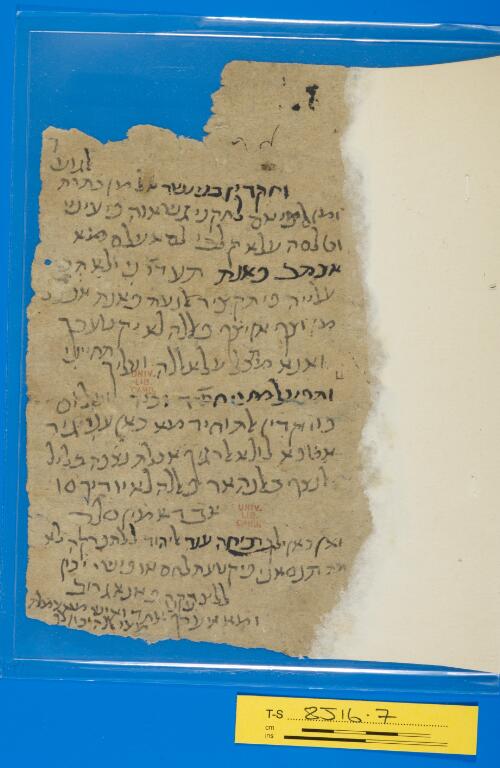 verso
וחק דין בני ישראל מן כתרת אלגוע
ומן אלציאם לחקני גשאוה פי עיניי
וטלסה עלא (!) קלבי לם אעלם מא
אכתב פאנת תעדרני ולא חכ
עלייה פי תקציר אלנעת פאנת אפצל
מן וצף אן יצף פאללה לא יקטע בך
ואנא מ/ת/כל עלאללה (!) ועליך תחייני
ותפעל מעי חסיד וכיר ושלום
פי חק דין אלתוחיד מא כאן עני גיר
אטפא לולא אלרגיף אכלת נצפה בליל
ואלנצף באלנהאר פאללה לא יוריך סו
אבדא מין (צ"ל: אמין) סלה
ואן כאן לך דביחה ענד אליהוד ללתפרקה לא
תנסאני פי קטעת לחם או פי שי יכון
ללצדקה פאנא גריב
ומא אערף אחד ואיש מא עמלת
מעי אללה יכון לך
Image Permissions Statement

T-S 8J16.7: Provided by Cambridge University Library. Zooming image © Cambridge University Library, All rights reserved. This image may be used in accord with fair use and fair dealing provisions, including teaching and research. If you wish to reproduce it within publications or on the public web, please contact genizah@lib.cam.ac.uk.