Letter: T-S 10J20.17
Letter
T-S 10J20.17
Input date
In PGP since 1991
Description
Letter from Natan b. Nahray, Alexandria, to Nahray b. Nissim, Fustat.
T-S 10J20.17 1r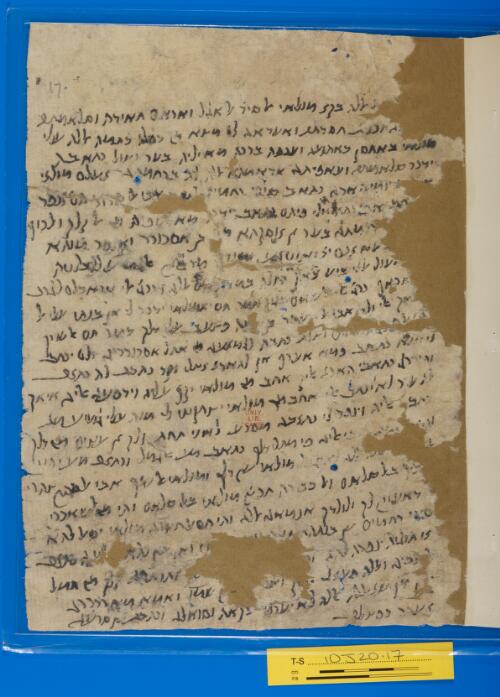 Transcription
A. L. Udovitch, [digital geniza document edition].
[כתאבי אטא]ל אללה בקא מולאי אל שיך אל אגל ואדאם תאידה וסלאמתה
[וסעאדתה] וכבת חסדתה ואעדאה לי מצא מן כסליו כתמה אללה עלי
מולאי באחסן כאתמה וערפה ברכת מא יליה בעד וצול כתאבה
ידכר סלאמתה ועאפיתה אדאמהא אללה לה ברחמתה אעלם מולאי
[אן וצל] פי יומי האדא כתאב סידי רחמים אבו אל סרור תם אנפד
ולי פיהם כתאב ידכר מא הו פיה מן אל קלק ואל כוף
דפעתה בעד אן אוסקהא מ[ע] בן אסכנדר ואנפד מנהא
ואנטאע אלגמיע ללכלטה
[וכאן] מעול עלי ביע באקי רחלה במא קסם אללה ויכרג אלי טראבלס אל גרב
אכאף כרג אלי אלשאם תם יא מולאי ידכר לי אן בנתי עלי אל
אך אלי ולד אבו אל בן פצעב עלי דלך כתיר תם אל שיך
אבו אל פרג וצלת כתבה לגמאעה מן אהל אסכנדריה ולם יכתב
לסידנא כתאב פמא אן להאדא אצל לקד כתבת לה כתאב
והו דרג כתאבי האדא אליך אחב מן מולאי יקף עליה וידפעה אליה איאך
לא עדר לא יכתב אלי אחב מן מולאי יצתקצי לי מנה עלי גמיע מא
כתב אליה וינפד לי כתאב מסרע לאני תחת קלק אן עטים מן דלך
בי אליה פי מתל דלך כתאב מע אל גמל וכתאב מע יהו[דה]
אסל אללה לא יגפל ען דלך ומולאי אלשיך אבו אל חסן צהרי
יכצך באל סלאם ואל כבירה תכץ מולאי באלסלאם והי מן אלשאכרין
דאעיה לך ולולדך אנמאה אללה תסאל חצוה מולאי יסאל להא
סידי רחמים ען בנתהא ואן כאן להא מעה כתאב
או תוגיה ינפדה להא אתואבה דלך מן חמל
אל צביה ואללה תעאלי [יעשה] [למע]ן שמו ואמא מא דכרתה
אן שא אללה אללה לא יעדמני בקאה וסואלה וכתבת ען סרעה
אעדר בפצלה
T-S 10J20.17 1v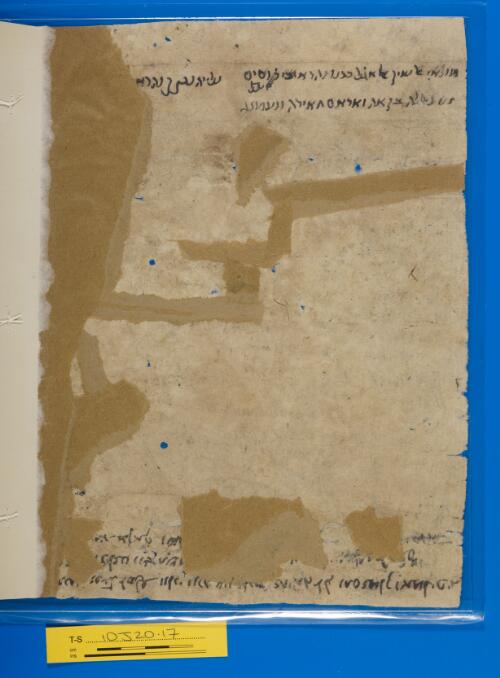 page b
תכתץ אפצל אל סלם וולדי וקרת עיני אחיאה אללה ותם אמלך ואמלי פיה
כלאני ומן תש[מלה ענאיתך אל סלאם]
[לא עד]מת בקאך וש[לום]
מולאי אלשיך אל אגל רבנו נהראי ביר נסים
אטאל אללה בקאה ואדאם תאידה ונעמאה
ולייה נתן בן נהראי
Image Permissions Statement

T-S 10J20.17: Provided by Cambridge University Library. Zooming image © Cambridge University Library, All rights reserved. This image may be used in accord with fair use and fair dealing provisions, including teaching and research. If you wish to reproduce it within publications or on the public web, please contact genizah@lib.cam.ac.uk.