Letter: T-S 10J15.11
Letter
T-S 10J15.11
Input date
In PGP since 1991
Description
Letter from Nahray b. Nissim in Fustat to Abu al-Faraj Daniel b. Allan ha-Kohen in Alexandria, discussing the problem of the ransom of captives and noting that owing to the lack of funds prisoners have to be redeemed one by one, ca. 1045-1096.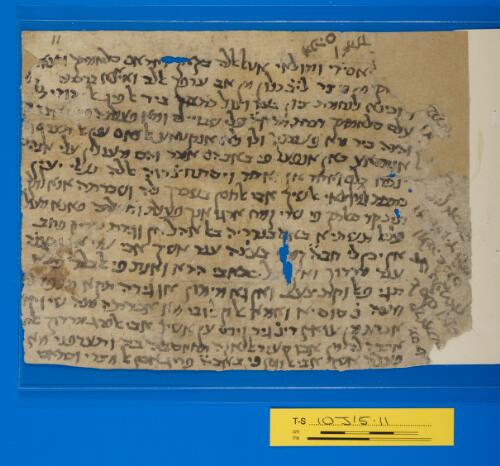 Transcription
A. L. Udovitch, Unpublished editions.
[כתאבי] יאסידי ומולאי אטאל אללה בקאך ואדאם סלאמתך וסעאדתך
ועאפיתך מן מצר ליב כלון מן אב ערפך אללה ואיאנא ברכתה
ויזכינא לנחמה ציון בעד וצול כתאבך ביד אלפיג אל יהודי פי
עלם סלאתך דכרת חרקה עלי שבויים ומא פעלתה פי [באבהם]
והדה כיר מא פעלתה ולולא אנקטאע אלנאס ען אל תצרף ואל
אגתמאע כאן אנפעל פי באבהם אמר והם מעולין עלי אנהם
ינפדו כלף ואחד אן ואחד ויסתחצרוה אללה תעאלי יעין
כתבת למולאי אלשיך אבו אלחסן בשכרך לה ושכרתה אנא לדלך
וכנת קד סאלתך פי שרי קמח ארגו אנך פעלת וח[מ]לתה פאנא מעול
עלי [[אל]]תשתיא באסכנדריה באלאהל אן וגדת טריק פחב
אן יכון לי חבה קמ[ח] בעצה ענד אשיך אבו עמראן ובעצה
ענד מרדוך ואן [וצ]ל כתאבי הדא ואנת פי אלבלד פלא
תגי פאלוקת צעב ואן גא מימון או גירה תקא תנפד לי
חמעה סוסיא ואמא אל קליובי מא אכדתה (!) מנה שי וקד
אכדת מן עואץ דינ' גיר קירט ען אשיך אבי אל פרג מרדוך אלדי
אכדה לה מן אבו סעיד אלנאקה תחאסבה בה ותערפני מא
פעלה אשיך אבי אל חסן פי באבה פריג אבן אל חצרי וכתאבי
margin
מסדא / קראת ע[ליך] / אל סלם ואכי אבו סלימאן וולדה אל סלם /
אן אכדוה /
upside down
ואחד מנהם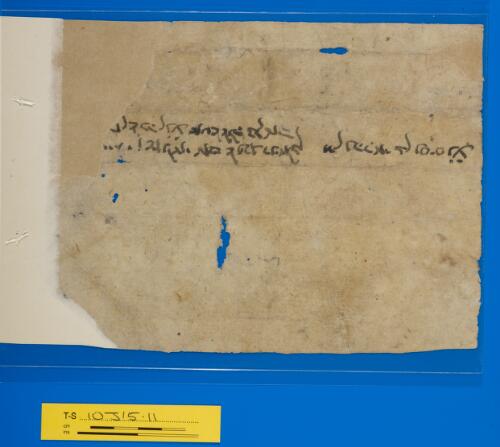 page b
סידי ומולאי אבו אל פרג דניאל בן מן נהראי בן נסים נע
]אן אל כהן נע אטאל אללה בקאה
Image Permissions Statement

T-S 10J15.11: Provided by Cambridge University Library. Zooming image © Cambridge University Library, All rights reserved. This image may be used in accord with fair use and fair dealing provisions, including teaching and research. If you wish to reproduce it within publications or on the public web, please contact genizah@lib.cam.ac.uk.