List or table: T-S K15.13
List or table
T-S K15.13
Input date
In PGP since 1987
Description
Account for Marheshwan and Kislev 1495 sel. ca. 1183. This is a double leaf of the notebook of Shemuel b. Saadya. The first part is a list of the revenue from 25 apartments and compounds for two months, which totals 346.5 dirhams. Then a list of expenditures follows, mostly, it appears, for charitable purposes. (Information from Gil, Documents, pp. 357 #90)
T-S K15.13 1r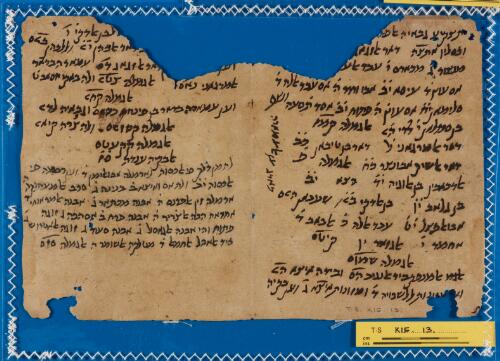 Transcription
Moshe Gil, Documents of the Jewish Pious Foundations from the Cairo Geniza (Leiden: Brill, 1976).
TS Box K 15, f. 13b-cGil, Documents, pp. 357-358 Doc. #90Accounting for Marheshwan and Kislev 1495 sel. ca. 1183SH [2-13-87] (P) a
תצקיע גבאיה אלפ[רנס אבו אלביאן מרחשון]
וכסליו אתצה דאר אלזגאג [אלקאעה לא]
מנצור ג מכארם י עבד אלע[זיז ז]
אם יוץ ד עיסא יב אבו וחיד ה אם עבד אללה ד
סלימאן יח אם עוץ ה פתוח יב אסד תסעה ונצף
בן סהלאן י לדי ה< אלגמלה קמו
דאר אלמרגאני ל דאר בן טיבאן כב
דאר אלשיך אבונצר כח אלגמלה פ
אלדכאכין בן אלוגיה יד רצא יב
בן גלאב יו בן אלרקי ב </ שעבאן ה < O</li>
אבו אלפצל יט עבדאללה כ אלבאב ד
אחמד י אלגזאר יו קיט <
אלגמלה שמו <
[[אלגמ]] אלמנפק ביד אלנגיב ה O ובידה איצא ה<
וע[ן] מזונות ללשבויה ד ומזונות איצא ג וען בקיה
b
[ ] לבן אלרקי י
[ ] דאר אלכהן י< וללכהן ב < O
וען[ ]ן דאר אלזגאג ד< עמארה בדאר
אלמרגאני כא O אלגמלה צט< ולה באקי חסאב ט
אלגמלה קח<
וען עמארה בדאר בן פינחס כד< O וגבאיה לד<
אלגמלה קסז< O ולה צרה קיא<
אלגמלה קקעט O
אלבקיה ענדה סז
לה מן דלך פי אלכסוה לארמלה אבו אלימן ד וען רסמה פי
אלכסוה יב ולה א O ואיצא ב בנינה ג סרב אלמעתוקה ה
ארמלה זין אלפרנס ה אבנה מכתאר ג אבנה אלמראוחי ד
אמראת הבה אלצריר ה אבנה פרח ב אם הבה ג זוגה
פתוח והי אבנה אלגאסל ג אבנה סעוד ג זוגה אלאטרוש ג
T-S K15.13 1v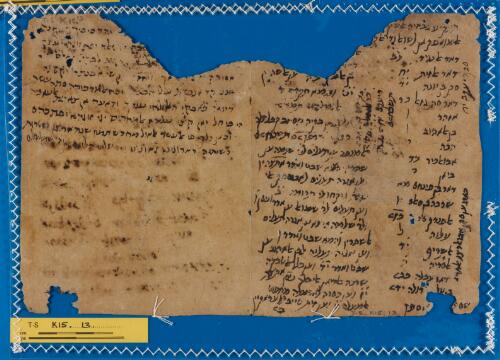 Image Permissions Statement

T-S K15.13: Provided by Cambridge University Library. Zooming image © Cambridge University Library, All rights reserved. This image may be used in accord with fair use and fair dealing provisions, including teaching and research. If you wish to reproduce it within publications or on the public web, please contact genizah@lib.cam.ac.uk.