State document: Bodl. MS heb. b 18/21 + T-S Ar.30.278
State document
Bodl. MS heb. b 18/21

+

T-S Ar.30.278
Input date
In PGP since 1988
Description
Eight rough drafts of a petition to the Fatimid Caliph al-Mustanṣir from the followers of Shelomo b. Yehuda, probably the end of 1041 (according to Gil's estimate). Six drafts are in Judaeo-Arabic; one abortive draft is in Arabic script in the same hand as the Judaeo-Arabic drafts; the final draft is in Arabic script in a chancery hand. Join: S. M. Stern. The Rabbanite Jews write to al-Mustanṣir regarding a conflict that arose in the community because of two leaderships (riyāsatayn), this conflict was earlier addressed by the Caliph by appointing Dāwūd b. Isḥaq but he didn't do anything. The situation worsened to an extent that one schism of the community barred the other from entering their synagogue until the other faction forced themselves inside leading to violence between the two. The Jews urge the Caliph to resolve this issue by sending his royal command "al-ʾamr al-ʿālī".
Bodl. MS heb. b 18/21 21 recto
Bodl. MS heb. b 18/21 21 verso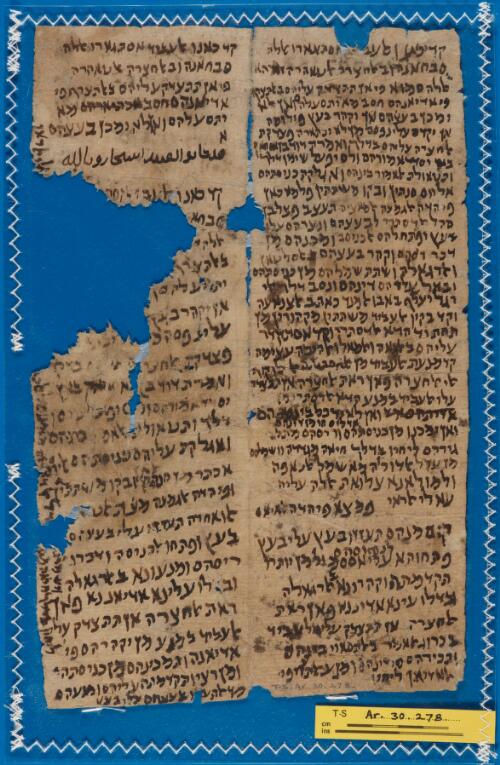 קד כאנו אלעביד אסתגארו אללה
סבחאנה ובאלחצרה אלטאהרה
פי אן תתצדק עליהם באלתצרף פי
אדיאנהם חסב [[אכתיארהם]] מא
יתסע להם ואן לא ימכן בעצהם
א [2]
قد كانوا العبيد استجارو بالله [3]
קד כאנו אלעביד אסת[גארו באללה]
סבחא[נה ובאלחצרה אלטאהרה זאדהא]
אללה [סמוא פי אן תתצדק עליהם]
באלתצרף [פי אדיאנהם חסב מא]
יתסע להם [ואן לא ימכן בעצהם]
אן יקהר בעץ [פילזמה אן יקדם]
עלי נפסה מ[ן לא] יכת[ארה]
פצדקת אלחצרה על[יה]ם בדלך
ואמרת דוד בן אסחאק [[ואן]] באן
יסדד אמורהם ולם יפעל שי מן
דלך ותטאולת אלאמ[ור] בינהם
ואגלקת עליהם כניסתהם אליום
אלאן
אכתר מן סנתין ובקו משתתין
ופי הדה אלגמעה מצת אלט[איפה]
אלואחדה תעזזו עלי בעצהם
בעץ ופתחו אלכניסה ודכרו
ריסהם ומנעונא באלרגאלה
ובדלו עלינא אדיאננא פאן
ראת אלחצרה אן תתצדק עלי
אלעביד במנע מן יקהרהם פי
אדיאנה < ם > ותמכינהם מן כניסתהם
ומן רציו תקדמתה עליהם ומ < נ > עהם
מן אלתע[ז]ז בעצהם עלי בעץ
(right margin)
וישמל[הם מן ע]דל אלדולה מא שמל אלכ[אפה ולמולאנא צלואת אללה עליה ע]אלי אלראי
ליחיו בדלך חיאה מ[גדדה] ב
[4]
קד כאנו אלעב[יד] אסתגארו אללה
סבחאנה ובאלחצרה אלטאהרה זאדהא
אללה סמוא פי אן תתצדק עליהם באלתצרף
פי אדיאנהם חסב מא יתסע להם ואן לא
ימכן בעצהם אן יקהר בעץ פילזמה
אן יקדם עלי נפסה מן לא יכתארה פצדקת
אלחצרה עליהם בדלך ואמרת דוד בן אסחאק
באן יסדד אמורהם ולם יפעל שי מן דלך
ותטאולת אלאמור בינהם ואגלקת כניסתהם
אליום סנתין ובקו משתתין פלמא כאן
פי הדה אלגמעה אלמאציה תעצב פצל בן
סהל אלדסתרי לבעצהם ונצרהם עלי
בעץ ופתח להם אלכניסה ומכנהם מן
דכר ריסהם וקהר בעצהם באלסלטאן
ואלרגאלה ושתת שמלהם מן כניסתהם
ובדל עליהם דינהם ונסב דלך אלי
רגל יערף באבו (!) אלמנד כאתב אלצנאעה
וקד בקיו אלעביד משתתין מקהורין מן
תחת יד הדא אלדסתרי וקד אסתקדר
עליהם באלגאה ואלמאל ואלהיבה עצימה
קד מנעת אלעביד מן [[אלדסתרי אל]] אלוקוף
אלי אלחצרה פאן ראת אלחצרה אן תתצדק
עלי אלעביד במנע הדא אלדסתרי מן
[[אדיתהם אד]] ואן לא ידכל בינ[[מו]]הם
אד ליס הו מן דינהם
ואן ימכנו מן כניסתהם וריסהם מתל
גירהם ליחיו בדלך חיאה מגדדה וישמלהם
מן עדל אלדולה מא שמל אלכאפה
ולמולאנא צלואת אללה עליה
קום מנהם תעזזו בעץ עלי בעץ
פתחוהא //לנפוסהם// עלי אסם [[מ]] ולמן יותרו
תקדמתה וקהרונא /ב/אלרגאלה
ובדלו ע < ל > ינא אדי < א > ננא פאן ראת
אלחצרה אן תתצדק עלי אלעביד
בכרוג אלאמר באלתסאוי בינהם
ותכירהם פי דינהם ומנע אלת/ע/זז פי
אלאדיאן ליחיו
ג [6]
כאן למא אכתלפו
אלעביד בסבב ריסין
להם ואן כל קום מנהם
יותרו ריס דון אלאכר וילזמו
אלכאפה קבול דלך ואן
אלעביד אסתגארו באללה
תעאלא ובאלחצרה
אלמגידה פי אן לא יקהר
בעצהם בעץ פילזמה
אן יקדם עלי נפסה מן
לא יגוז לה פי דינה תקדמתה
עליה פתצדקת אלחצרה
אלמגידה עלי אלעביד בדלך
פמצא פי הדה אלאיאם קום
מנהם ותעזזו עלינא ופתחו
אלכניסה לנפוסהם ולמן יותרו
תקדמתה וקהרו אלעביד
באלרגאלה ואלזמו מא לא
יגוז להם פי אדיאנהם
והדדו באלחבוס וכל אמר
עצים ואלעביד יצרעו אלי אללה
תעאלא ואלא אלחצרה אלמגידה
פי כרוג אלאמ < ר > אלעאלי באלתסאוי
בינהם ותמכינהם מן
ד
אדיאנהם כמא תמכן
גירהם וכף יד מן יודיהם
ומנע בעצהם מן
אלתעזז עלי בעץ ליחיו
בדלך חיאה מגדד < ה > וישמל
[עליה]ם עדל אלחצרה
[מא שמ]ל אלכ[א]פ[ה]
[ולמולאנא צלו]את אללה
[עליה עאלי א]לראי
ה [7]
אלעביד ירגבו אלי אללה תעאלא ואלי אלחצרה אלמגידה [בא]לצד[קה]
עליהם בכרוג אלאמר אלעאלי אלי אלאמיר מנתכב אלדולה באלתסאוי
בינהם פי אדיאנהם וכנאיסהם ואן לא [יקהר] בעצהם עלי
בעץ פי אלדין ואן לא יראעי סואל מן יסאלה אן יקהרנא פי
אדיאנן (!) לבעצנא בעץ ואן לא יבדל עלינא אדיאננא באלרג[אלה]
אלתי יבעתהא אלי כנאיסנא ליעק פי סבותנא ואעיאד[נא] ליקהר[ו]
בעצנא לבעץ לנחיא בדלך חיאה מגדדה אד דלך מן עדל
אלדולה אלדא[ימה] ולמולאנא צלואת אללה עליה ע[אלי אלראי]
ר [8]
عبيد موﻻي جماعات الذميين
اليهود الربانيين
بسم الله الرحمن الرحيم
صلوات الله وبركاته ونوافي زكواته وافضل تحياته على موﻻنا وسيدنا
اﻻمام المستنصر بالله امير المومنين وعلى ابائه الطاهرين اﻻئمة المهديين
صلا ة باقية الى يوم الدين كان عبيد موﻻنا
المستنصر بالله امير المومنين صلوات الله عليه لما وقع الخلف بينهم
بسبب رياستين لهم ورامت كل طائفة التغلب على تقدمة رياستهم
[دون] اﻻخر والزام الطائفة اﻻخرى قبول ذلك والدخول بما ﻻ يتسع
[لهم في ا]ديانهم في رفعوا الى الحضرة المجيدة خلد الله ملكها وانه ولي ذلك
فخرخ اﻻمر العالي زاده الله نفاذا الى داود بن اسحق بتسديد
امر الكافة فلم يفعل داود ابن اسحق شيئا من ذلك واغفل اﻻمر
وتطاولت اﻻمور بين الطائفتين الى اﻻن واغلقت عليهم كنيستهم
وبقوا مشتتين في امورهم فمضى في هذه اﻻيام قوم منهم تعززا على
بعضهم وفتحوا الكنيسة لنفوسهم ولمن اثروا تقدمته وقهروا العبيد
بالرجالة والزموا ما [ﻻ] يجوز لهم في اديانهم وهددوا بالحبوس
[وك]ل امر عظيم والعبيد يضرعون الى الله تعالى والى الحضرة
المجيدة خلد الله ملكها بخروخ اﻻمر العالي ﻻ زال غالبا بالتساوي
[بينهم و[تمكينهم من اديانهم كم[ا] تمكن غيرهم وكف اﻻذية
....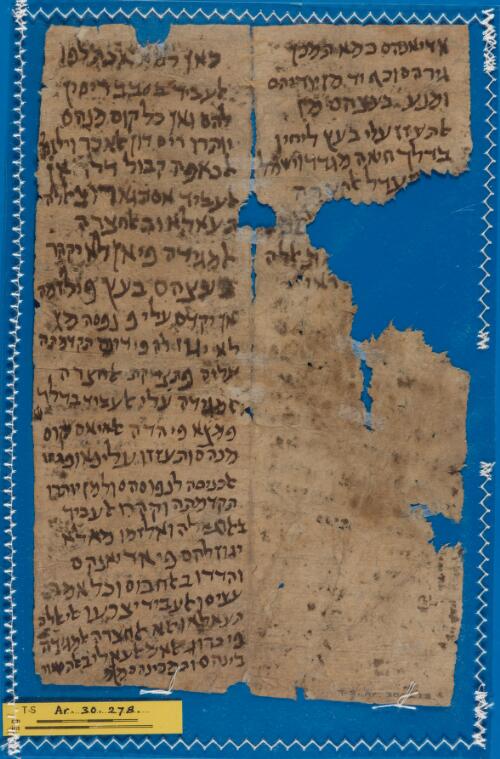 Image Permissions Statement

Bodl. MS heb. b 18/21: Images © Bodleian Libraries, University of Oxford. CC-BY-NC 4.0. For more information, please see Terms of Use.
T-S Ar.30.278: Provided by Cambridge University Library. Zooming image © Cambridge University Library, All rights reserved. This image may be used in accord with fair use and fair dealing provisions, including teaching and research. If you wish to reproduce it within publications or on the public web, please contact genizah@lib.cam.ac.uk.