Letter: T-S 13J8.18
Letter
T-S 13J8.18
Input date
In PGP since 1991
Description
Letter from Nahray b. Nissīm, Fusṭāṭ, to Barhūn b. Ṣāliḥ al-Tāhartī, probably in Egypt, ca. 1045, concerning business between the two. Mentions a shipment of pearls. Nahray sends his blessing to Khalfa, from the Tāhartī family, for his marriage to a woman from the Uqba family. (Information from Gil, Kingdom, vol. 2, pp. 711-714, #242). VMR. Nahray anxiously mentions to Barhūn that he has already paid the Amīr's emissary Abū Ishāq 150 dīnārs in Fusṭāṭ and it concerns him that the Amīr is still demanding the same from him in Alexandria. "If, God forbid, he continues to demand payment from you after he knows that it was already collected from me, then you will certainly remind him of his own letter to his emissary Abū Isḥāq, so that he will return to us what he has taken from us." YU.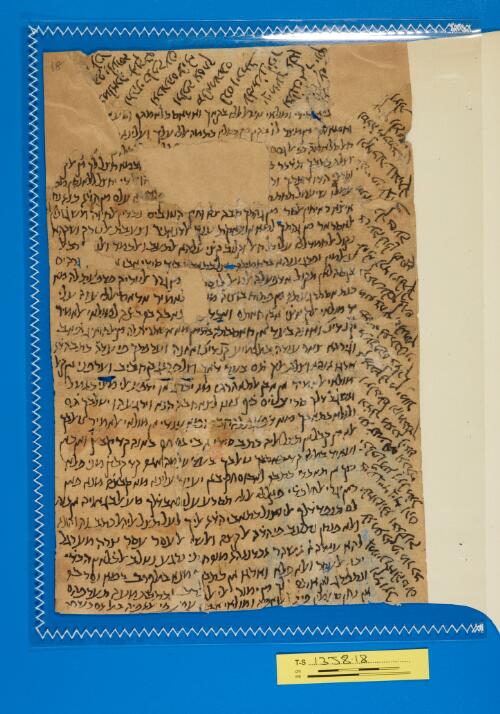 Transcription
A. L. Udovitch, [digital geniza document edition].
[כתא]בי יא סידי ומולאי אטאל אללה בקאך ואדאם סלאמתך וסעאדתך
וחמאיתך מן מצר לו בקין מן כסליו כתמה אללה עליך ועלינא [באחסן כאתמה ען]
חאל סלאמה פי אל גסם [ושגל פי אל קלב]
וצלת כתאבך תדכר במא חצל לך מן אל ק[לק]
וסרני הדו רועתך וד אלדי יחצל ללאנסאן מכ[ל]
עמלו שיעמל תחת ה[שמש ולו כאן] לדינא עלם מן הדא כנא נחן
איצא ראיחין אל סר מן גהתך הבה אל וחייך הטובים נכדין אל חיוה משגולין
אלאסראר מן גהתך למא אנעאקת ענך אל דנאניר וצעבת אל טרק ושקהא
נקול אל חמד ללה עלי כל חאל וקלוב קצי עליהא אל תעב ואל כמד וא[ללה] רב אל
עאלמין יפרג ענהא ברחמתה וצל כתאב[ך] ביד סידי אבו א[סחק אב]רהים
בן סהלון תקול אדפע לה אל מאל לנס[תעין בה] מן גהת אל טריק פדפעת לה מא
כנת אסתרגעתה מן פתוח בוציה מו[לאי א]ל אמיר אדאם אללה עזה עלי
יד מולאי אלקאצי אבן חאתם ואכד [עלינא בכת]אבה בקבצה למולאי אל אמיר
קנ דינ ואזנה בעד אן חאטבתה בתמן מא אשתרית לה מן אל חואיג תיאב
וגירהא צאר ענדה אל גמיע קנ' דינ' ואזנה וערפתך פי עדה כתב הדא
ארגו אנהא וצלת אליך תם בעד דאך וצל פראג בן חביב וערפני אן קאל
מולאי אל אמיר אן אבן אל תאהרתי מא יכרג אן ידפע אלי מאלי כאמל
ואשגל דלך סרי עטים כיף זנו לצאחבה הנא וירגע הו יטאלבך תם
ולולא כתאבך מא דפעת לה חבה ומא ענדי אן מולאי אל אמיר יטאלבך
אלא מן קבל אן תצל אליה כתב סידי אבי אסחק באנה קד קבץ ואן כאן
ועאיד באללה קד [[דארבך]] טאלבך בעד עלמה אנה קד קבץ מני פלא
שך אן תדכר כתבה לאבוסחק באן יעיד עלינא מא קבצה מנא פאן
כאן יגרי אל חאל כדי פאללה אללה תסרע עלינא בדלך מע אל בגאניה אן כנת
לם תנפד דלך אלי וצול כתאבי הדא אליך לעל תצל אליה אל כתב והו הונא
ואלא פנחן נתעב פי הדה אל קצה ואל שי אלסר עסר צרה מע רגל
להא ענדה ז אשהר אכדנאהא מנה חתי נרגע נטלב אל כלאץ הכדי
יכון אל עסר ואלא פלא וארגו אן כתבך מנא באל קרב במא נסר בה
ונתפרג ואן לך מן ימור אלי אל גרב וכתבת מעה תערפהם
אן נחן סאלמין פי כל עאפיה ומולאי אבו עמרן פי עאפיה באל אסכנדריה
right margin
וקד וצל
גמיע רחלה סאלם
אלא מא כאן פי מרכב
אל חנזולא ובאעוה
ביע גייד גיד והם
יכלפו מא וצל מתל
מא צאע להם ואכתר
וכדלך מא כאן לי אנא
וצל סאלם והו מבארך
אן אתפק לך מן ימור
תערפהם בדלך
כתאבך לא תכליני
מנה בחאלך וסלאמתך
קראת עליך אתם
אל סלאם וקד וצלת לך
ביעה לולו מרגאן
ותא[כר]ת לך ביעה
אכרי פי אל גרב
וקד כנת וגהת לך
נסכה מן כתב
לך ולה
וצלת
top margin
ובלגני אן ר יוסף
יגי מעך ארגו
אללה תע יכיר
לכם ויכתב
סלאמתכם
וכלפה ואסחק
ואכותה אלסלם
ותהני כלפה עני
במלאכה אל עקבה
[לאכו]תה ולערסה
אל כיר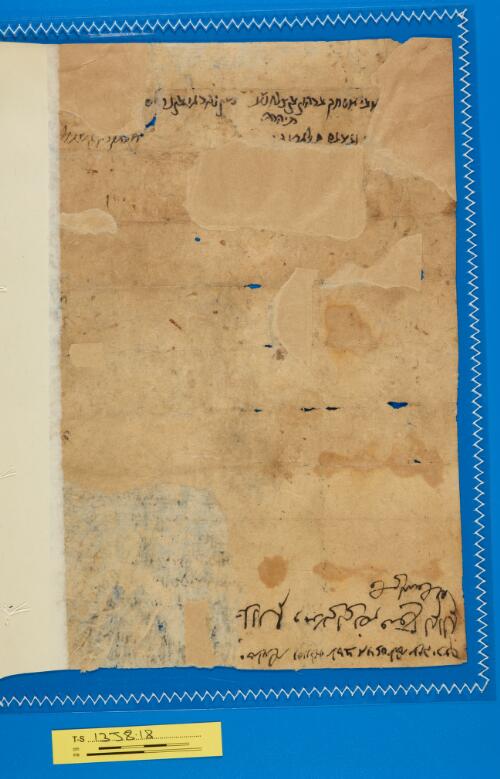 page b
אבי אסחק ברהון בן צאלח נע מן נהראי בן נסים
תיהרתי מסתקרין אן שא אללה
באל סלאם ומולאי אל רב אדאם עזה יכצך
#
افضل السلام وموﻻى ابى نصر فتوح اتم السلام
وحى الله وحده
Image Permissions Statement

T-S 13J8.18: Provided by Cambridge University Library. Zooming image © Cambridge University Library, All rights reserved. This image may be used in accord with fair use and fair dealing provisions, including teaching and research. If you wish to reproduce it within publications or on the public web, please contact genizah@lib.cam.ac.uk.