Letter: T-S 13J6.30
Letter
T-S 13J6.30
Input date
In PGP since 1990
Description
Letter from Yosef to Abū l-Fakhr asking him to help contest his obligation to pay the capitation tax of his brother, who was missing in Syria; he explains that his brother had not charged him with this payment before his departure. The tax collectors harass him for it every year, and he is forced to pay bribes (קטע אלמצאנעה; cf. T-S Ar.41.49 (PGPID 8278), T-S 13J33.9 (PGPID 8067), and T-S 8J20.16 + T-S NS J485 + T-S NS 283.96 (PGPID 2058); Goitein read here וסע אלמצאנעה).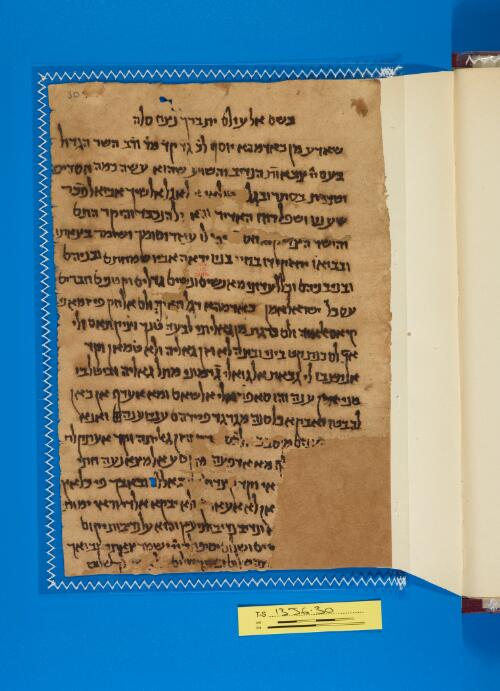 Transcription
S. D. Goitein, unpublished editions.
בשם אל עולם יתברך נצח סלה
שארע מן כאדמהא יוסף לכ גד קד מר ורב השר הגדול
בעם ייי צבאות הנדיב והשוע שהוא עשה כמה חסדים
וטובות בסתר ובגל[וי מ]ולאי אלאגל אלשיך אבו אלפכר
. עניו ושפל רוח האדיר והא[צ]יל הנכבד והיקר התם
והישר הצדיק [וה]חס[יד] יהי לו עוזר וסומך ושומר בצאתו
ובבואו יחזקיהו בחיי בניו יראה אביו שמחתם ובניהם
ובני בניהם וכלל עדתו מאנשים ונשים גדלים וקטנים חברים
עם כל ישראל אמן כאדמהא רגל חאיך ולם אלחק פי זמאני
קיאם אלאוד ולם כרגת מן גאליתי לבעד טנך וציקת אסולי
אך לם כנת קט ביני ובינה לא וזן גאליה ולא טמאן וקד
אנתצבו לי גבאת אלגואלי גרמוני מתל גאליה וביטלבו
מני אזן ענה והו סאפר אלי אלשאם ומא אערף אן כאן
לה בטו ואבקא כל סנה מגרגר פי ידהם עני וענה[[ם]] ואנא
פי שדה] מעהם מן סבב אל . . . . ווזן גאליתה וקד אעתקלת
] ף מא אדפעה מן קטע אלמצאנעה חתי
]אי וקד קצדת [בא]ב אללה ובאבך פי כלאץ
] אן לא אעארץ ולא יבקא אלדי וראי ימות
] ונדיב נדיבות יעץ והוא על נדיבות יקום
חי]ים ושלום יסיפו לך ייי ישמר צאתך ובואך
]. . . . . . . . . . שלום . . . . . לך שלום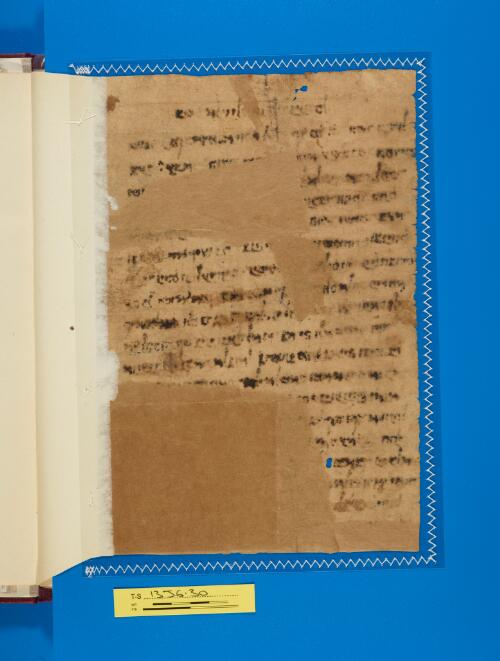 Image Permissions Statement

T-S 13J6.30: Provided by Cambridge University Library. Zooming image © Cambridge University Library, All rights reserved. This image may be used in accord with fair use and fair dealing provisions, including teaching and research. If you wish to reproduce it within publications or on the public web, please contact genizah@lib.cam.ac.uk.